This article was updated on January 6th, 2022.
Something has gone horribly wrong.
You've launched a new design of your website, but something isn't working.
You check analytics.
Yeah, people are still visiting the site, in about the same numbers as before.
The new brand identity looks fantastic (if you do say so, yourself).
Everything on the site seems to be working, too.
But nobody is converting.
So what exactly went wrong?
Sadly, that isn't an easy question to answer. But finding the answer could lie within the appearance of your website.
You know you need to design a company website that attracts your target customer and keeps them around long enough to show you understand their goals, values, and paint points.
But how, exactly?
Here are 20+ web design statistics that can help you:
The importance of web design
Before we dive in with what makes a "good" web design, here are five statistics that prove why the appearance of your website is just as important as the content you're sharing—or the products / services you're selling:
1) 75% of people base the credibility of a business on how their website looks
A report by Stanford found that three-quarters of people judge a company by their web design. This influences their feelings and place in the user journey.
 2) 94% of people say web design is the reason they mistrust a website
If the statistic above wasn't shocking enough, consider what this means for your small business: If your website isn't easy on the eye, you won't be trusted by your customers. That impacts everything from website traffic to sales—especially when consumers won't do business with brands they don't trust.
3) First impressions are also 94% design-related
You never get a second chance to make a first impression.
Those first impressions could make or break the success of your site. However, you don't have long to win over your website visitors.
Research has shown that first impressions of a website are 94% design-related. If your website isn't appealing, they won't stay long—which is why credibility and trust are often sacrificed with a poor website design.
4) It takes about 50 milliseconds for visitors to form an opinion on your website
…That's 0.05 seconds.
If your design isn't wow-ing them within that tiny timeframe, they'll form a negative opinion about your website—and potentially hit the "Exit" button. (Often, in favor of a competitor who has a better website design than yours.)
5) 60% of shoppers say website usability is important for them
There's no doubt that online shopping is taking over.
Almost every industry is high stakes, but if you're in eCommerce (in particular), to stand a chance at getting your share of the $29 trillion pie, your website design could be falling short.
That's because 6 out of 10 shoppers say the usability of a website is important when they're online shopping, according to Statista.
On-page web design statistics
So, you know that website design is crucial for both large and small businesses.
But what should you think about when designing your website? And are you making any disastrous mistakes that could tank your business' reputation, credibility, or sales?
6) 44% of website visitors will leave a company's website if there's no contact information
Chances are, you have a contact page on your website. It's crucial to make sure that your company's contact information is easy for visitors to find—especially when almost half (44%) would leave if they couldn't find it.
(This includes things like your phone number, email address, or physical address.)
No only that, but the research by KOMarketing also found that 54% of consumers think a lack of contact information reduces a brand's credibility. This (lack of) design element would cause them to leave the website they're browsing.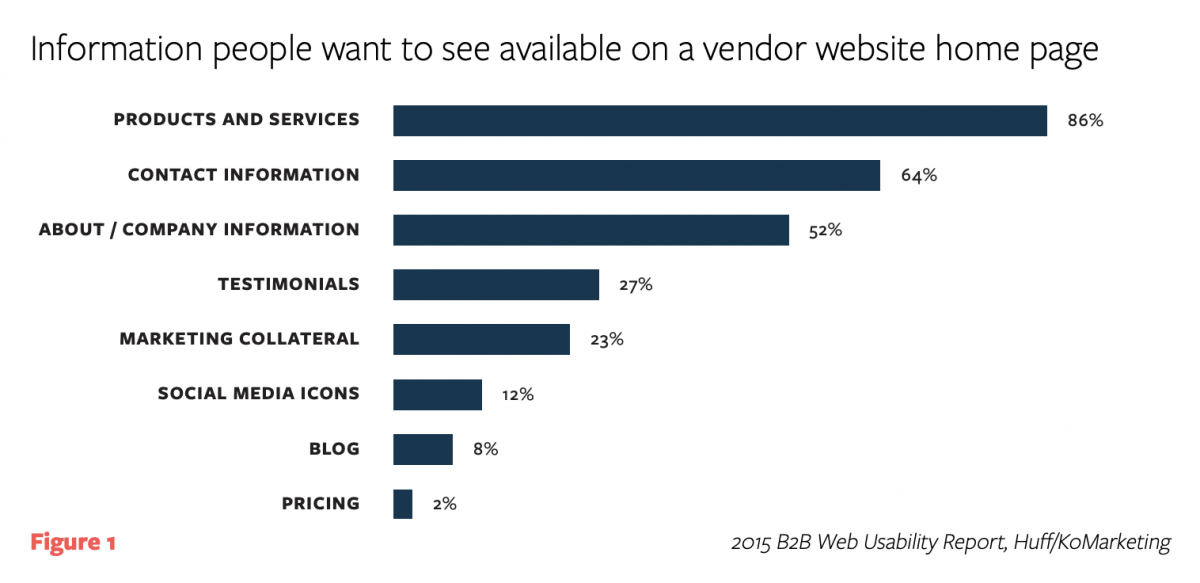 7) 90% of information transmitted to the brain is visual
Earlier, we touched on how important web design is. That's because the vast majority of information sent to the brain is visual.
(In fact, visuals are processed 60,000 times faster in the brain than text.)
Maybe this is why web design impacts a visitors' opinion of your business—and why first impressions are largely design-related. It's quicker (and easier) for us to look at a website to understand it, rather than read it.
8) 92.6% of people say the visual dimension is the #1 factor affecting their purchase
Speaking of design, one report found that over 92% of people say the visual dimension of a website is the #1 factor that influences their decision to purchase.
It goes without saying that this web design statistic is crucial for ecommerce sites to keep up their cuff. Win them over with awesome website design and product photos. It's the best way to boost your conversion rate!
9) 70% of small business websites don't have a call to action
A call to action is an element that tells people to do something. You might have them in button or text form, and typically tell people to:
Complete their order
Add a product to their cart
Download a piece of content
Submit a form
Follow you on social media
However, data has revealed that 7 out of 10 small businesses don't use calls to action (CTA) on their homepage, or across their website. They're missing a trick—and assuming their website visitors will complete their website's goals on their own accord.
…Which, needless to say, doesn't always go according to plan.
10) A crowded website design is the biggest mistake
Designing a website is exciting. You'll have your pick of imagery, which colors you're using, and the overall layout of your pages. But that "free for all" mindset of on-page elements could be doing more harm than good.
Almost 85% of small businesses are guilty of crowding their website with too many on-page elements, according to GoodFirms: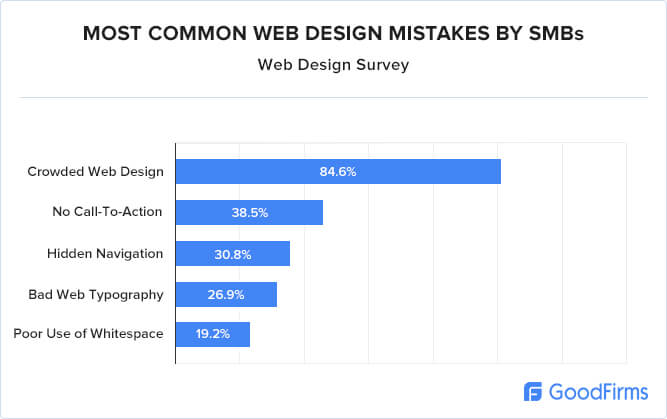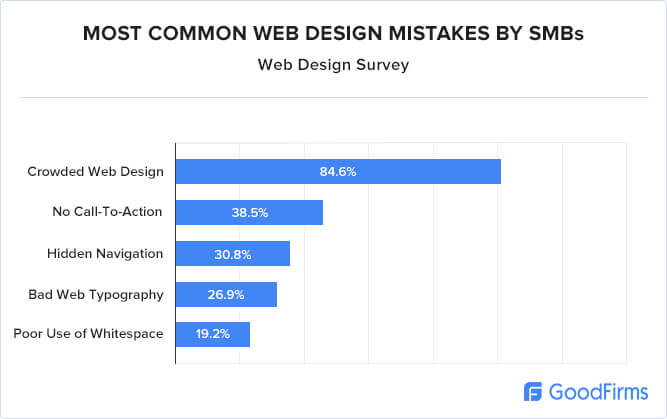 (That's a much more frequent mistake than not including a call to action, or hiding your main navigation menu.)
11) Just 1% of website visitors use sliders or carousels
A few decades ago, sliders were all the range. Every modern website had a sliding carousel of images—but it seems their popularity is heading downhill.
It's rare that website visitors will engage with photo sliders. In fact, one report found that just 1% use them on a website.
…But what if you're currently using image carousels on your website? You could use a heatmap tool to see whether your slider beats the 1% mark. If not, swap it out and replace it with another on-page element (such as a standalone photo.)
Mobile and responsive design
If you're in the SEO world, you'll know that Google recently switched to mobile-first indexing.
This simply means that search engine spiders will crawl the mobile version of a website instead of the desktop—which shows it's important to have a responsive website design.
But if you still don't have a mobile-friendly website, here are some statistics about responsive web design that will convince you:
12) Smartphones held a 63% share of all business website visits
Planning to redesign your website? It's important to think about the people visiting it. There's a huge chance they're using a mobile device.
Smartphones held a huge share (63%) of all visits to eCommerce websites.
13) 50% of total eCommerce revenue comes from mobile
…Not only are smartphones taking a huge share of website visits, but the people using their mobile devices are handing over their credit card details when they do browse eCommerce websites.
In fact, half of the revenue generated on a typical eCommerce store takes place on mobile.
Even if you aren't an ecommerce company, your potential customers, clients, and partners are absolutely checking out your website while killing time in their next Uber.
14) 25% consumers would stop engaging with content that doesn't display well on their device
Now that you're in the know about mobile phone usage on mobile phones, you might be convinced to design your website to go alongside Google's mobile-first concept. (If so, you're dead on the money.)
A report published by Adobe discovered that a quarter of consumers would stop engaging with content that doesn't display well on your device: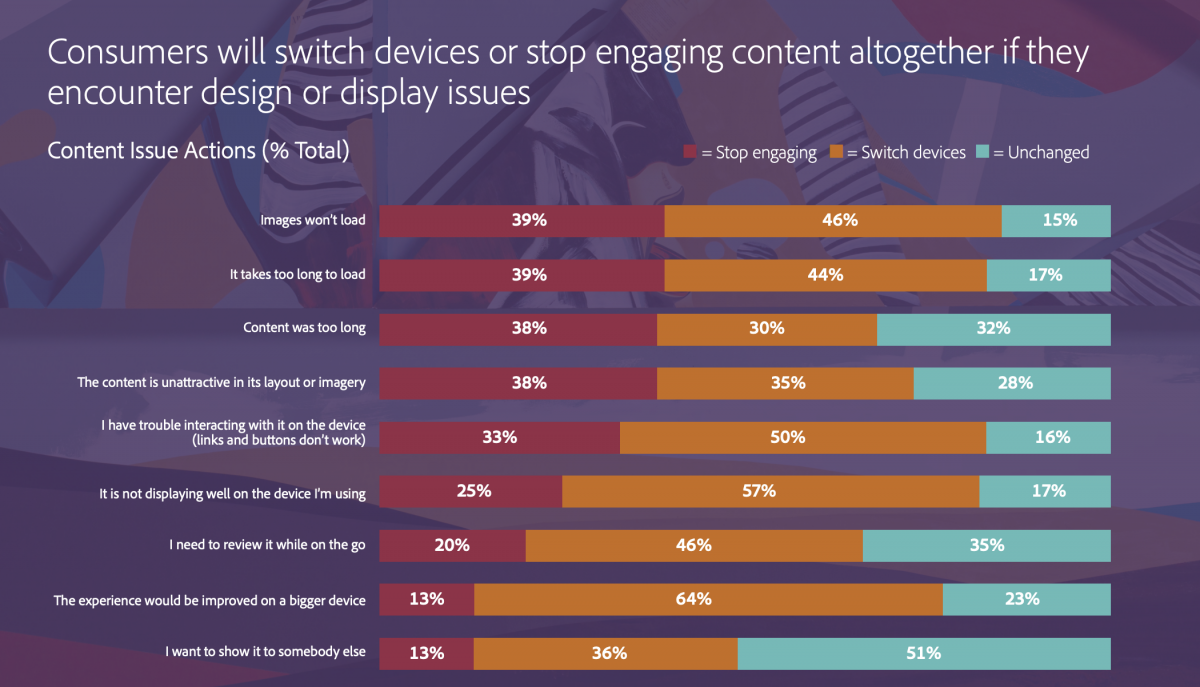 What does that mean for your web design? If you're designing your site for desktop but mobile visitors can't easily see your site on a smaller device, they'll exit your website.
No more traffic, and no sale.
15) 40% of people will switch to a different search result if the first one is not mobile-friendly
You're probably using SEO as a marketing strategy for your website. Your design plays a key role here, as we touched on earlier. Google are rewarding sites that are easily accessible for mobile users with higher rankings.
Why? The answer might be because 40% of people will switch to another search result if the first one isn't mobile-friendly. That's bound to worsen your site's user experience and SEO metrics—such as dwell time and bounce rate.
16) 57% of internet users won't recommend a business with a poorly designed mobile website
If you're still not convinced to design a mobile-friendly website, consider the impact a non-responsive website will have on sales.
Over half of all internet users won't recommend a business with a poorly-designed mobile website. You're missing out on the chance to generate more sales from your existing customers' network—and we all know that's the most credible form of advertising.
How does page speed impact web design?
There's no use designing a beautiful website if people don't see it. It's not just promotion that could limit the eyeballs on your design, though.
This is something we think a lot about at Clique, especially as designers, developers and marketers (that's me!) work hand-in-hand on every project: from discovery to launch.
As any designer or developer at Clique: if a client's site has to perform well in search or drive new business, I'm intently focused on page speed.
If you're thinking of a redesign, page speed should be a major concern, as these statistics explain:
17) 83% of visitors expect a web page to load in less than 3 seconds
You already know that page speed is important. It's crucial for SEO reasons, but slow loading sites are frustrating. It can severely impact the user experience on your website.
You'll need to meet the three-second threshold when testing your page speed; 83% of visitors expect a page loading speed of less than 3 seconds.
But if you have a slow website, your problems isn't just falling short of consumer expectations. Some 53% of mobile site visitors will leave a page that takes longer than three seconds to load, according to Google.
18) 44% of visitors will develop a negative image of companies with a slow-loading websites
Earlier, we touched on how poor website design can impact the reputation of your company. But even if you've got the most beautifully-designed website, if it doesn't load quick enough, your reputation is still at risk.
Almost half (44%) of website visitors admit they'll develop a negative image of the company if the site crashes or the load time is poor.
19) 39% of people will stop engaging with a website if images take too long to load
Adobe's research paper proves that visitor engagement is on the line if your website is too slow.
Some 39% will stop engaging with a site altogether if images don't load, or take too long to load on their screen. That's a huge chunk of people who could be missing out on your graphic design if you don't improve your load times.
20) An increase in site speed from 8 to 2 seconds can boost your conversion rate by 74%
Boost your page speed and you'll see more visitors sticking on your website. Not only that, but you could be in the chance with doubling (or tripling) revenue.
Research has shown that an increase in side speed from 8 to 2 seconds can boost conversion rates by as much as 74%.
What could you do with an extra 74% revenue?
21) Slow-loading websites cost retailers $2.6 billion in lost sales each year
You know that websites with poor loading times impact a business' reputation, on-site engagement, and user experience. But the cost of a slow website is far greater than below-average Google Analytics reports.
Econsultancy recently found that slow-loading websites cost retailers $2.6 billion in lost sales each year.
If you don't work in commodity ecommerce, and instead leverage your website to land high-end partnerships or deals, your slow website may hurt even more.
You'll need to address that if you're to scoop up those sales.
The cost of web design
As marketers, we know that poor website design can cost money.
But, with your finance department controlling budget wherever possible, you might feel like you're in a lose-lose situation.
You can't justify the cost of a new design, but you can't secure that extra design budget without generating more sales.
What gives?
Here are a handful of statistics about the cost of website design that could inspire a solution:
22) It can cost up to (and over) $100,000 for a professional website design
Website design can be costly. It's reported that professional web design agencies can charge anywhere between $3,000 and $100,000 for a website design… But that could be a small price to pay for the sales you'll generate from an easy-to-use site: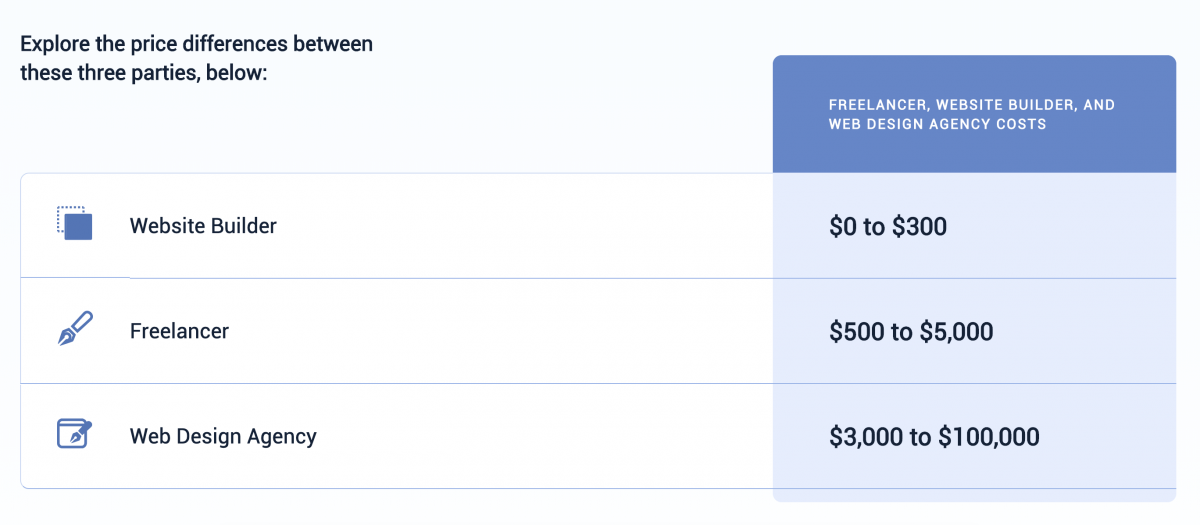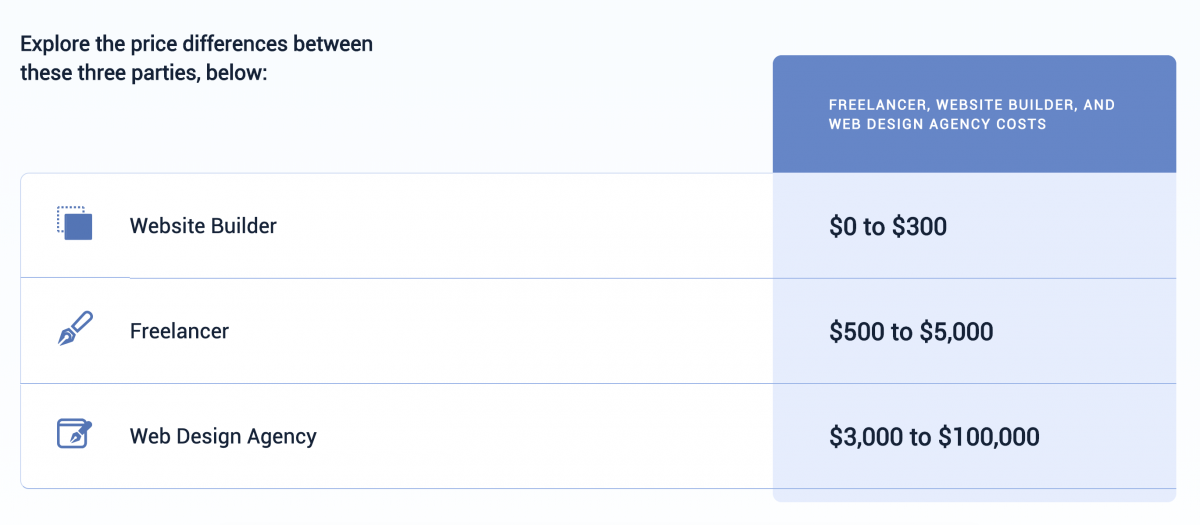 23) 28% of small businesses spend less than $500 on a website
That statistic could come as a shock—especially when we've just shared that a professional agency can charge thousands of dollars for a design.
But it's true: Over a quarter of small businesses have small budgets for their website's design. They spend less than $500, with freelancers or DIY website builders usually taking that investment.
What's also true: Your competition probably spent less than $500 on their website and they're paying for it (whether they know it or not).
25) Weebly holds 18.73% of the website builder market share in the U.S.
Speaking of DIY website builders, there are a range of tools you can use to design your own website, such as:
Weebly
Wix
WordPress
Squarespace
The first, Weebly, holds an 18% share of the website builder market, according to Statista. As you might guess, we do not recommend ever (ever) using Weebly for your business (or ever). One thing to keep in mind? 40% of ALL websites on the internet are on WordPress. Guess what we recommend.
26) Routine website maintenance ranges from $35 to $5,000 per month
Once you've got a website up and running, your job doesn't end. You'll need to regularly update your website's design with emerging trends and consumer preferences. That could cost anywhere from $35 to $5,000 per month.
These web design stats prove design is always changing
As you can see, website design is always changing and growing. Some of the elements that were popular years ago (such as image sliders) are going out of fashion—and it's tough to predict what websites will look like towards.
Regardless of the "best practices" you follow, remember that a website isn't "done" after your first design. People assign more credibility to sites that show they have been recently updated or reviewed.
Make a commitment to browsing web design statistics, and putting trends at the forefront of your mind. Use them when redesigning your website to prove that you're on the ball.