I started working "remote" back when I knew it as "not being able to afford an office." I was just out of college and had spent the last couple of years working at night to lay the groundwork for a business with my partner, Ted, and it was time to give Clique the full-time go. 
Setting up a desk in my first apartment in Chicago, I found that this way of working suited me. A big reason I wanted to start something in the first place was because I thought that most companies weren't for me, a lot of big corporate campuses were unsettling, and bureaucracy was a real bummer. (I still think all those things). I could be my own boss. Hurrah!
I loved it. And I loved the work I was doing. 
But after a year or so, things got weird. More specifically, I got weird. 
I'd work all hours, watching days become nights and vice versa. My hygiene was questionable. I wasn't shaving, though nobody could notice yet. My mental health got squirrelly. A familiar refrain in conversations around that time was somebody asking me if I was OK. As time went on, I caught myself talking to … myself … out loud. A lot.
One day, after realizing I had just said an entire paragraph out loud to myself, I called Ted. "I'm going nuts. I gotta find somewhere to work."
Remote, then, didn't work for me—at least not at the time. 
At this point I'm probably sounding like another member of the parade of employers who are against remote work, saying things like "remote isn't right for everybody."
That's true. But is the standard alternative right for anybody?
On remote work
Everything I said notwithstanding, remote is such an obvious part of the future of work that it feels like a waste of time to argue in its defense.
It's not actually even a part of the future of the work, so much as the present. 
It's tripled over the last 20 years:

Some other stats:
Remote is powerful for what it is: more uninterrupted stretches of deep work, more flexibility, more comfort, more time with family and friends. But it's just as powerful for what it isn't: mandatory daily commutes, missed therapy appointments and kid dropoffs, and that unsettling feeling of knowing that if you are lucky enough to have a great job — well, that's the place you're living forever, other factors be damned.
How we work already
One of the things we say internally is to not obey the golden rule. In other words, don't treat other people how you want to be treated, treat other people how they want to be treated. 
And it turns out that when you give smart people the opportunity to decide for themselves, they are Nobel-level geniuses on how and where they do their best work. For some, that means showing up at an office to see people in person and collaborate. For others, it means working from home or a coffee shop. For many — 👋 hi, I'm Derek — it's a combination of both.
Everybody's different. Hell, I'm different: I couldn't do remote successfully 10 years ago, but I could now. There are no hard-and-fast rules to this.
We started as a small, collaborative team, in the office every day, rolling around chairs and whiteboarding. Since then, we've gradually evolved into a ~50 person team — and a more flexible, understanding, supportive organization. 
Here's what's available for everyone already:
Request to go remote anywhere after a year.

Currently ~13% of our team is "pure" remote, with folks in California, Florida, Connecticut, and Wisconsin.

Work from home one day a week
Multiple work environments for all

(open offices, meeting rooms, membership to separate co-working spaces, etc)
Next, we're looking to build and expand on that with expansion of our Studios. And while we're aware none of this is revolutionary — there have been branch offices and remote work for decades — it is nuanced.
A lot of those nuances were learned through hard-won experience. A lot of them are still for us to learn. Our hopes in oversharing is that it might help your company figure out what works best for you.
The questions we hope to answer
How do we grow into a smaller organization?


Size growth is never our goal, but it's been a byproduct of our work every year. We love welcoming new people to expand our impact, challenge our assumptions, and change and improve our culture. How do we do this while increasing our closeness, and without accidentally growing into one of those bureaucracies we detest?

How can we grow our footprint nationally by investing in communities and building deep relationships with local organizations?


We're interested in growing nationally for reasons outside of pure business development. Our most rewarding work is immersive and done closely with the communities we live in. How do we multiply those successes?

How can we give people a third option between "Remote" and "Work from our HQ" — combining the best of both?


Those who work remote at Clique are happy and productive. Meanwhile, our Chicago HQ can either be a vibrant, collaborative free-for-all, or a library, depending on the moment. How can we combine what we love about both?

How can we give people as many opportunities as possible to decide the right place for them to live?


What about those who would like to move to another city, or those who already live there — and favor the experience of being geographically close to a community of co-workers and clients?
OK, what is a Studio?
The book Team of Teams outlines the shortcomings of standard organizational models in an increasingly dynamic, complex world. It argues that most of these models, and accompanying org charts, are relics from an Industrial Age based on top-down, command-and-control style decision making. That doesn't work as well anymore, for obvious reasons. 
In contrast, the "Team of Teams" model prizes two factors: (1) a "shared consciousness," allowing everyone to see the big picture and understand their interdependencies, and (2) "empowered execution," specifically referring to leaders who are willing to let go and share power, way beyond simple delegation. That's what we're going for here.
We define a Studio as:
A new

location…

…

chosen

for growth potential and employee preference…

…

started and led

by a member of the team with experience elsewhere…

…

growing

through education and community investment, with the first local hire being a Community Manager…

…

forming an interdisciplinary collective

of people in their city in a flexible environment

..

.sharing

organizational values while remaining deeply local…

…

working

on projects with a local focus and a national stage…

…

taking advantage of the traditions, resources, and growth

of the larger organization…

…

all while getting the freedom

to work in the right city for them and their families.
How we're doing it

Photo by Blake Jackson
The person who crafted this vision is now executing it
I'm writing this article, but Michael Facchinello, our Director of New Markets, crafted this direction and is ultimately responsible for it. Our initial success in Colorado has gone past everything we hoped for: the team has swelled to 7 (and growing), we've hosted Design Sprint workshops with Jake Knapp and events at Denver Startup Week, we put on Marketing Leaders Lunch for marketing executives, we've immersed ourselves in other community efforts, and we've done awesome work for some of the city's most exciting clients (SendGrid, Red Rocks, the City of Denver—to name a few). Most importantly: the vibes are great. It's genuinely awesome to visit there. It feels like Clique, and it feels like a new startup, all at the same time. And as I write this, Michael is in Austin, building upon this model there.
Markets chosen based on growth potential and employee input
We've got a massive spreadsheet that helps us decide where to go next. Dozens of factors come into play (growth, number of startups, SEO, # of target clients, quality of life, LinkedIn connections, walkability/bikeability, competitors, flight cost, etc) — as well as a key one: employee desirability, based on internal surveys. We want to make sure we're expanding to the places we want to be long-term.

Jessa and Co at Marketing Leaders Lunch in Denver, 2019. Photo by Blake Jackson.
A Community Manager as the first full-time hire from the location (👋 Hi, Jessa!)
Our secret sauce, if we have one, is our belief in community—and our willingness to invest in it. This is based on our conviction that nobody is self-taught, that everybody learns from someone directly or indirectly, and it's our responsibility to share what we know. That's led to endless events, panels, mentoring, workshops here in Chicago, which has in turn helped us work with our favorite cultural institutions: Lincoln Park Zoo, Adler Planetarium, Chicago History Museum, and others. Now led by Jessa Lux, we've been able to build upon that model in Denver — giving as much to the community as possible. We look to continue that model elsewhere. Outside of our client work, it's our favorite thing to do.

State of the Clique 2019 — When we all get together
Supporting Studios with platforms, individual support, traditions, and norms
Platforms:

We use some standard tools for communication (Slack, Google Apps). In our project management system, we have workload views, tasks, and information about every project. All of our departmental playbooks, documentation, and calendars are open for all. We do daily temperature checks with everyone through a tool we built,

HappyMeter

. We use a brilliant platform called

Miro

as a collaborative, digital-first whiteboarding tool. 

Support:

Everybody has regular 1:1's and six month reviews with their manager, as well as access to the partners of the company through Office Hours and something we call "Jam Sessions." We have an in-depth onboarding process that applies to all hires, anywhere, and includes at least a week onsite at our Chicago HQ.

Traditions:

We all get together for weekly meetings we call Kickstarts. We all get together for monthly celebrations called

First Fridays

. We all get together for Clique University learning sessions. We all get together for our annual State of the Clique. (You get the idea). On top of that, we have a #watercooler channel, where our Office Manager, Renee, asks a question every week to get serendipitous conversation going, like "What activity helps you relieve stress?" or "What nicknames have you had?"

Norms:

Maybe most important. This all works best if we make distributed work the default assumption, and hold each other accountable. One example: we add Google Hangouts to every meeting and encourage every member of the meeting to sign in from their laptop and mute, even if they're in a room together. We explicitly make sure activities like First Fridays have specific roles for those in every Studio and location.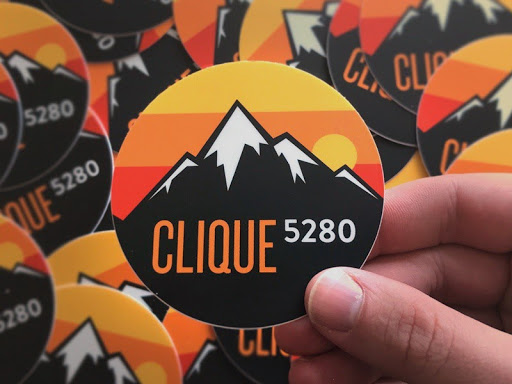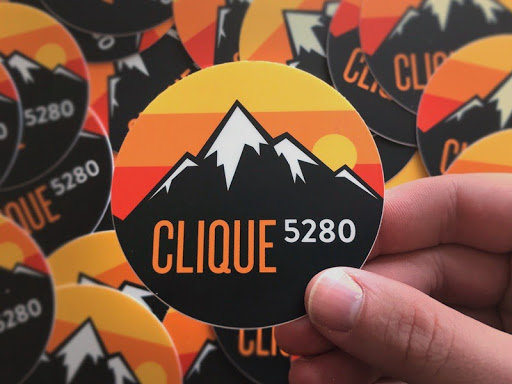 Individual identities and brand tweaks
Studios should be a key part of the "collective consciousness" of the larger organization. But they should also be deeply local, down to their own "sub-branding" and illustrations that make them unique. Our Colorado Studio is known as Clique 5280. Our Studio in Texas is CliqueATX; its logo features bats.
Project assignments with preference to local as a factor, but not a rule
We assign projects to local teams to the best of our abilities, but drawing upon the "Team of Teams," we also make room for interdisciplinary teams across locations —as a business reality but also to improve collaboration, increase understanding, and break down potential silos.
Only hire in Studios
We're a creative agency that thrives on collaboration, immersion in our culture, values, and in-depth onboarding. For that reason, we only hire directly into our Studios, and then after a year, people can request to go remote—a decision informed by reviews in the areas of entrepreneurialism, communication, and dependability. We may evolve this in the future, but this has worked best for us so far.
Anybody can work out of any Studio
Want to go out west for a week, see some family, and work out of there? Cool.
Where we go from here

In January, we launched a studio in Austin, and are in the process of hiring a Community Manager there. We couldn't be more excited about the prospects, the work we've already done there, and the potential for building some deep, long-lasting relationships.
Which means our current footprint looks something like this:
HQ in Chicago, office in Denver, remote folks throughout the country (in blue), studio in Austin
…and here's a look at what this could look like in the not-too-distant future:
Studios everywhere
It's a future we're building together. Along the way, we hope to offer people the ability to:
Work in a vibrant HQ, if that's best for you

Go remote anywhere, if that's best for you

Live in locations across the country, supported by smaller collaborative environments of 5–15 people, doing immersive work with local partners, if that's best for you

Change your answer as your life changes

Support, and be supported by, organizational values and infrastructure
Good for people, good for business.
As somebody who craved remote work at one point my life, craved 100% in-office work at another, and now looks for something in between—that sounds pretty good to me. We believe an all-of-the-above approach is the future for work like ours.
There will be challenges. We have to set up the infrastructure. We've gotta have active conversations with each other if changes are needed, and call bullshit when things aren't working. 
But at every step, this evolution has felt right.