The footer of a website is often overlooked, but not by you! 😉
As a marketer, I find that I prioritize content above the fold, and automatically assume that visitors will see (or find) everything they're looking for without reaching the bottom of the site.
But that's not always accurate. Scrolling has become more and more common with the use of social media and smart phones. It's a habit for people to scroll the second they hit a website.
In this guide, I'll share what your footer could include, along with some real-life examples to help you design your own.
Wait… Are footers really important?
With so much obsession around click through rate (CTR) and popups and whatnot, I feel like the discussion is always around really NAILING your content above the fold. And, as a result, you're questioning whether website footers are important when planning your design.
The short answer? Yes.
Website footers have been proven to increase conversions by over 23%, and revenue per visitor by 16%, if they're well optimized (which I'll explain momentarily).
Plus, visitors using your site on a mobile device can easily scroll to the bottom of your web page. One long scroll can take them to the bottom. (You can use heat maps to check whether this applies to your own mobile site.)
And if that wasn't convincing enough, your most-loyal website visitors will likely find themselves at the bottom of your web page. Take a blog post, for example. A reader scrolls to the end once they've finished reading. Your footer design is the perfect way to keep them engaged.
What can my website footer include?
Now that we agree website footers are a crucial part of web design, you might be wondering how you can create your own… Or, more importantly, what it should include.
Here are 11 elements you can use to create a great footer:
1. Information about your business
Think about the first visit someone has on your website. They might not always land on the homepage—especially if you're using social media or SEO to drive traffic to new pieces of content.
If they land somewhere other than your homepage, you can use your website's footer to share a quick snippet about your business.
Here's an example of WPComplete's website footer design:


The bottom of their website footer gives a short description of their two agency locations.
But if you don't fancy including a blurb inside your website footer, don't panic. You can take Doctor Care Anywhere's lead and simply include links for people who want to learn more:


2. Landing page links
Do you have specific conversion-focused landing pages you're trying to rank in Google?
The footer content on your website holds some SEO weight. The links you're inserting will build internal links to your landing pages on (almost) every URL, which passes a small amount of authority through to your landing page.
Plus, you've got the chance to build internal links with strong anchor text in the footer. You might not always have this opportunity if you're inserting links into other pages—like blog posts, for example.
And if that wasn't convincing enough, footer links are superb for speeding up your indexing times. You might need to wait a few weeks for Google to index a new URL… But if they crawl any other page, they'll find your new URL within the footer.
Take a look at this website footer example from HubSpot: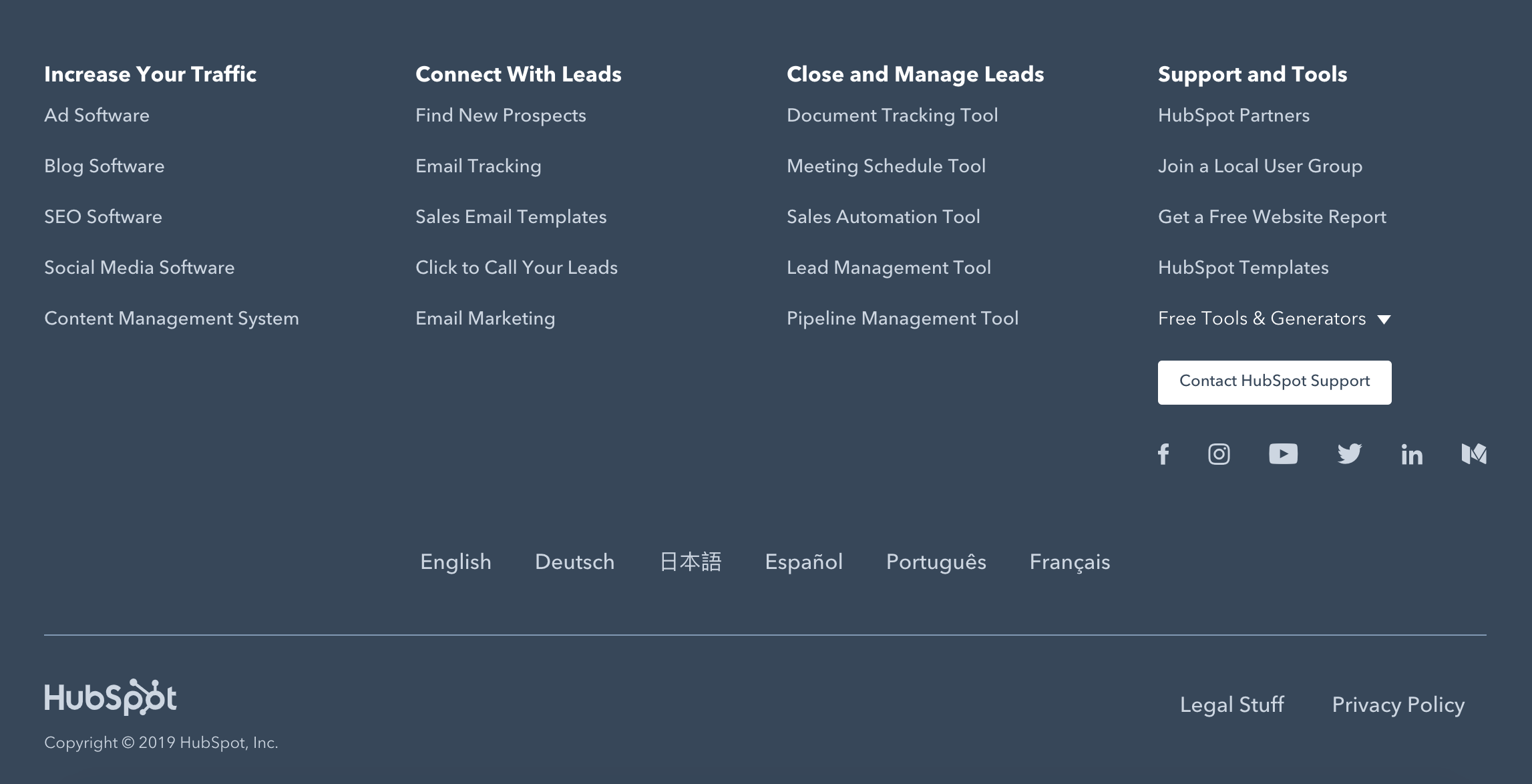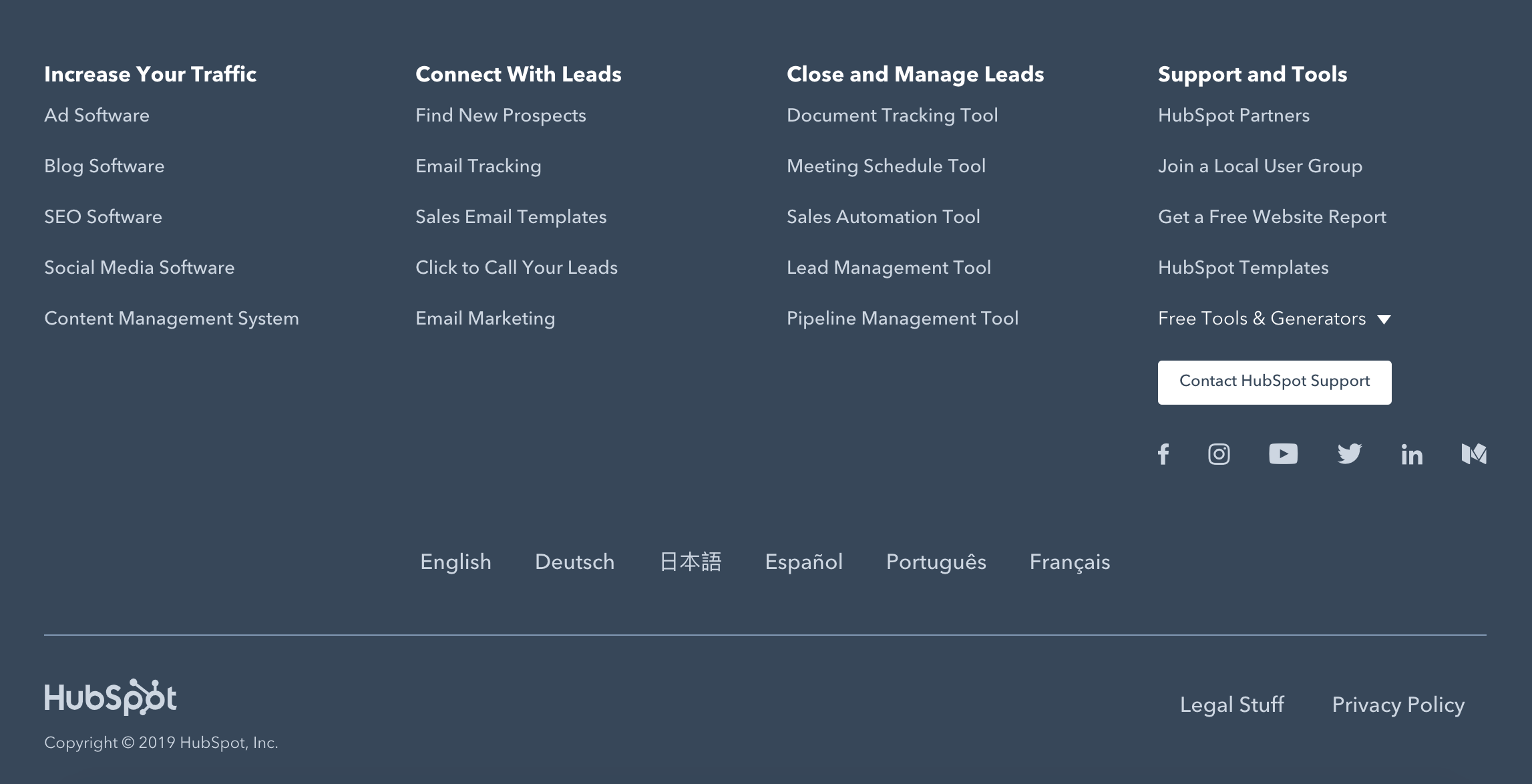 The footer is home to several internal links, each of which point to a landing page using rich anchor text like "sales email templates" or "pipeline management tool."
This anchor text tells Google spiders exactly what the page is about. This means search engines know where (and how) rank the landing page: for HubSpot's money-making keyword.
3. Basic navigation
People who scroll towards the end of your page will be far away from the safety of a main navigation bar. If they want to head somewhere else, they'll usually need to scroll back towards the top.
You can make that whole process easier for them—and improve overall user experience—by including a basic navigation menu in your website's footer.
The website footer design on Aldi shows this doesn't have to be complicated: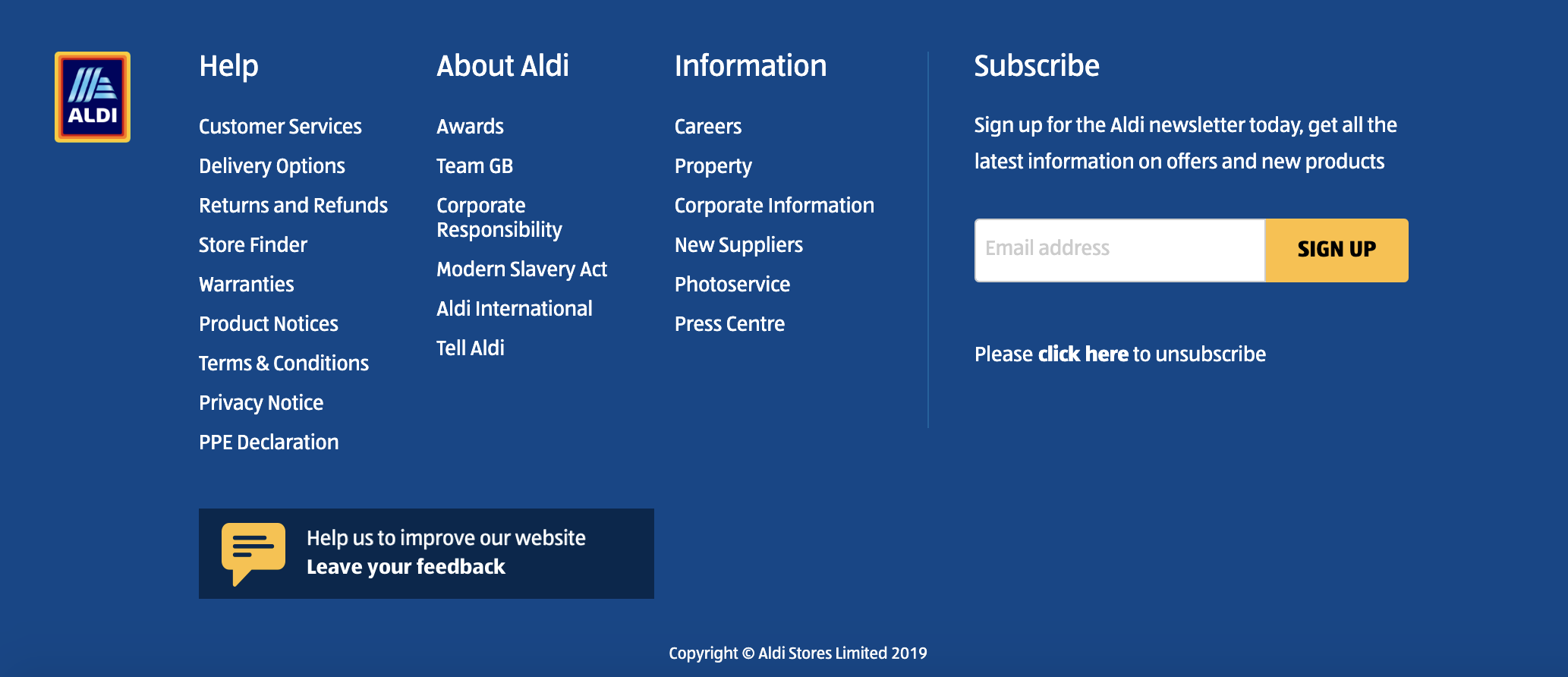 Simply pop your most-viewed pages in your navigation bar, and organize them into columns of relevant links. It's the easiest way to help your website visitors find the basic information they're looking for.
4. Legal information & Copyright
Websites are required to display certain snippets of information, and make them easy for visitors to access, by law.
They range depending on the country, but generally include:
Copyright information
Privacy statements
Disclaimers
Terms and conditions
Your website's footer is a great way to include these links on your site, as demonstrated on our site:


Our sitemap, privacy policy, and accessibility links are shown on every web page without being too obvious or "in your face." They're not always read by human visitors, so the best place for them isn't always front and center of your design. Stick them in your footer, instead.
5. Social icons
There are over 7.6 billion social media users across the globe.
You're dead on the money if you're using social media as a way to engage and nurture potential customers. But it's tough to get people to hit the "follow" button—especially if they don't know you're active on that channel.
Adding social media icons to your website footer can solve this problem. Why? Because if somebody scrolls to the end of your web page, there's a good chance that they're interested in what you have to say.
Your content is fresh in their mind by the time they reach the footer. They might be thinking, "how can I get more of this?". The social media buttons in your footer can direct them there as a way to stay updated.
The Denver Public Art website, for example, has a website footer design that contains clickable buttons for their social media links towards the bottom, as well as a feed of their branded hashtag:


6. Call to action
A call to action (CTA) is a button that tells your website visitors what to do.
The website footer has a lot of real estate on your page. And, because it's the last thing on your web pages, it's your last chance to convince someone to complete your goals.
Plus, it stands out against other content that might blend into your existing website design—especially if the footer has a contrasting background to the rest of the site's color scheme.
That makes a website footer the perfect location for a CTA.
Here's what that looks like in practice for Glossier's website:


CTAs can be anything from accessing a discount code (ideal for ecommerce!) or subscribing to your blog. But regardless of what you're asking people to do, don't make them scroll to the end of your page without taking action.
7. Search bar
Did you know that 50% of visitors go directly to the search bar as soon as they arrive on a new website? You could be alienating half of your website traffic if you're not making it easy for them to find the information they're looking for.
Visitors might get to the bottom of the page and not find that information—which is why it's smart to include a search bar in your website's footer.
The best part? It's super easy to do this on a WordPress site.
Simply head to the Appearance > Widgets section of your dashboard, and drag the Search widget to your footer space and you'll have something similar to what Do You Even Blog has done here: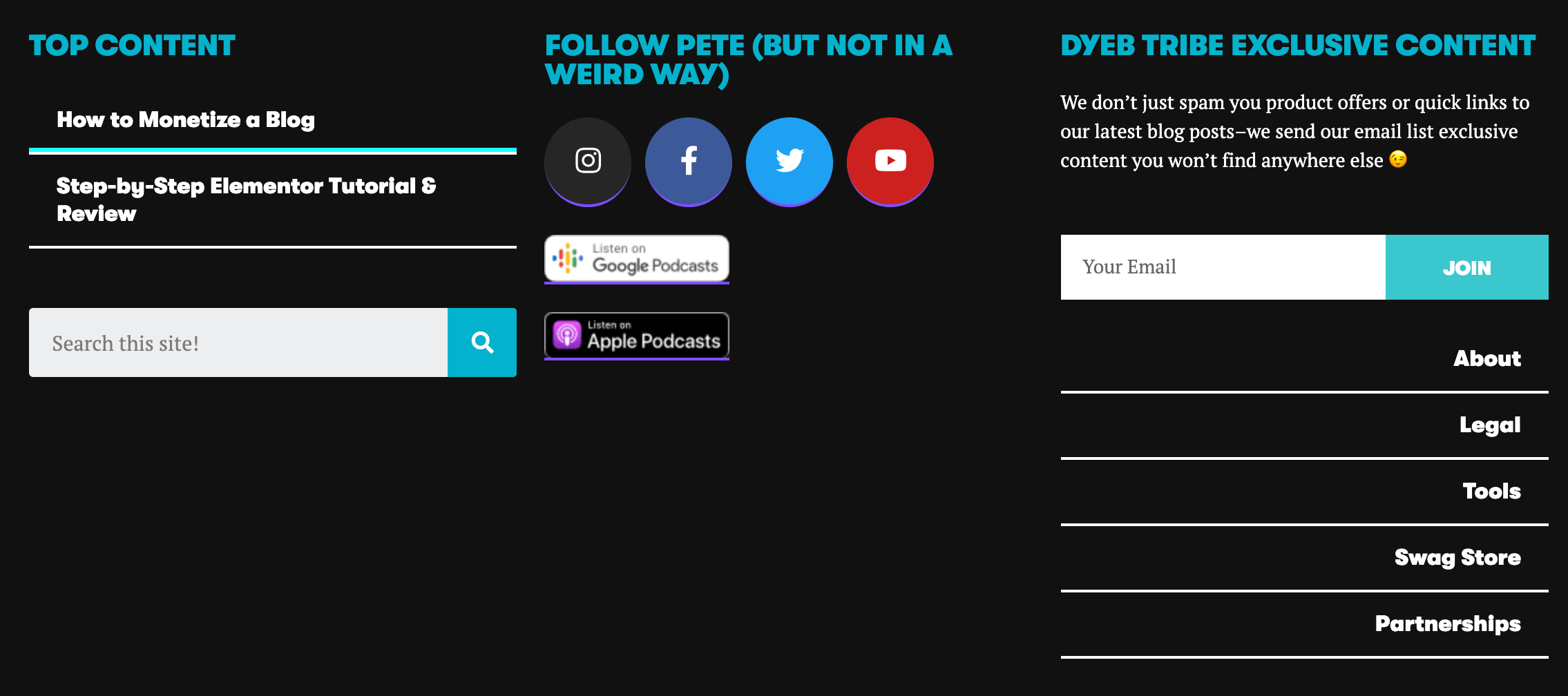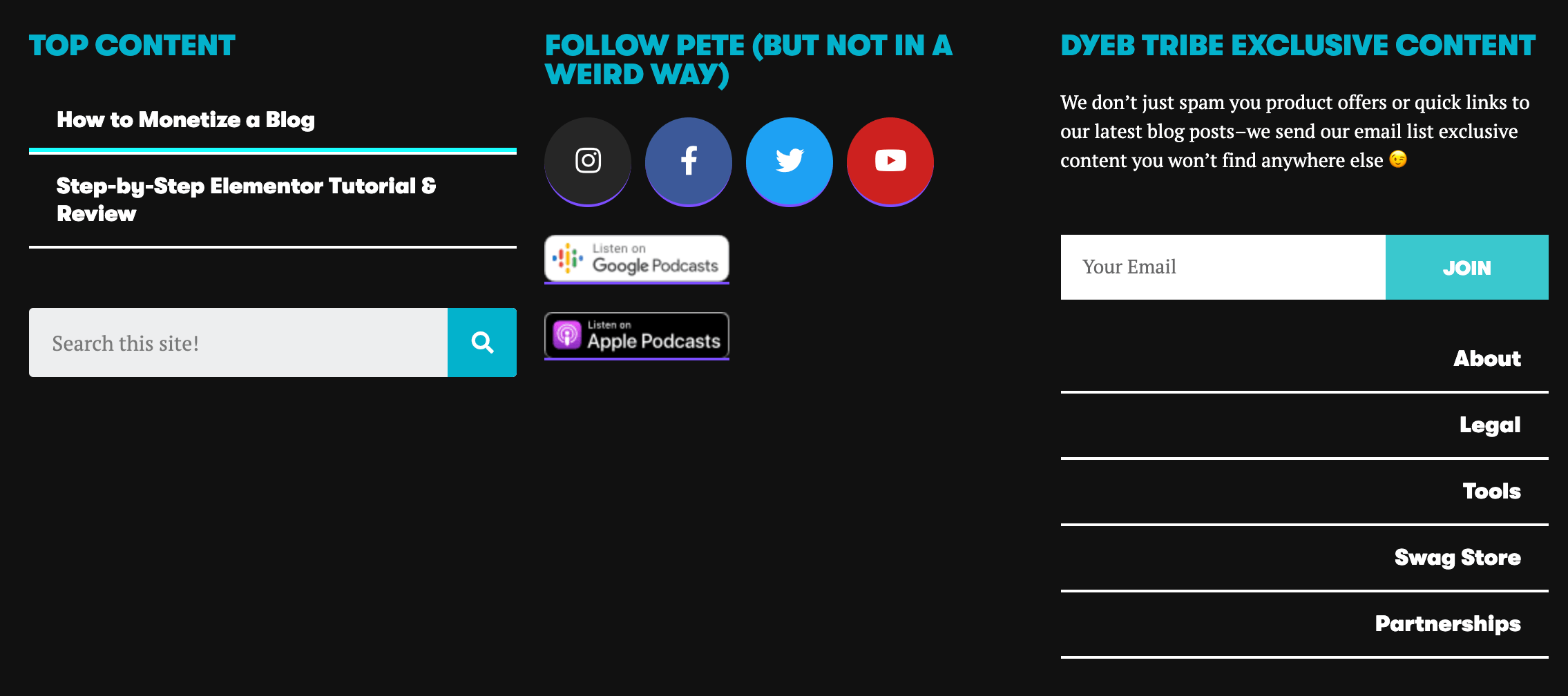 8. Contact information
It's not just potential customers that use your business' website. Chances are, it will be your existing customers' first port of call when they need support.
That's why your website's footer should contain key contact information, such as:
Email address
Phone number
Physical address
Contact form
Live chat button
Single Grain is a great website footer example that shows this in action:


People visiting their website instantly know what their business does, and their address. It's a superb way to build trust by showing you're a real company—and even more crucial if you're a local business attracting website visitors in a specific area.
10. Popular posts
You're probably investing time into content marketing. But while you might spend hours creating new blog posts, infographics, or whitepapers, it's a total waste of time if people don't see them.
…Which is why you should allow them to take pride of place in your website's footer.
Ahrefs do this with their footer section titled "Best of the Ahrefs Blog," where they direct visitors to their most popular content:


Similar to landing pages, it's an easy way to build links to your content with rich anchor text.
(Bonus: This is a super easy web design hack; you can use WordPress widgets or plugins to display popular or recent posts in your website's footer.)
11. Social proof
Did you know that 92% of people trust recommendations from friends and family over any other type of advertising? It outdoes Google Ads, Facebook Ads, and SEO by a mile.
You can take advantage of this by including social proof in your website footer: Details that prove other people are buying from (or trusting) your business—and that your future customers should, too.
(You've likely experienced the effect social proof first-hand in real life. You arrive at a restaurant at 7pm and the dining room is empty. There's nobody there, so you question whether the place is any good.)
Online social proof can take many forms, including:
Logos of your well-known customers or clients
Testimonials from happy customers
Star ratings on third-party sites
Take a look at this website footer we designed for Mile High Golf Trail:


The only think more impressive than our design (AM I RITE?) is the logos of their clients!
The logos are bound to prove to website visitors that their company is trustworthy—especially since, if you are even remotely aware of golf, these are brands you're already familiar with and trust.
Website footers are important for your organization's goals
The design of your website footer isn't something you should shrug off. These 11 considerations should give you everything you need to include, but don't be limited by these.
Fee social media is a scourge on society? Good. Leave em out. Are you some awesome middle-school prodigy building the world's next big startup out of your parent's basement? Leave your address and phone number out.
The footer IS a crucial part of your overall web design, and should be carefully crafted to push visitors to complete your goals—whether that's a purchase, copyright notice, or email signup form.
As a final tip, and this is the marketer in me, but remember to link to pages you'd like to pass SEO equity to.
It'll help. I promise. 😃