For every passion, profession, or general interest, a membership organization exists for it. 
Associations can range from the YMCA to Mensa to your own HOA, and thousands of groups jostle to find the right people to join them, communicating noble missions or offering membership perks.
Which is why it's important that an association's website goes that extra mile to show the value it can provide its members. An association with a good site may pique interest, but one with a great site can inspire true passion. 
With that in mind, here are ten of the best association websites currently out there. 
National Association of Scholars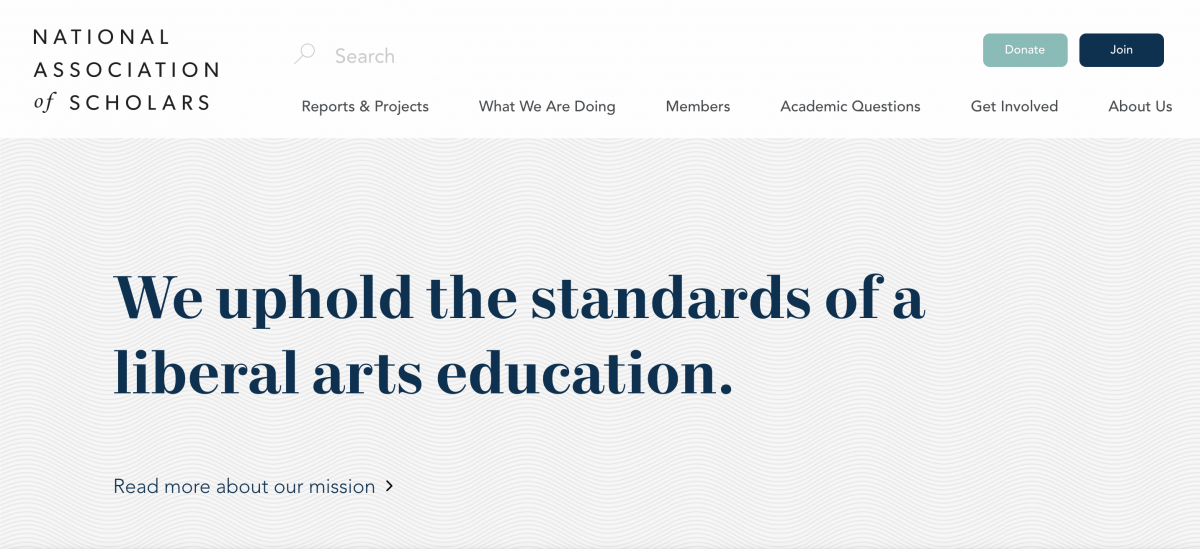 The National Association of Scholars serves a simple, yet important mission: they stand for intellectual freedom, holding up the values of a liberal arts education, while defending the intellectual right to continually search for truth. Their elegantly designed website helps serve this high purpose.
Why We Love It
Upon entering the homepage, a minimalistic, intuitive layout greets users upon entering the homepage. Now, we are on record as being huge fans of a minimalist approach to design, and NAS clearly shares our philosophy. This beautiful, sleek site with tasteful use of empty white space offers a clear call to action in its header, where you can hover over sections to find quick access to articles, academic questions, and more.
It's extremely easy to navigate, allowing the user to learn more about their mission, see what they're up to currently, and, of course, donate to become a member of the association. Or, as the NAS would say, the site easily affords users the opportunity to "influence the ivory tower." 
Why Members Love It
Membership to the NAS, which ranges from $35 a year annually for students and retirees to $750 for a lifetime membership, does more than just support a worthwhile organization. It comes with a subscription to the quarterly journal, Academic Questions, as well as discounts for their national conferences. On top of that, they offer free publicity for books and articles written by its members. Plus, it comes time to renew your membership, the website offers a refreshingly easy destination to get that taken care of, as well as a donate button for whoever wants to give more.
Retail Industry Leaders Association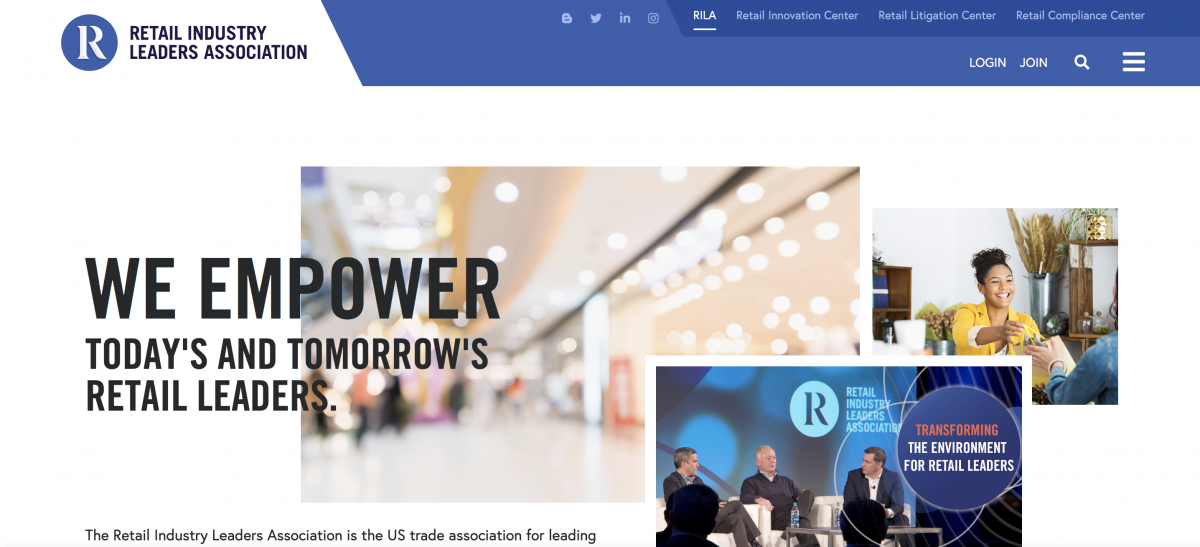 The Retail Industry Leaders Association was founded in 1969 by 20 regional discounters who had the goal of encouraging growth through networking while learning from each other. Now headquartered in Arlington, Virginia, this trade association strives to promote consumer choice, embracing and encouraging the future and evolution in the vital field of retail. 
Why We Love It
Scrolling through RILA's crisp, concise blue-and-white-forward site, the user encounters a treasure trove of information and content. Each area of focus is clearly highlighted and given its own main page, while blog posts and press releases are placed towards the bottom of the page help keep the user informed of the goings on within the association.
And, since RILA has grown beyond its initial mission throughout the past 50 years, the header offers navigation to three separate launch pages for innovation, litigation, and compliance, which helps users receive a site experience uniquely catered to their needs and interests. 
Clicking on those sections launch a fresh page filled with information meant specifically for members working in the field in question, essentially giving you three fully functional sites attached to a single landing page. 
Why Members Love It
The Retail Industry Leaders Association was first conceived to help individuals within the field of retail and distribution network with and learn from each other, so it should come as no surprise that RILA offers its members the ability to connect with country's leading retailers, consumer product manufactures and solution providers.
RILA members also receive access to over 500 annual events, with the option of joining one of over 60 different membership communities. The association also champions relief efforts for member businesses affected by national disasters. It's a caring community, with a website that purposely reflects the support they provide. 
American Bar Association For Law Students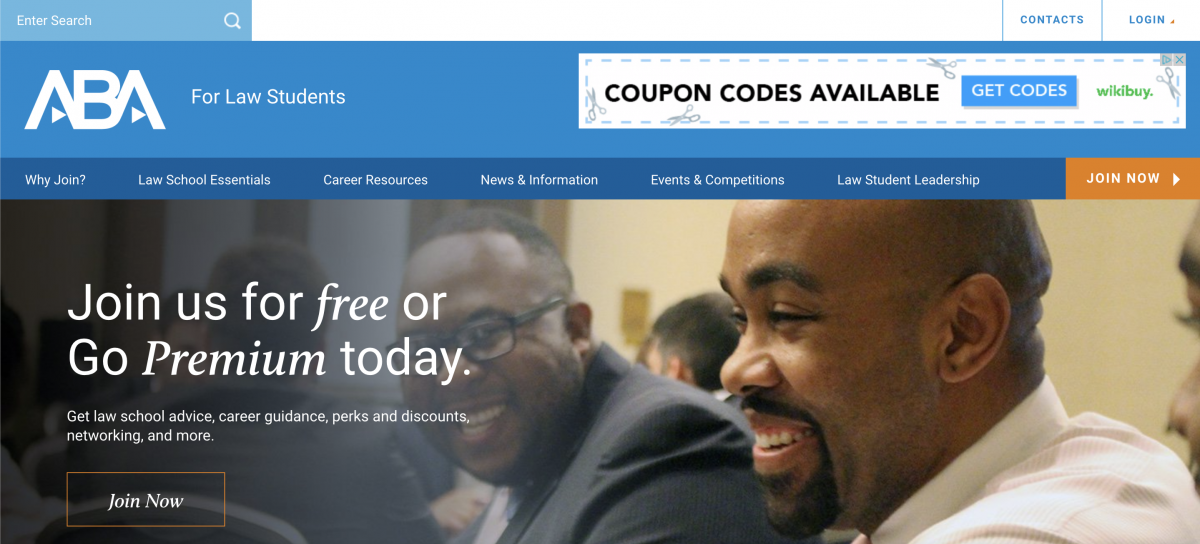 The American Bar Association has been the bedrock for educational and ethical standards of lawyers and anyone looking to work in the field of law since 1878. The AMA for Law Students provide invaluable resources for aspiring attorneys across the nation, letting their voices be heard in the community to help promote the rule of law across the world. 
Why We Love It
The AMA for Law Students provides carefully laid out resources specifically designed for students of law. Website visitors can easily navigate through the top menu, or scroll through the beautifully designed site, which utilizes a simple and welcoming color scheme, to access information and resources through the homepage. 
The site offers members and non-members alike the ability to find useful articles for every stage in the journey towards a law degree, with no superfluous content. 
Why Members Love It
While their site contains educational and informative posts that all users can access, members get extra bang for their buck when they join the association. Membership comes with exclusive discounts on casebooks, study guides, and access to Quimbee Bar Review, while offering markdowns on Bar prep courses. 
Additionally, AMA for Law Students provides training and career counseling to members to help them get a leg up in the legal profession, as well as an easy-to-find events calendar to find writing challenges and webinars available to members. 
National Parks Conservation Association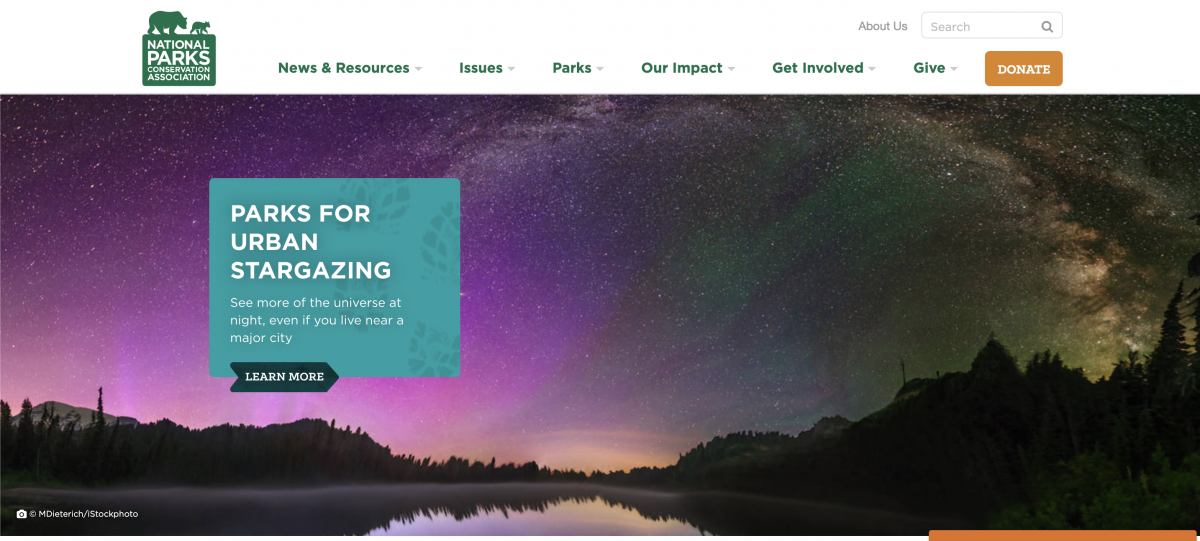 As the only nonpartisan, independent association dedicated to supporting the National Parks Service, the NPCA has been a staunch watchdog of the nation's parks since its inception in 1919. Their core mission, to protect our forests and parks, serves to maintain the beauty of nature for current and future generations.
Why We Love It
As a large non-profit organization with over a million members operating throughout the nation, the NPCA website succinctly organizes a high volume of information through drop-down columns. Users can access information on numerous topics, ranging from pressing environmental issues to park-specific informational pages. 
The site itself is a perfect blend of beauty and function, overlaying gorgeous imagery with a clear declaration of the NPCA's mission and their many efforts to make that mission succeed. 
Why Members Love It
All members receive a free subscription to the award-winning National Parks magazine, and a free, branded fleece blanket. Plus, the NPCA has compiled an exclusive Park-Pak, with maps, useful websites, phone numbers, and helpful tips for anyone looking to travel to any of the fine spots maintained by the National Park Service. 
Additionally, the site does more than tell you why you should be a member of the NPCA, its user experience encourages member generosity. Anyone looking to donate can easily access a simple tax-deductible donation form by scrolling down the homepage, so becoming a member is easy. 
American Association for the Advancement of Science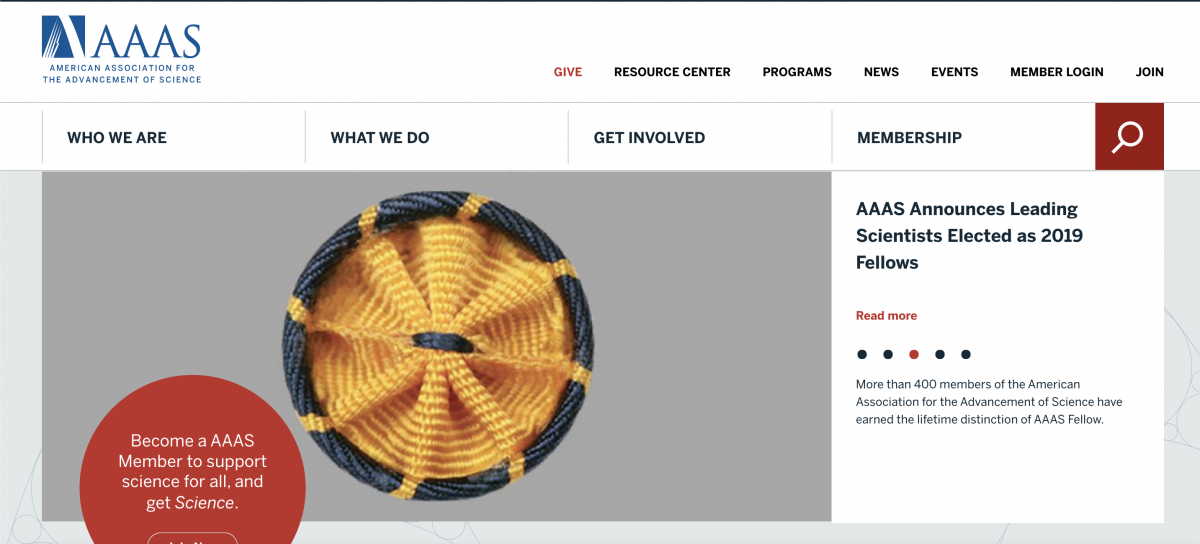 With over 120,000 members, the American Association for the Advancement of Science is the largest scientific society, operating to defend scientific freedoms and advocate for cooperation among scientists. They provide a welcoming community for any and all individuals who feel that through science, math, engineering, and technology, we can solve most of the problems the world faces today. 
Why We Love It
The AAAS site provides clear and concise calls to action from the moment you open their page. With a few clicks, you can quickly determine who the AAAS is, what they do, and how you can get involved. This clear communication provides you access to readily available articles that inform members of their mission, as well as relevant current events. 
Why Members Love It
A membership to the AAAS grants access to exclusive member-only content and resources. In addition, all members receive weekly issues of Science along with unlimited access to Science News Online. 
And maybe most importantly, membership grants you access to the AAAS Member Community, a personalized platform where science lovers can privately share research and connect with various members of the scientific community. 
American Medical Association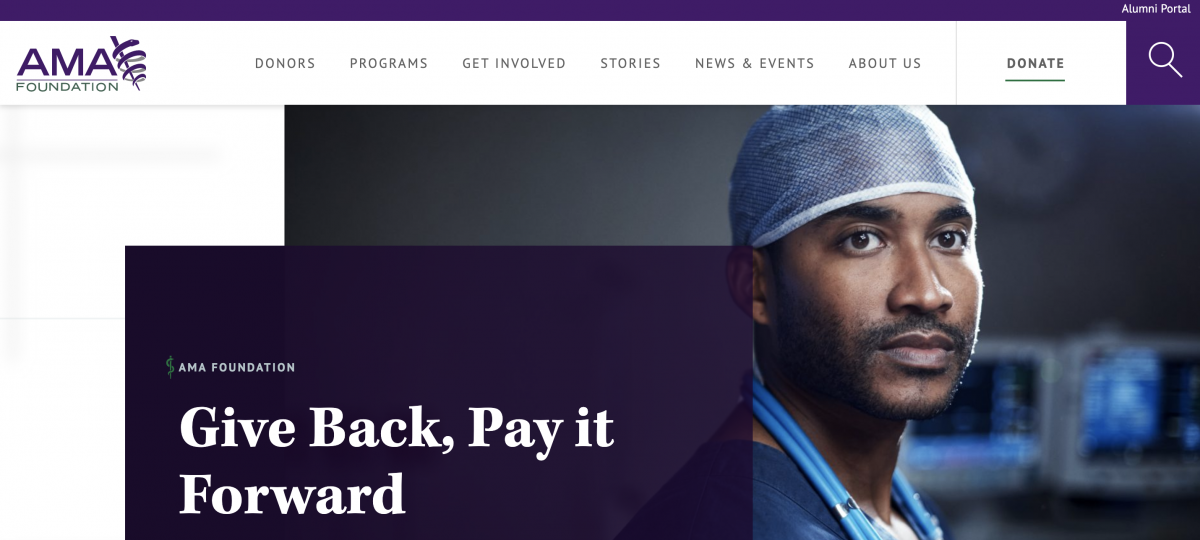 The American Medical Association has been the largest association of medical professionals since its founding in 1847. Their mission is to "promote the art and science of medicine and the betterment of public health." With over 240,000 physicians and medical students as members, they're the loudest voice when it comes to medical policy issues in the nation.
Why We Love It
Okay, so we might be tooting our own horn a little bit.  While we may know a thing or two about whoever designed this site,  that doesn't mean we can't take a step back and appreciate the site for its own merits. 
All the relevant information on the site is accessible through a long-scrolling homepage, with specific sections listed in the header. The design draws the eye to the clear and visible call to action for donation and support, while still highlighting the important programs the AMA hosts to impart a positive community impact all over the country. 
Outside of the cleanly designed main page, the stories section acts as one of the more exciting and unique CTAs we've encountered. The site asks you to "share your story" which then connects the user to a contact form where they can reach out to the organization directly with any questions or statements they wish to share. 
Why Members Love It
VIP donors receive early news alerts before anyone else in the industry, as well as invitation to exclusive events and several surprise "perks" each year. Plus, you'll become a part of the most influential medical association in the United States, where your medical opinions can truly be heard.
American Institute of Graphic Arts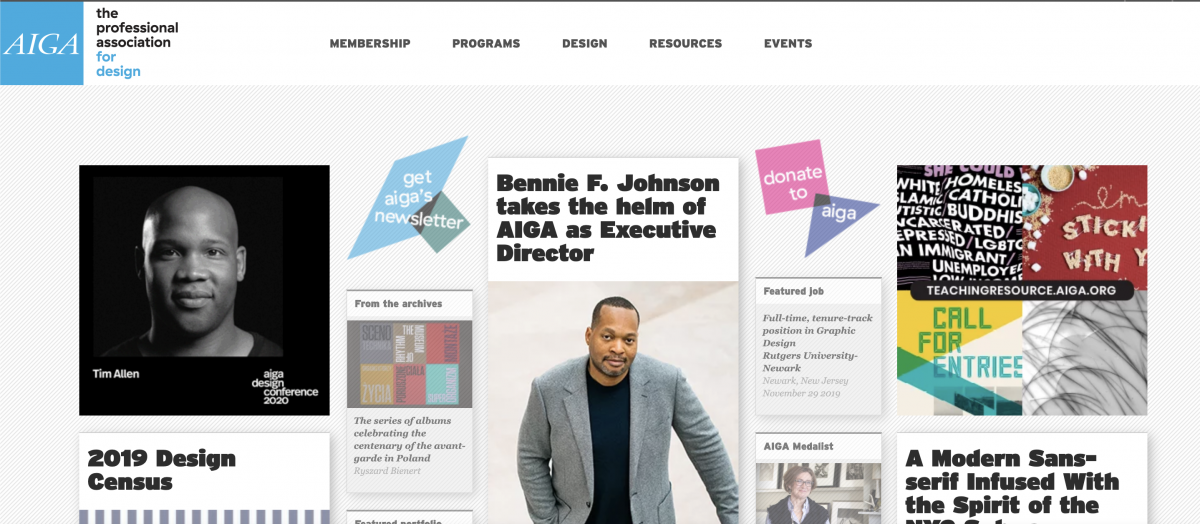 If you've ever even dabbled in the field of design, the American Institute of Graphic Arts is the group for you. The AIGA has created a community for anyone practicing typography, branding, graphic design or any other form of communication design since 1914. Their 73 chapters, with 22,000 members, strive to set the standard for professional ethics within the design profession.
Why We Love It
The simple and uncluttered home page offers the latest news and design project announcements, leaving the rest of the site accessible through an easy-to-navigate, drop-down menu. From that menu, users can access resources and even subscribe to their newsletter.
Why Members Love It
As far as association membership benefits go, AIGA does not skimp on the perks. When you join, you receive access to complete job listings for AIGA Design Jobs, as well as exclusive discounts when hiring freelancers or full-time creatives from The Creative Group.
Additionally, on top of discounts on event fees and entry to graphic design competitions (that offer prizes and prestige for the winners), you receive a free year of a .design domain name. And that's just the beginning. When it comes to staying on top of design trends, the AIGA goes above and beyond to keep you at the top of your field.
Rotary International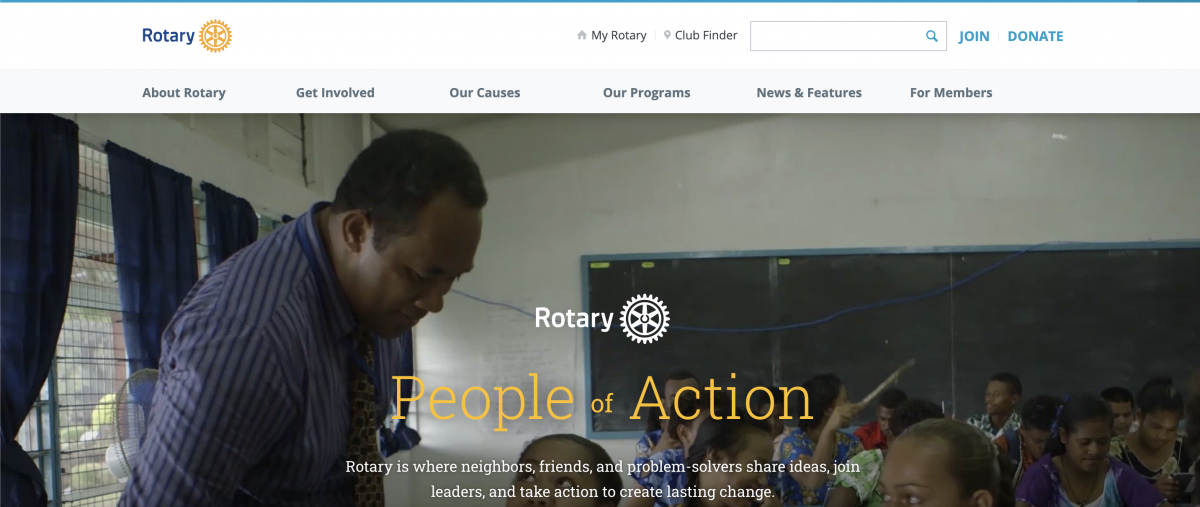 Headquartered in Evanston, Illinois, Rotary International strives to unite business and professional leaders to provide humanitarian services throughout the world. They aim for the admirable goal of advancing goodwill and peace on Earth, which they do by emphasizing the development of friendships in order to create opportunities to provide service. Over 1.2 million members, in over 35,000 different member clubs, meet once a week for a meal to effectively plan ways to follow the Rotary motto, "Service Above Self."
Why We Love It
Such a large, encompassing group requires a lot of information on their website, which could lead to clutter or a confusing user experience—but this experience isn't that. Without overwhelming the senses, the fully navigable header shows you all browsing options for the dozens of launch pages on the site.
The main page of any association website should make it clear why visitors should care about their mission, and Rotary International definitely got the memo. Rotary's site can confidently claim to be one of top nonprofit websites by making sure to highlight their causes, projects, and ways that anyone can get involved in a way that inspires Rotarians and non-Rotarians alike.
Why Members Love It
Members of Rotary International who, as you may have guessed from that last sentence, are known as Rotarians, often feel a sense of accomplishment and charity at the work they're able to do with their club. But that positive feeling is only one of the many benefits of membership.
The site offers an entire section that lists current projects underway by clubs, which can inspire ideas for your own association, or give you the opportunity to support an undertaking near and dear to your heart. 
Members also receive discounts on various goods and services, an invitation to a yearly convention, and the ability to network with individuals in your field. With business professionals forming the backbone of the association, Rotary International is not only one of the most notable philanthropic groups, but it's one of the best for career advancement as well. 
Association of Control Professionals
The Association of Control Professionals is a relatively young group, but in its fewer than fifteen years of existence, the ACP has allowed for career advancements for hundreds, if not thousands, working in energy management or involved in building automation control systems.
As a non-profit membership organization, the ACP focuses on providing education and industry resources to overlooked members of the Building Automation Systems sector, including technicians, specifiers, engineers, integrators, programmers, and managers. 
Why We Love It
The user-friendly site is beautiful to scroll through, seamlessly transitioning through featured projects, workforce research, news content, and more. The site contains just the right amount of information—no page feels unnecessary or wasted, and all serve to drive education and support to an under-appreciated work force. 
Why Members Love It
Unlike the other associations in this article, ACP offers different, targeted memberships that offer different benefits to different workers, tailored to their role. You can become a member as an Individual, Academic, Corporation or Organization, each with different methods and chances to engage with fellow members. 
Additionally, members receive access to exclusive educational materials, and an online job marketplace within the BAS sector. And all tiers receive a monthly newsletter with articles and significant statistics about the industry. 
Poultry Science Association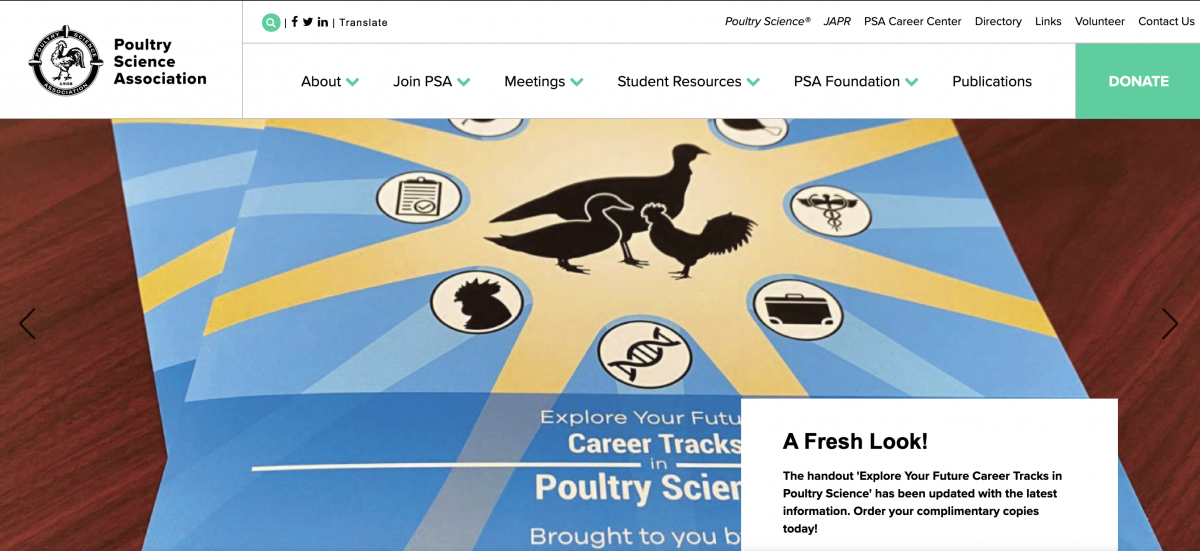 Not many of you reading this article likely have much of a reason to invest in a membership for the Poultry Science Association, but for the nearly 2,000 scientists, educators, industry specialists and college students, the PSA is the gold standard for advancing research and education into the nutrition and processing of poultry-based products (yes, not just chickens, they work with quail, turkey and duck as well) and has been since 1908. 
Why We Love It
The PSA site offers a compact launch page that doesn't feel the need to show off. They offer relevant news, list off the benefits of membership, and otherwise let you navigate at will throughout the site to easily access association information and helpful student resources. 
Why Members Love It
Membership earns you free online access to both Poultry Science and the Journal of Applied Poultry Research. Additionally, members receive discounted rates for the Poultry Science Association annual meeting, which serves as one of the best yearly networking events in the entire field. 
To top it all off, members are able to submit original research for both of the aforementioned journals, granting them even more exposure within the industry while allowing themselves and their peers to stay up to date on the latest in research and news. So while we may not be chicken farmers, if we were, we'd know what site we'd make a daily stop. 
What can we learn from these association websites?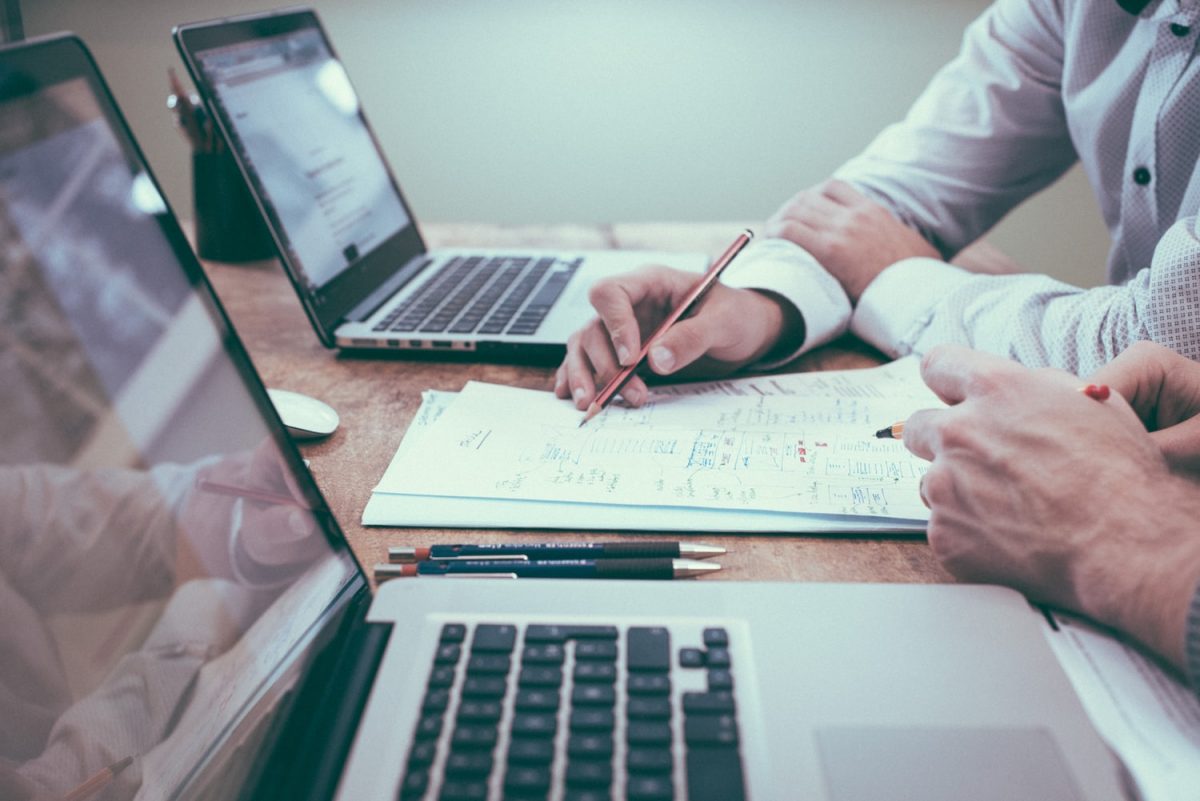 We know that the best sites do more than neatly organize useful information for their users regarding their mission, history, and latest relevant events. A truly great site engages with users, members and non-members alike, while offering easy to engage calls to action to stand out among the rest. At the end of the day, great sites manage to solve problems for their users, while also adding value to the organization. 
The right combination of structure, design and message can teach, surprise, and inspire a group's members to engage even more within the organization. It drives membership participation without overwhelming or causing confusion. And ultimately, the best of the best provide beautiful websites that manage to shine a light on the true spirit of the association, and show how it fosters such passion from those within the organization.