Associations and nonprofits cater to a range of audiences and play a variety of roles in the lives of their members. Your website is a central component. It's a place to drive new memberships, donations, and engagement. And most importantly,
Here's how to leverage your website as a marketing and membership tool, not just a repository of information:
Organize information by audience
Associations have a wide variety of functions due to their diverse audiences and different needs. Organizing the navigation by audience may help users find content relevant to their purpose on the association's website. Identifying key user functions and organizing information accordingly will create a more seamless experience.
Create a simple path to conversion
There are a number of ways members can get involved—donating, volunteering, joining, etc. However your users might be interested in participating, make sure there's a clear and direct path driving them toward that action, creating a clear user flow is key. For example, a bold "donate" button in the navigation; a global "sign up" call-to-action in the footer; a clear "benefits" section on the memberships page.
Whether traffic is coming directly to an association or nonprofit website, or from SEO, or even from social media, converting and optimizing that traffic into members, volunteers, and/or donors allows the website to become a primary growth engine for an association or non-profit organization.
Leverage your members for insights
Your members are a gold mine for information and insights to improve your website and ensure it's something they want and need. Members are already invested in the well-being of the organization—they want to hear from you. So talk to them. Set up user interviews to ask them what matters most to them, and promote those benefits on your website.
Want to build a website that shows off your association and grows your membership? Contact us.
Here are some association websites we've built for incredible organizations.
Union League Club Chicago

Refreshing a brand without relinquishing its roots
The Union League Club of Chicago is a prestigious, full-service, private club in the heart of the city. For 140 years, they've been a leading voice for civic, cultural, and community involvement. Like many membership organizations, they were faced with the challenge of attracting members from a new generation, while honoring their core values. In addition, their website needed to help members easily access the club's benefits—from making reservations to paying bills.
After a tour of the club, we led a messaging strategy workshop to understand their audiences and identify relevant benefits and features to highlight on the site. Then, we refined their website to improve the user experience for both current and prospective members. The result was a design that honors the club's history, modernizes their brand aesthetic, and helps users easily find and access key functionality.
Highlights include:
Messaging strategy workshop to segment key audiences and club benefits
Handpicked photography selections to compliment brand guidelines
Brand style guide to leverage for consistency in future updates
Detailed development notes for seamless handoff with club management software development partner
New York State Bar Association (NYSBA)
The New York State Bar Association (NYSBA) is one of the largest voluntary state bar associations in the United States, attracting members from across the country and across the world. Their mission is "to shape the development of law, educate and inform the public, and respond to the demands of our diverse and ever changing legal profession." 
For an organization of this caliber and size, we approached the project with an emphasis on discovery: defining the problem before building a solution. After conducting in-depth research on their organization, users, and the larger market, we built a new website that serves both their members and their team.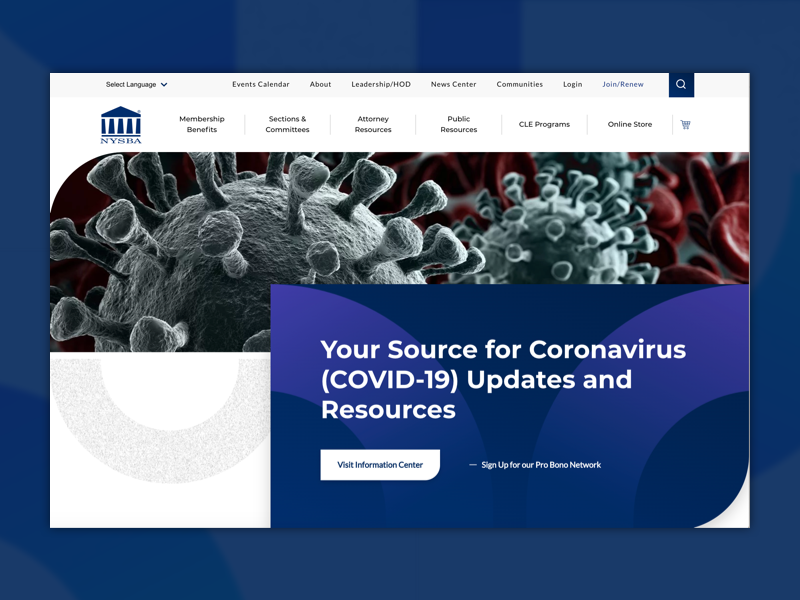 Specific Project Highlights: 
Strategy
Messaging Strategy Workshop to align on brand communication and personality  
Competitive Analysis to evaluate what worked (and what didn't) for other bar associations 
Heuristic Evaluation to audit the usability of the old website
Stakeholder Interviews to consider the perspectives of all departments
User Testing & Interviews to learn how user's interacted with the website
Card sorting to strategize a user-centric navigation system
Partnership with a technology consultancy firm to strategize API integrations
Educational findings presentations to onboard the client teams and enable them to make the best decisions for their business strategies
Design
27 templates to create a unified look and feel, including a flexible template, allowing for various content structures while maintaining visual cohesion (ex. Section and Committee content)
Minimalistic design to compliment content, not distract from it
Symbolic, bridge-inspired elements, representative of NYSBA's ability to create connections for their members
Simplified navigation, based on user vocabulary and usage patterns
Flexible homepage banner (image and video capability) to share important, relevant content with members
Development
Full-site search functionality for regular and advanced user queries
Custom-built, responsive navigation (both top and footer) 
A filterable, easy-to-update calendar with accessible tagging applied for multiple events of different categories and with the flexibility to view by week or month
Universal, single-source sign in across all platforms connected to the website
43,000 redirects from previous data base 
Integration with Salesforce for event, committee, and product data that syncs daily for easy management and upkeep
API integration with third-party vendor
The AMA Foundation
The AMA Foundation sponsors mentorship, education, and scholarship programs for medical students. Prior to working with us, their national association was embedded in the AMA's larger website, causing users to get lost in the site's structure and their team's workflow to be bottlenecked. They needed a separate platform to drive engagement with their members, stand out, and increase donations.

A separate site for a separate purpose
The new site, while remaining cohesive with their parent organization, creates a distinct voice for the AMA Foundation. With an audience spanning across generations, the user experience (UX) is designed to work for all devices and users. Lastly, the simple, custom CMS, empowers their team with the flexibility and power to move quickly and capitalize on membership engagement opportunities.
Specific highlights include:
User-friendly forms enabling more engagement and simpler conversions (hosting upcoming events, sharing a story, or signing up to donate monthly)
Subtle web design elements to enhance, not distract (ex. design layers for MP4/Youtube videos)
Designed and developed to be an engaging homepage experience on mobile and desktop

Smooth banner animations that work seamlessly across platforms and devices
"Get Involved" slideshow functionality optimized differently for mobile experience
Currency
Currency, Chicago's FinTech Center of Excellence, serves to foster the growth of the FinTech ecosystem in Chicago & the Midwest by creating lasting relationships across the industry. It aims to identify, evaluate, and promote best practices for company engagement and growth, driving innovation & collaboration. Currency is excited to unveil their brick & mortar location in Chicago and bring together this FinTech community.
Currency approached Clique in need of an exciting, engaging splash page to announce their upcoming presence in the city of Chicago. They looked to our team to execute the strategy, messaging, web design, and build of the site. We were able to craft their new brand and create a digital presence to draw attention to and excitement around their unveiling.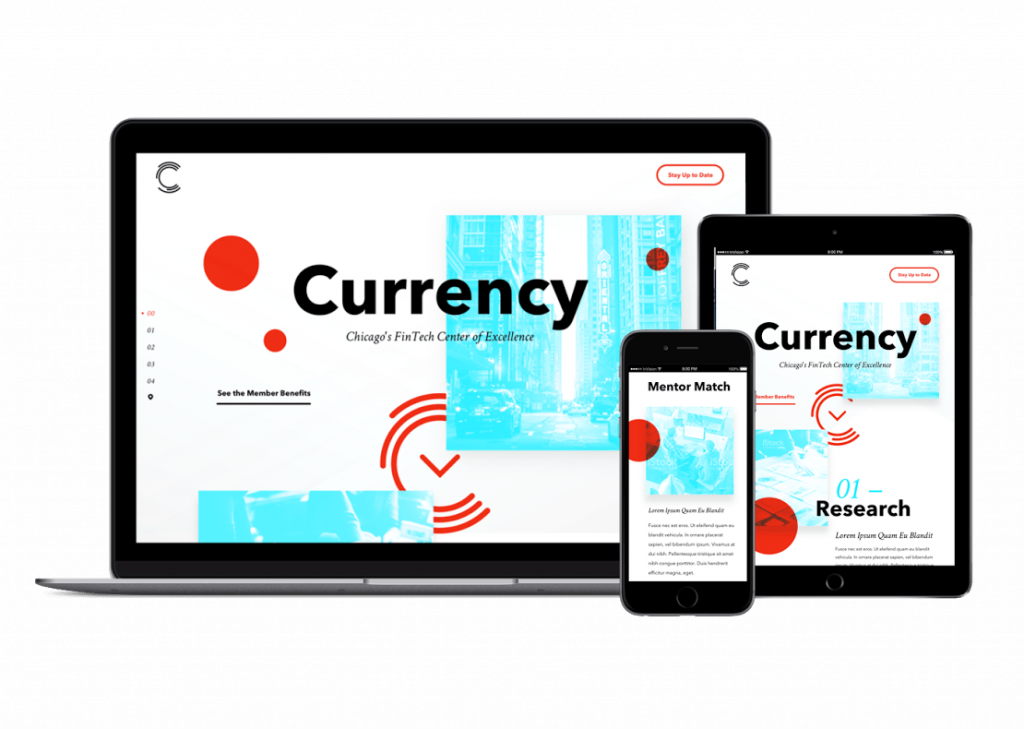 To do that, we:
Created custom logo design
Customized animations
Crafted original copywriting & brand messaging
Responsive website design
Received Honorable Mention at Awwwards
FinTEx
FinTEx is a community of the leading organizations in FinTech and Financial Services, fueling innovation across Chicago and the broader Midwest. This industry association promotes collaboration to stimulate growth and opportunity, while providing a single point of access for those looking to do business in the Midwest.
After launching the site unveiling Currency, their brick & mortar FinTech Center of Excellence, we were able to continue our partnership with FinTEx. For this project, we were able to craft their entire brand, from logos to taglines, color scheme to copy on a new website.  We executed the strategy, messaging, web design, and development of the site, building their brand from the bottom up.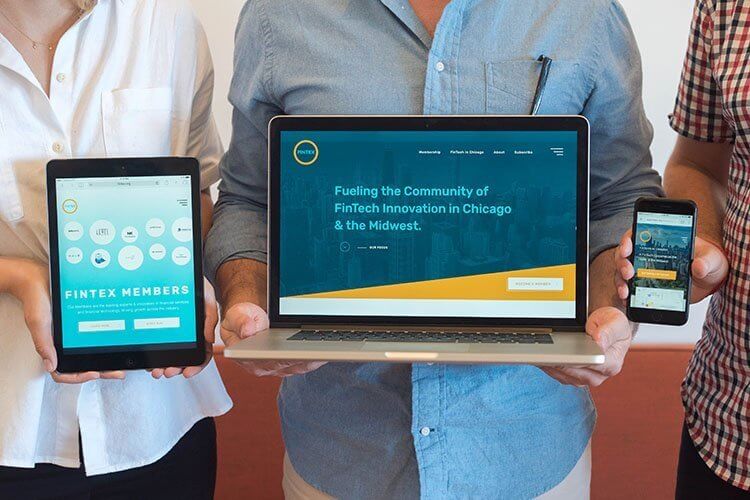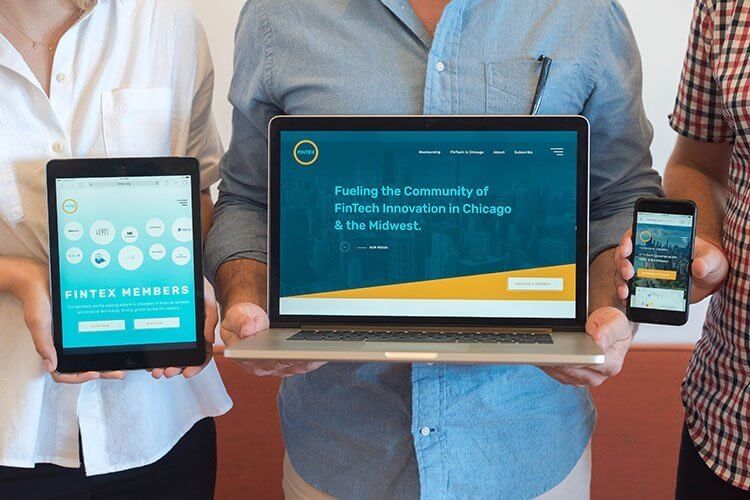 To do that, we:
Created custom logo design
Customized animations & iconography
Crafted original copywriting
Ensured responsive website design
Defined brand guidelines

Mission statement, core identity, voice
Social media

Typography
Colors
Style guide
TechNexus
TechNexus is aligning relationships with funding strategies to engage enterprises, accelerate startup growth, and drive collaboration. They create opportunities to multiply business growth and increase innovation among their members.Clique came onboard to redesign their existing website, focusing on a seamless user-friendly experience (UX) and content strategy. We repositioned their messaging to speak to target audiences and better tell their story, avoiding overused industry jargon and creating a voice of authenticity. The reimagined web design coupled with the new messaging were implemented to elevate the TechNexus brand's association website.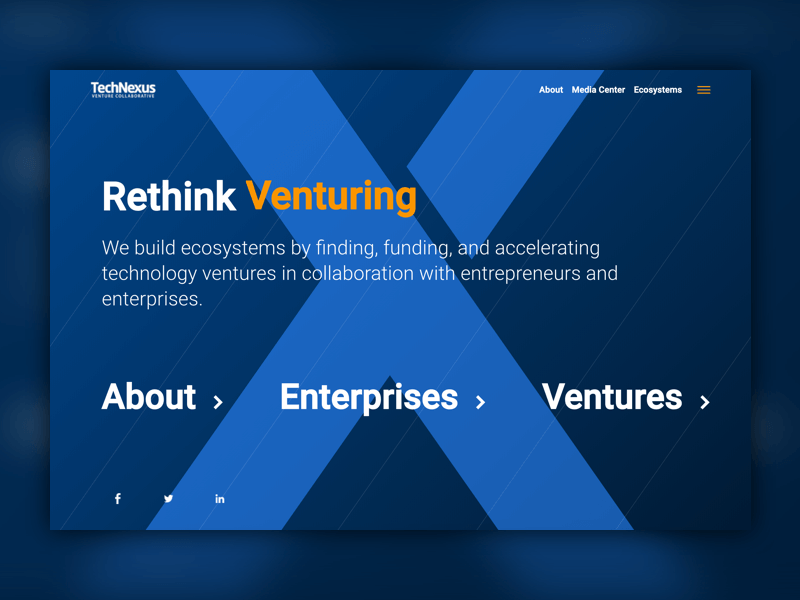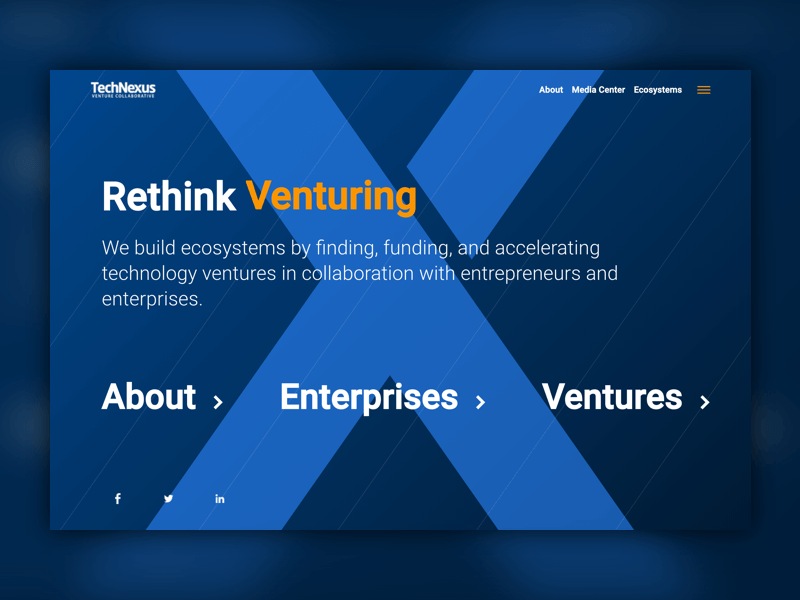 Highlights:
Created messaging strategy across pages

Copywriting
Content curation

Designed microsite template for flexibility & scalability
Dynamic elements incorporated throughout
Created new color scheme to stand out and modernize brand
As members of TechNexus, we were honored to be able to tell their story.
American Osteopathic Association
Check out the American Osetopathic Association. As long-term partners of the organization, we were thrilled to build a digital experience to empower their mission.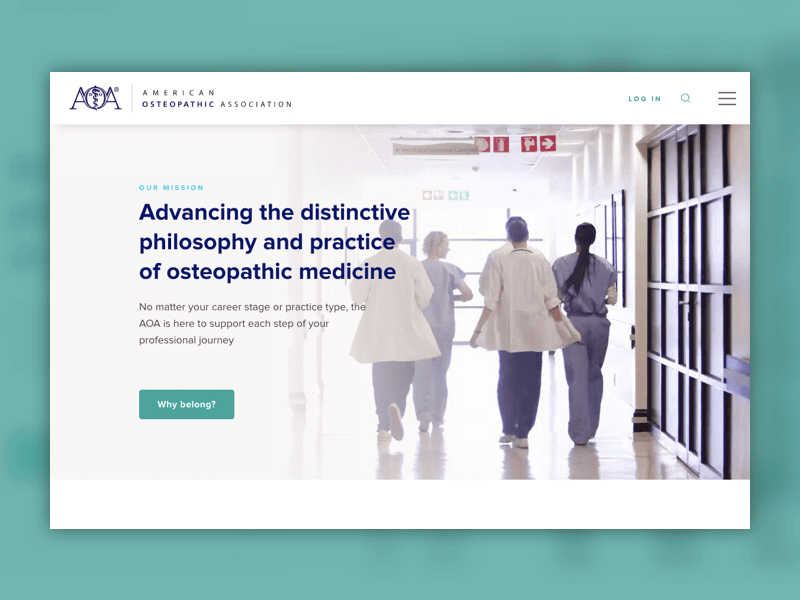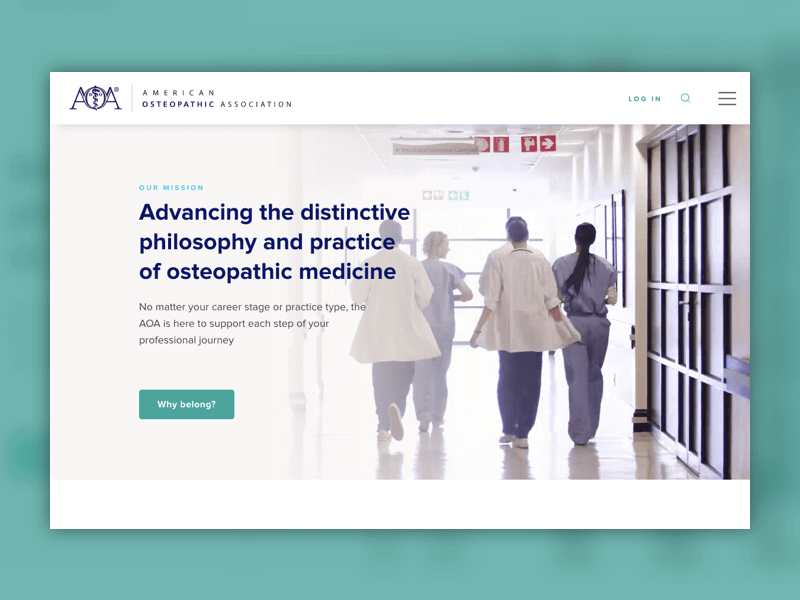 Need a website to grow and support your members?