This is the second part of an ongoing Design Sprint Series, check out Part I, and our full day Jake Knapp Design Sprint Workshop.
Well, we did it. We fit a 5 day process into 2 hours.
Riiiiight…
If you're wondering how to do a design sprint in 2 hours, the answer is you can't. The process is designed with time in mind to be as efficient as possible, and it requires five 8-hour days. Sure, there are versions to shorten it, and steps you can skip depending on your unique challenge. But 2 hours is never going to be enough time to produce fully-formed solutions.
You can, however, teach how to do a 5-day process with 120 minutes of activities and discussion.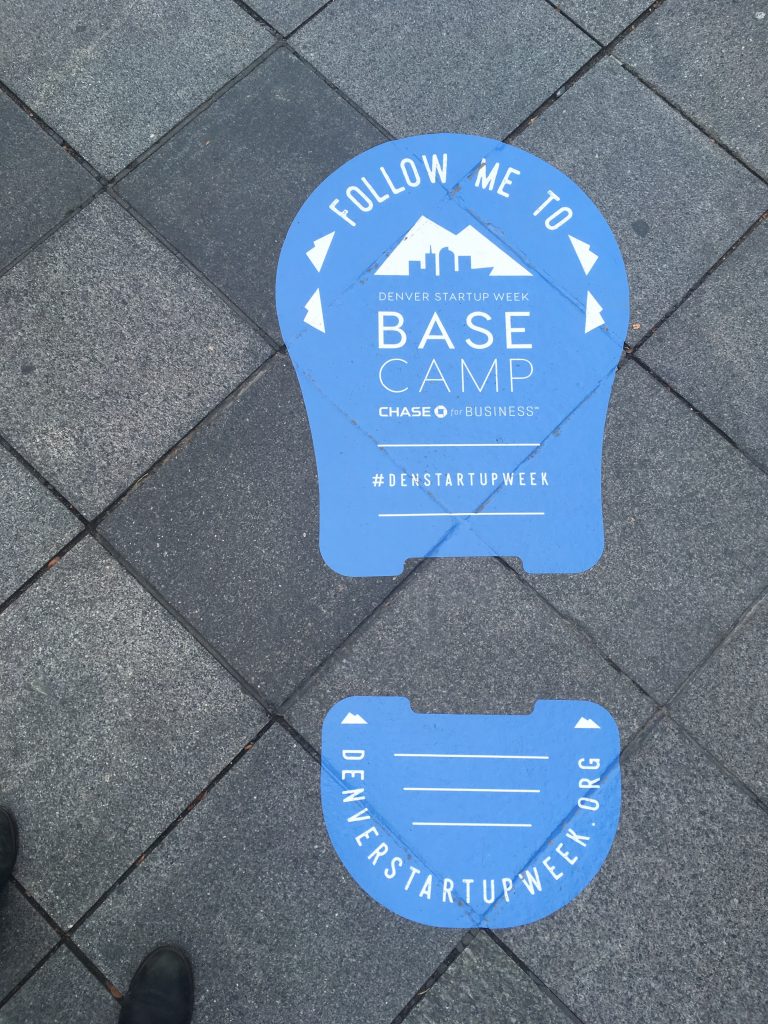 In Part One of this blog post, we outlined how we were approaching the sprint session at Denver Startup Week, and, more generally, approaching the problem we're trying to solve: to increase awareness about public art in Denver, agreed upon in our initial sprint with the team at Denver Arts and Venues.
The session was designed to educate participants on the design sprint methodology by actually doing one, thus contributing ideas and solutions to the sprint goal as a result. Our decision to introduce a pre-established goal and skim over the activities in the Understand phase was key to getting participants onboarded to the sprint problem quickly. Then, we dove right in.
Interested in engaging the community to tackle an opportunity in your city? Here's how we did it:
Pre-sprint:
We completed the first three phases of a design sprint with key stakeholders from the city of Denver—Understand, Sketch, and Decide. As a result, we produced clearly defined goals, a sprint target, a plethora of ideas, and a storyboard of how it all might work (more on that in Part One).
The pre-sprint gave us a framework for the Startup Week session, allowing us to provide participants with an established goal to tackle in their 2-hour sprint.
Design Sprint Session (2 hours, Denver Startup Week)
Icebreaker:
Before highlighting what we accomplished in the session, I want to call out how important it was to start with an icebreaker. This is included in most instructional reading on design sprints, and our session would not have been as successful without one. We decided to create one of our own for the interest of time, and did so in such a way to incorporate some of the sprint methodology.
We instructed each participant to write their name and three things about themselves on a piece of paper. Then, they stood up and walked around their tables, reading through what their neighbors' had written and placed sticker votes on things they found interesting or maybe had in common with someone.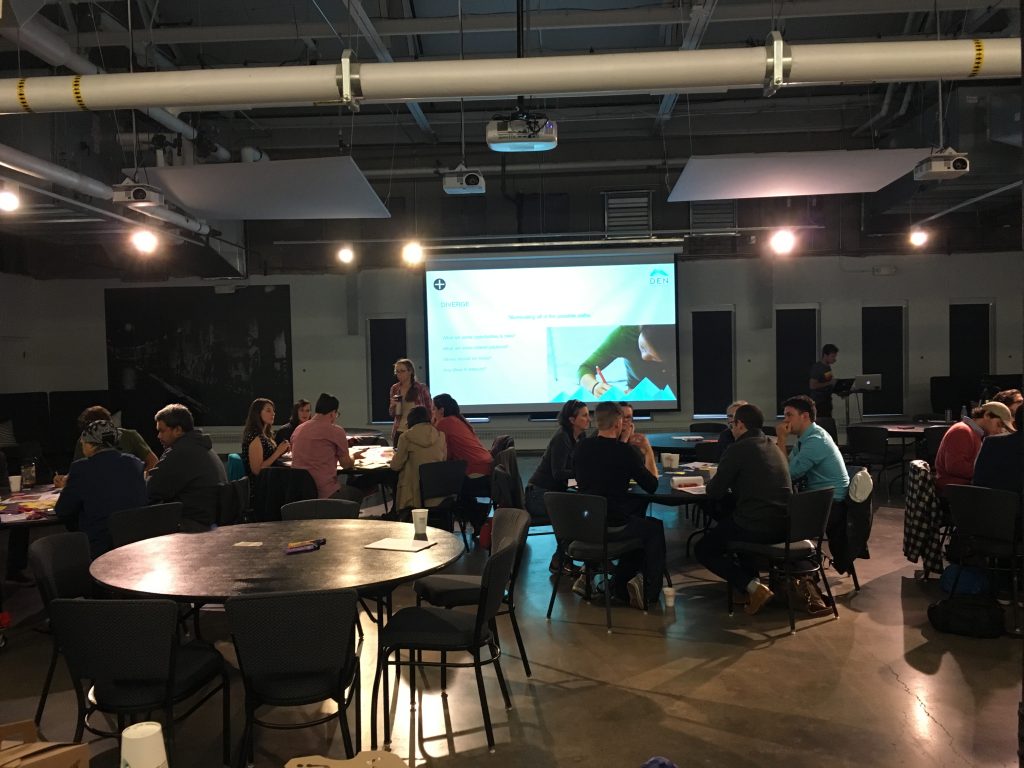 The teams were able to get to know one another before collaborating, and everyone was up and moving to start the day.
Next, with the teams set and the goal established, we got to work.
Phase 1: Understand (20 minutes)
Before diving into the problem at hand, we offered some background on the design sprint process. Then, we set out to answer why we were doing one. Michael Chavez, manager of Denver's Public Art program, gave an overview of the city's collection and the program's history.
Finally, we introduced the sprint goal, giving as much detail as possible as to how we arrived there in order to educate participants on the Understand phase. Once all questions were answered, we set out to solve for it.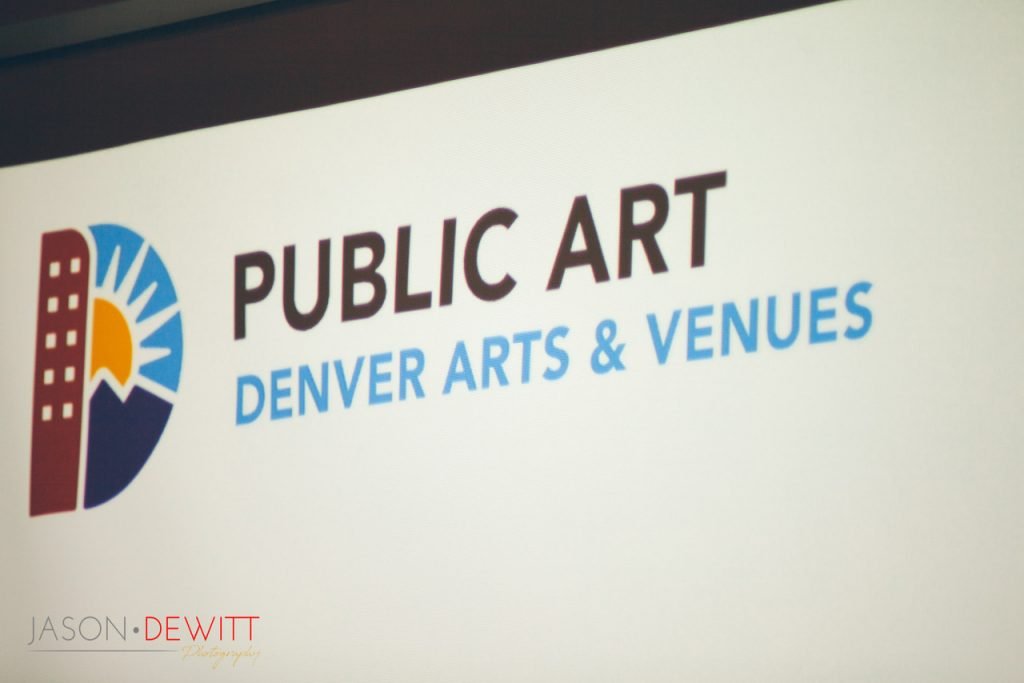 Phase 2: Sketch (70 minutes)
Here, we fit in a few core concepts and activities to encourage participants to separate and ideate, then circle back to collaborate and move forward.
Diverge
Problems/Opportunities (5 min) – c

onsider other solutions, feel free to take out phone and research

Present (3 min/person)

Vote/Decide/Pick a Target (5 min) – sticker voting, then discuss & pick one

Ideate Solutions (5 min) – piece of paper, aim for quantity over quality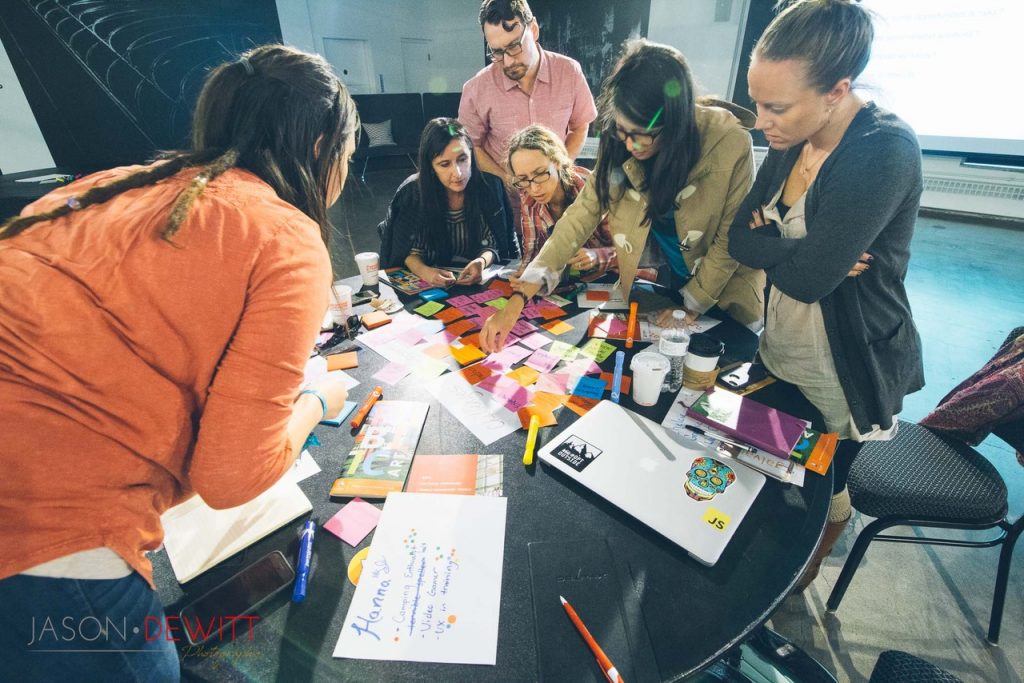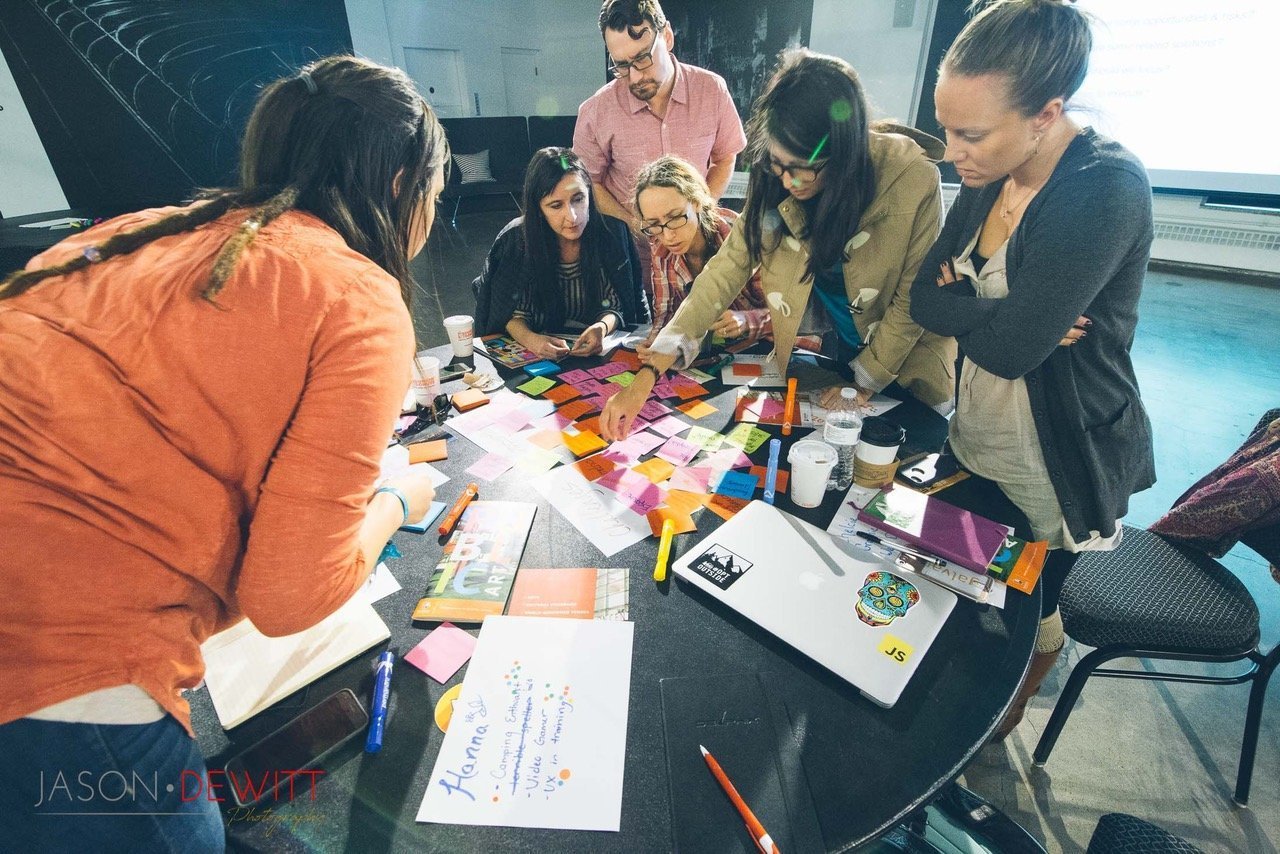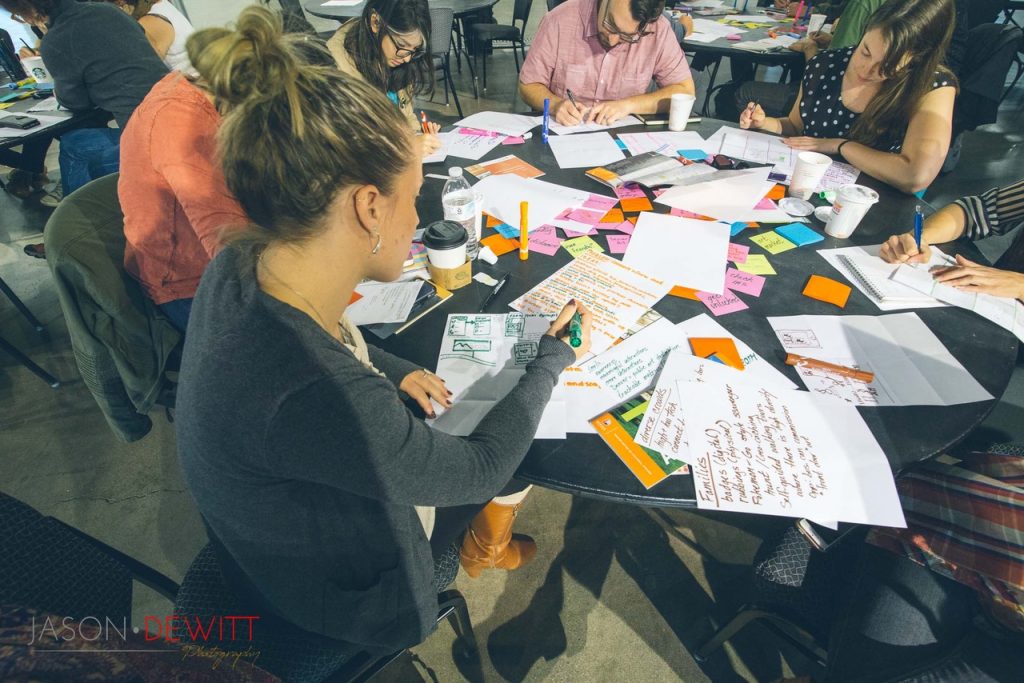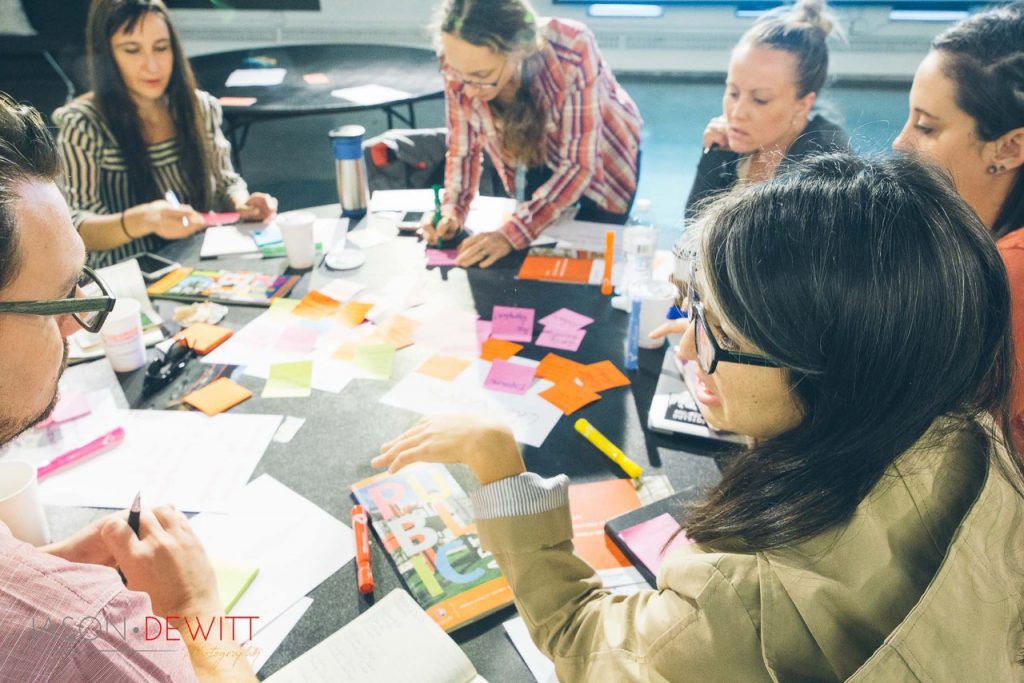 Sketch
Crazy 8s (8 min)

Present (3 min/person)

Sketch one well defined idea per person (10 min)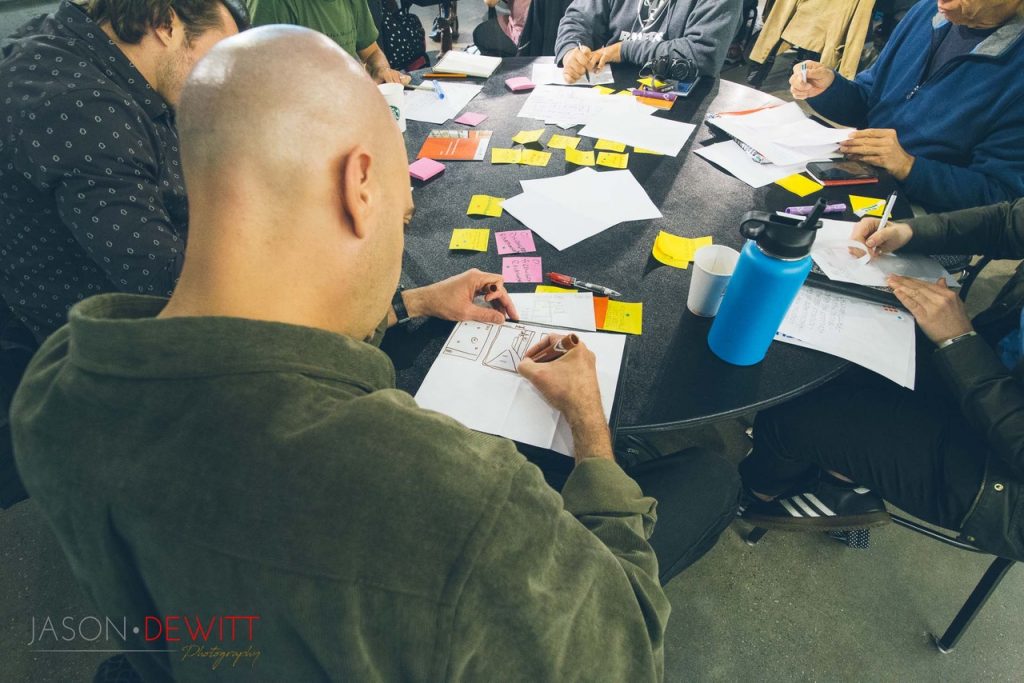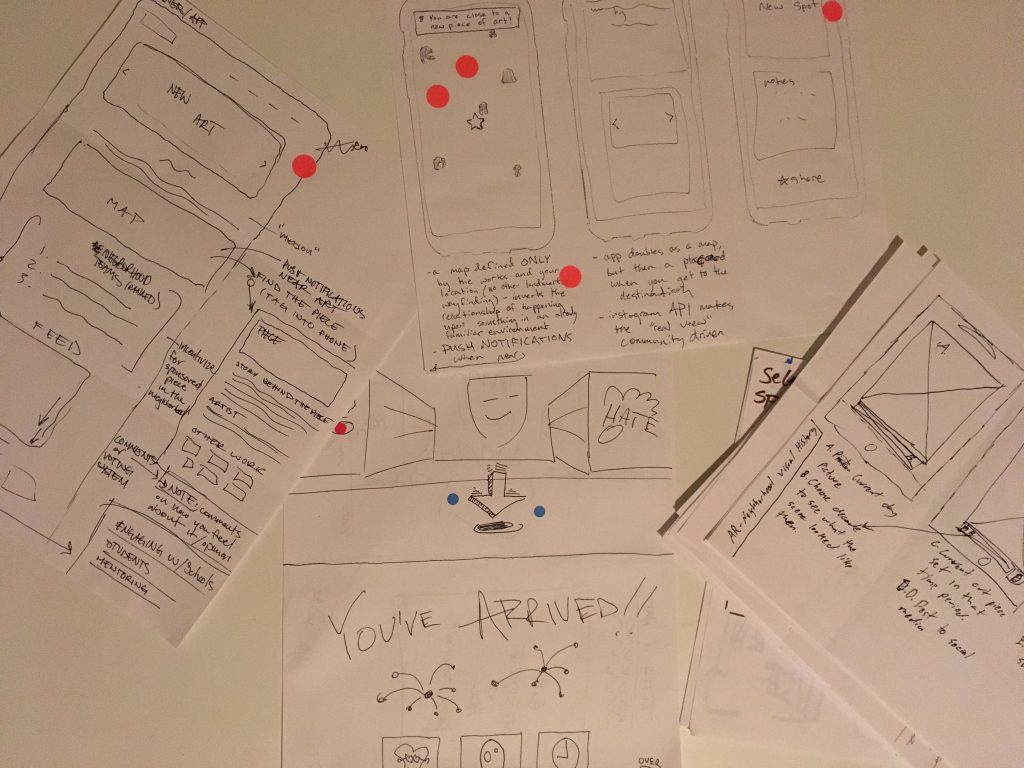 Phase 3: Decide (20 minutes)
Once the sketches were completed, the teams had 20 minutes to decide which idea they would present. There was plenty of discussion and critiquing, but everyone was able to voice their opinion, and finally one won out.
Present/Discuss (3 min/person)

Decide (5 min)

One person from each group presents to the larger group (3 min/person)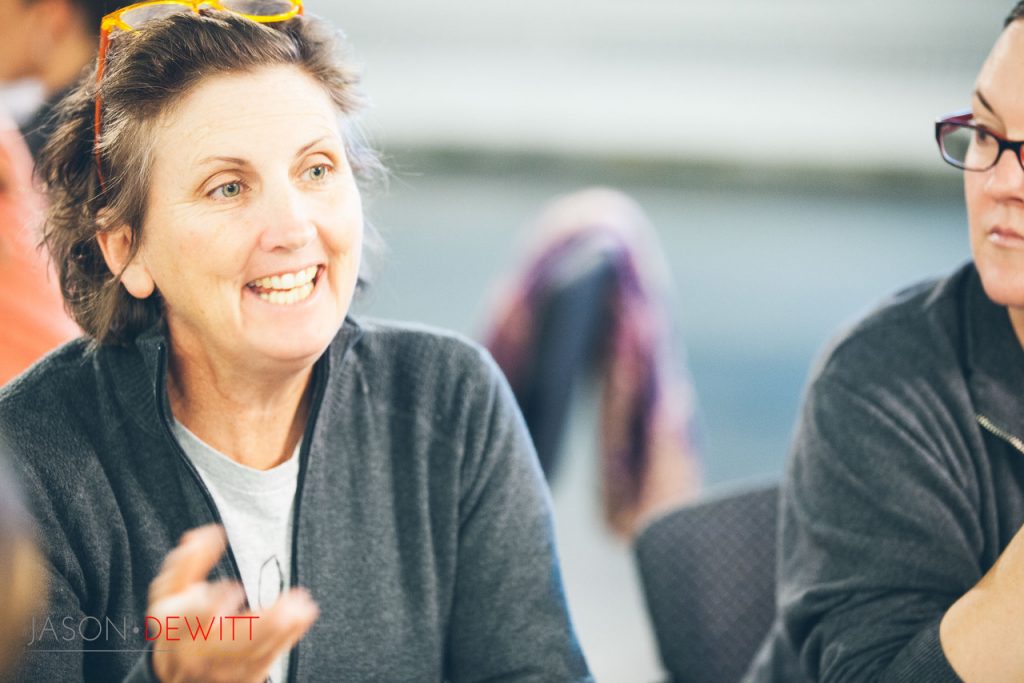 Post-Session
Phase 4: Prototype (Thursday – All day, on our own)
Incorporating the new concepts from the session into our initial storyboard, we didn't deviate much from the standard sprint process to pull together a clickable prototype.
Who knew prototyping could be so much fun?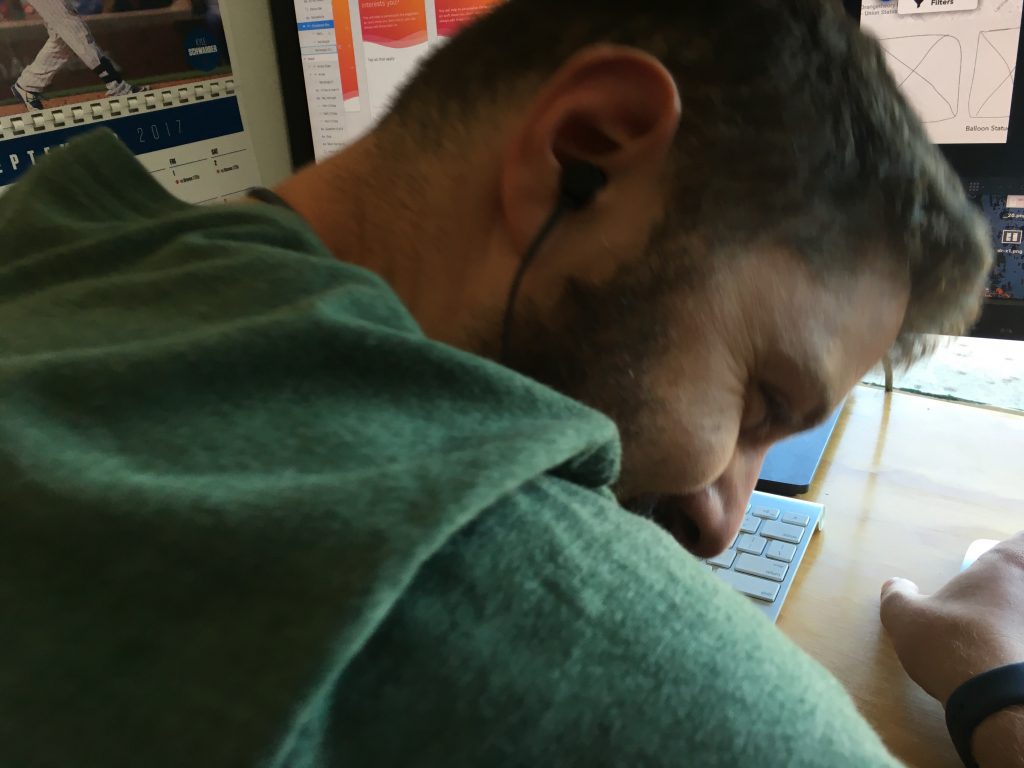 Austin, hard at work creating a prototype for Friday's testing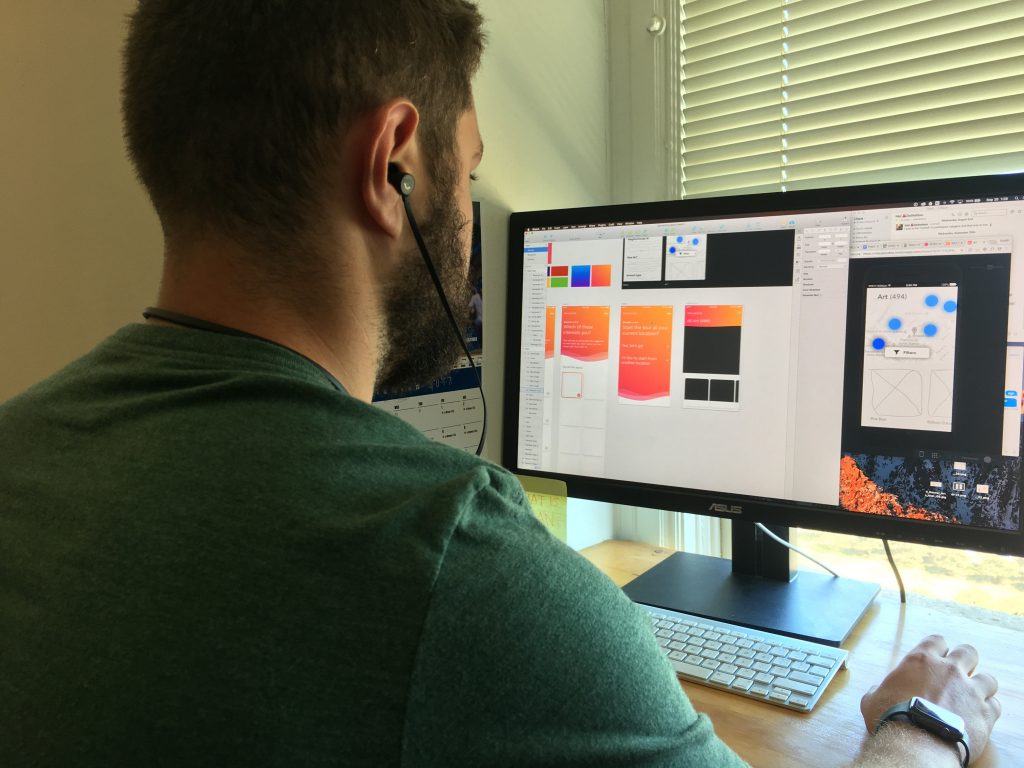 Phase 5: Validate (Friday – 2 hours)
We headed to Union Station in downtown Denver, prototype in hand. We recruited as many passerby as we could to click through and give us feedback, choosing this location strategically as a big hub for locals and tourists of all ages.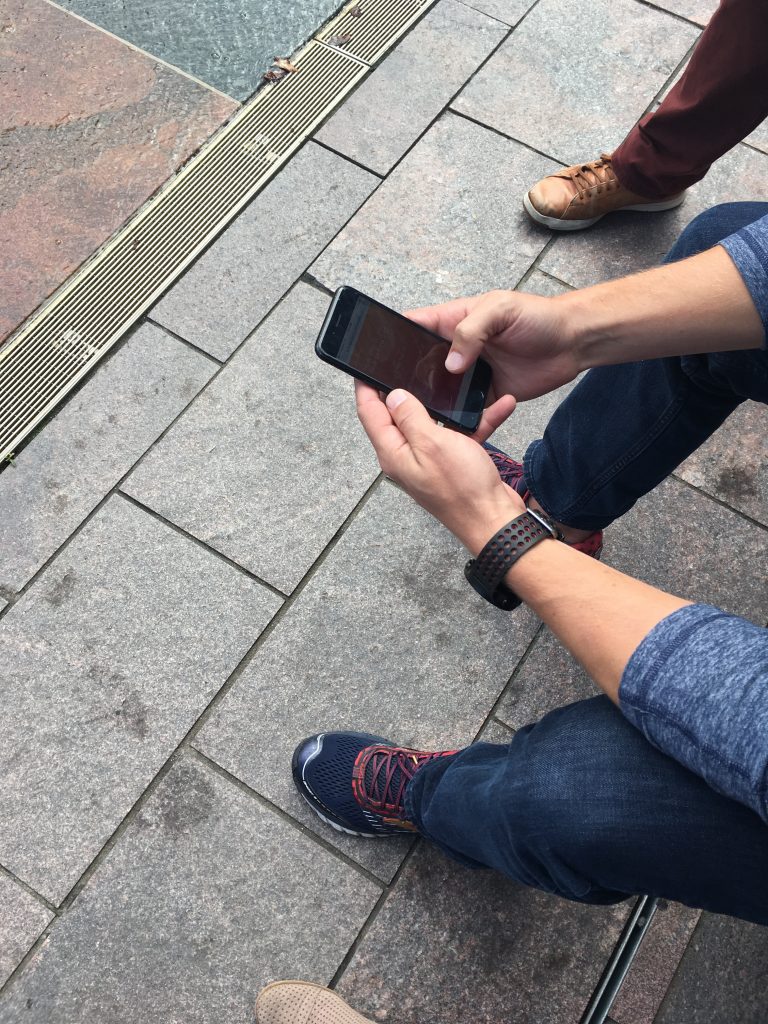 After about 10 users, we digested our observations. Where were people getting tripped up? Where were they the most engaged? Could they find everything they were looking for?
We gained some incredible insights from this test, and were prompted to think of features that previously hadn't crossed our minds.
For example, one question that came up a few times was, "Is this going to take me to a museum?" We realized we needed to have an introductory screen to explain what public art is so users know exactly what they're going to experience, something we wouldn't have understood without testing.
Now what?
We can't thank all the active, engaged participants enough for doing so much more than just show up to the session. We gained invaluable insights from their questions, ideas, and contributions, and left the session brimming with excitement to prototype, and now fully build out this interface.
We're back in the office now, hard at work implementing the feedback we received from testing. This experience allowed us to validate our assumptions and understand what additional features or changes needed to be made in order to build something users actually want to use—without spending the time and effort only to fall short. Equipped with these insights, we can now start building, confident in the experience we are creating for our users.
The Design Sprint process strikes again!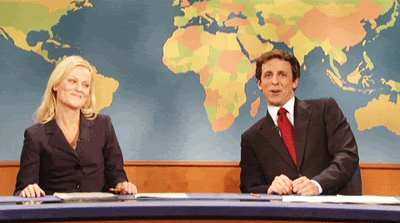 Click here for the slide deck from our session.
Follow us @cliquechicago to be the first to know when we launch!