Whether you're building, backing, or accelerating the next big thing, you need a website that helps tell your story—why you exist, what you do, and why it matters. Rather than create another one of "those" websites, you can build something that positions your company as the option for the people you want to partner with.
Here's how to build a website that positions your VC firm as a premier partner:
Start with the "why"
Clearly state your industry position
Investors spend a lot of time saying "no" to people. It's part of the job. Your website should help with that. If you have target industries or markets, you should intentionally communicate who you do and do not want to partner with. That way, your site can act as a filter for the deals you're seeking and create a pipeline of more qualified opportunities.
Let your portfolio do the talking
"It's like Uber, but for [insert idea here]." Established companies are shortcuts to explain a business model or signal proof of concept. Your portfolio of companies can work in a similar way. Featuring previous partnerships and investments not only reinforces the types of ideas and industries you want to invest in but says, "we know what we're doing," without saying much at all.
Want to build a website that attracts the right partners? Build something with us.
Here's how we've been building websites that help VC firms fund the next big thing:
True North Venture Partners
A purpose-driven content experience to support an important mission
True North Venture Partners is quite literally trying to save the world. Unlike a traditional venture firm, they invest solely in environmentally clean, sustainable, innovative technologies. They support established companies, work with governments and large institutions, and hunt for people with the next disruptive idea. They have four areas of focus:
Abundant and safe water
Low carbon energy infrastructure (solar, wind, hydro, and geothermal)
Advanced fuels and chemicals (decrease greenhouse gas emissions for industrial, transportation and agriculture sectors)
Waste harvesting
To build a reputation worthy of their portfolio, they needed a new website that not only highlighted but embodied the quality of the technologies and people of the firm.


A humble design approach to create something beautiful
To represent True North, we built a content experience focused on furthering their mission. The result is a clean and simple design that mirrors their message and answers what they do and why they do it. Specific highlights include:
Hover activated elements throughout the homepage and secondary pages to surprise the user without distracting from the content
Complex frontend development to activate user-control animations on the site
Content strategy and copy direction to better communicate their unique value proposition
Annoula Ventures
A new player looking to make a splash
Annoula Ventures is a privately-held investment firm in the Chicagoland area. They concentrate their investments in the real estate, hospitality, insurance, and early-stage technology industries. As a new firm, they needed a website to establish their presence in the space, highlight their unique approach, and feature prominent investments.

A sleek approach leaves a sound impression
Building the site from scratch presented an opportunity to make a unique first impression and showcase Annoula's growing portfolio. We wanted to create a "digital business card" to substantiate the presence of the firm online. With simple imagery and direct language, we let the portfolio and media snippets speak for themselves. This approach resulted in a clean, sophisticated site, leaving potential partners feeling validated and giving Annoula room to evolve the site as they grow.
Highlights:
Finessed the language to directly communicate the firm's philosophy
Created an easy-to-update CMS to allow for simple updates to featured, newsworthy content
Designed a custom carousel with a time slider to cycle through featured investments
The Chicago Venture Summit
The Chicago Venture Summit is an exclusive event where some of the most influential investors come to meet the best venture-backed startups in the Midwest. The event features curated networking to give both startups and VCs the opportunity to engage and connect. Having built the Chicago Venture Summit event website two previous years, we were thrilled to be able to do it again. We created an experience that does more than just advertise the event, but also speaks to the target audiences and generates the desired leads with strategic CTAs (i.e. "Request an Invite" and "Apply to Present").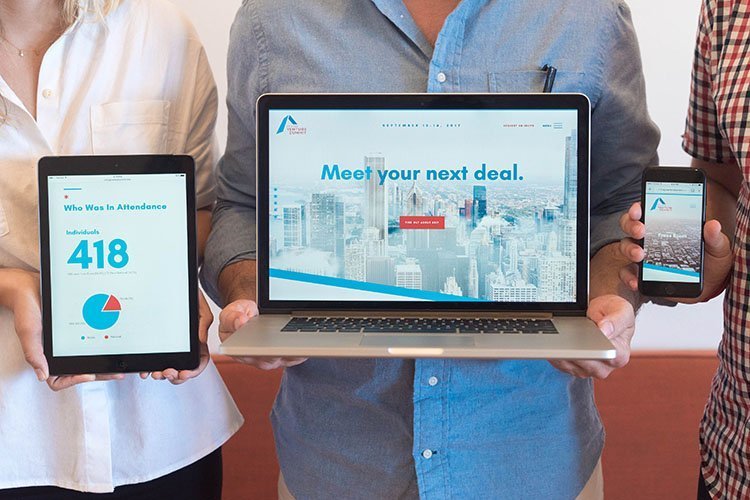 Highlights:
Created a 2.5D Parallax video for an engaging landing impression on the homepage
Updated the logo
Refreshed overall branding to be more Chicago-focused
Applied new branding to all marketing materials (including PDF invites , flyers, etc.)
Utilized custom animations to add a dynamic element
Third time's the charm (…or at least some of our best work yet!)
Freshwater Advisors
Freshwater Advisors, a Chicago-based venture development firm and innovation consultancy, connects corporations to entrepreneurial ecosystems. By scouting budding technologies and evaluating new ventures for investment and partnership opportunities,
Freshwater helps match promising start-ups with corporations looking to innovate. Since the company's founding in 2013, they have grown immensely, working with over 20 major corporations, 16 of which are Fortune 500 companies.
Freshwater Advisors came to Clique to develop a custom platform to better support this growth. Our widespread presence in the Chicago startup community gave us unparalleled insights to best serve Freshwater's needs. We built a modern, engaging platform that provides corporations with hand-selected startup portfolios, market insights, and tracking tools to help them effectively scout and interact with innovative startup companies.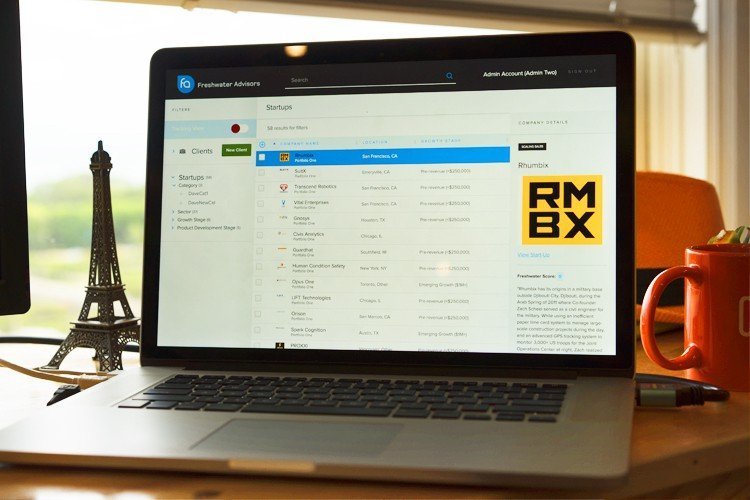 To do that we:
Customized design and UX of platform
Incorporated all target data to be recorded and tracked
Proposed table structures & layout to accommodate
Built custom forms
Easy accessibility on backend for updates/edits
Created custom iconography
Custom build projects are some of our favorites—this one was no exception!
Energy Foundry
Energy efficiency is a hot topic these days, as it fuels everything we do on a daily basis, whether that's driving to work, charging your phone or simply showering with lights on. Energy Foundry are game-changing leaders and funders in the venture capital space and two-time Clique Studios clients! They invest in early stage energy, clean-tech and security startups with transformational technologies. Energy Foundry's results driven growth comes from investing and targeting innovative companies in the industry in addition to simplifying sustainable energy use.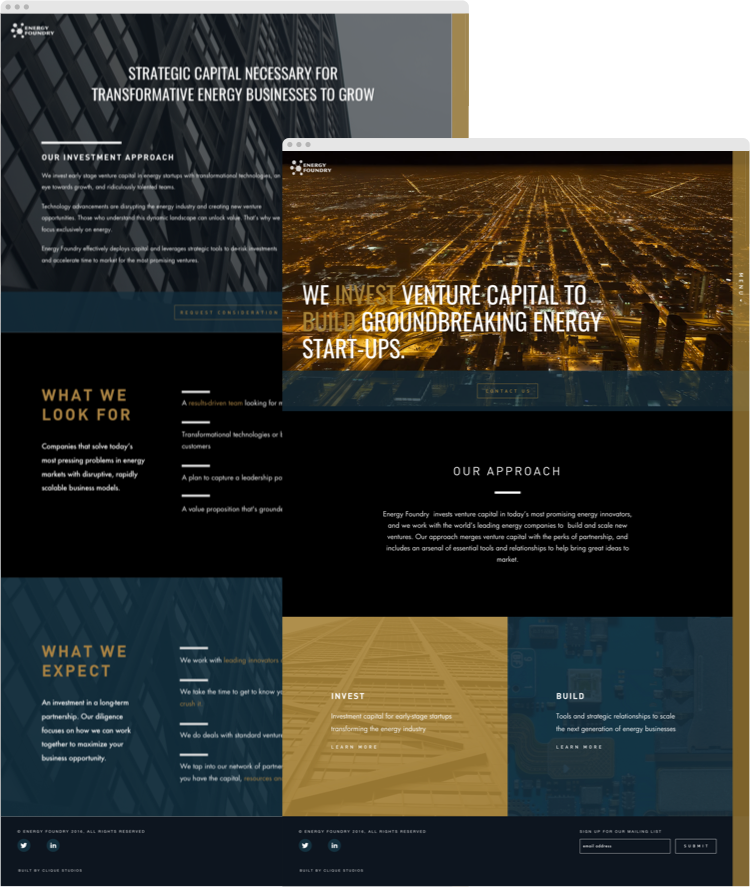 Energy Foundry needed a  a clean and easily navigable website for potential portfolio companies to find exactly what they're looking for and even apply for consideration.
To accomplish this, Clique built a unique responsive website with a "dark and powerful" yet aspirational look. Custom animations highlight each of the tools they provide portfolio companies, while the high contrast demonstrates Energy Foundry's unique positioning in the energy space.
Pritzker Group
Demonstrating expertise to multiple audiences for one of the most notable names in Chicago
Pritzker Group comprises three professional investment teams: middle-market acquisitions, technology venture capital and asset management. The Pritzkers' history and the firm's success give their companies access to an unparalleled network of advisors, strategic partners and customers.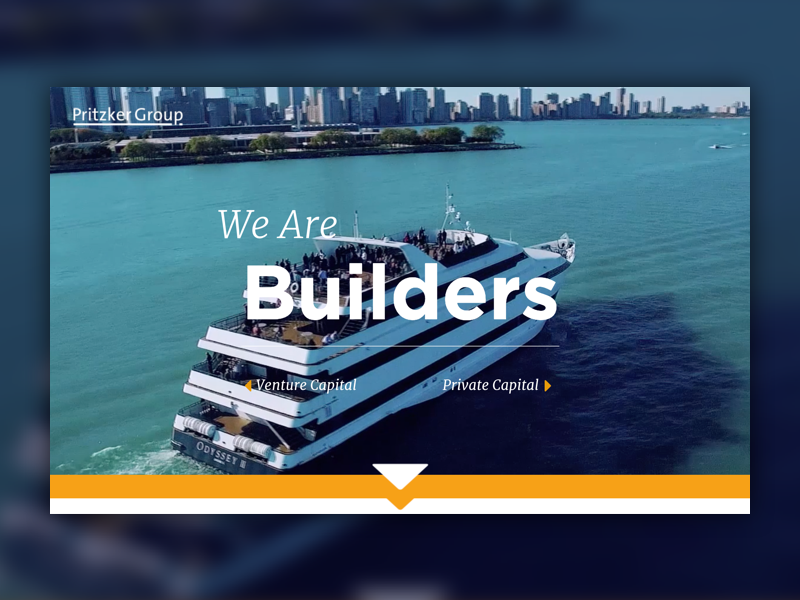 Pritzker Group's focus on their partners and companies rather than themselves resulted in a design heavy and entrepreneur-focused site that truly puts their companies first. The clear message of the website is that the main focus on the Pritzker Group is helping entrepreneurs build and grow great businesses. Whether it's a technology start up funded by their Venture Capital group or a manufacturing company acquired by the Private Capital team, the successes of The Pritzker Group companies will be highlighted and celebrated on the new website for years to come. Clique identified strategies for content and navigation, executed custom videography and photography, crafted solutions to gather testimonials and assets from Pritzker Group companies and team members, and built a responsive website based on UX best practices.
Build a website to help you fund the next big thing