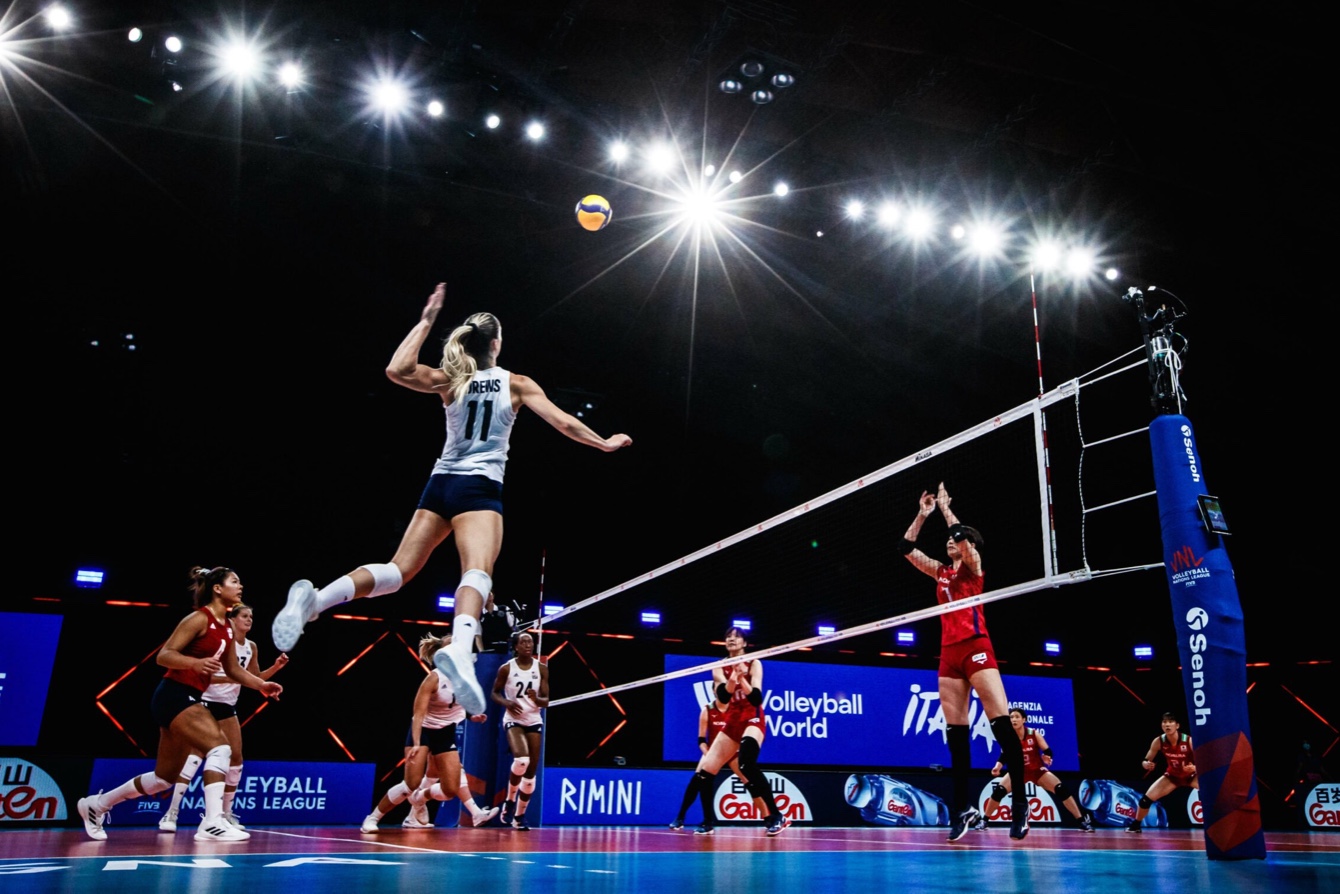 Bumping it up
USA Volleyball is the National Governing Body (NGB) for the sport of volleyball in the United States. Their mission is to lead, serve, and grow all areas of the sport of volleyball, and they needed a website that supported their vision to be the world-class leading organization in all aspects of volleyball that cultivates passion for the game. We worked with USA Volleyball to help them build their own digital space and define a digital strategy and brand to inspire the youth to get involved, showcase athletes, and engage their national, diverse community.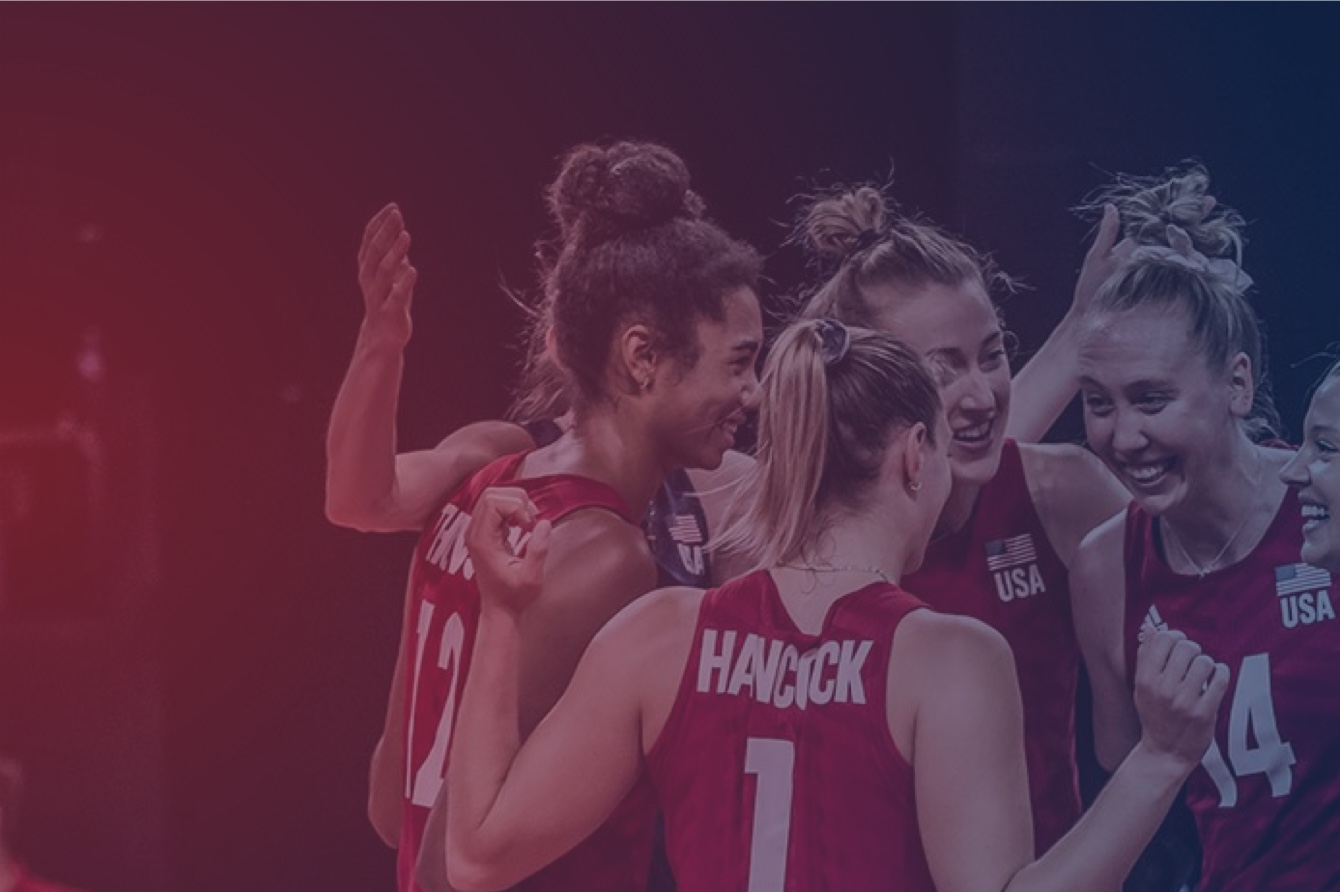 The Challenge
Defining a website on their own terms.
Prior to their redesign, USA Volleyball was incorporated in the USA Teams platform—a website that included other USA sports. The templated CMS limited their creative capabilities to customize their website for their audience. The navigation and content organization was confusing, there were limited opportunities to feature sponsors, and the creative collateral for teams and players was uninspiring. With the shift to their own platform, there was a huge opportunity to redefine what their digital presence could be: a resource and spark for the sport of volleyball.
"You don't know if a partner understands your organization until you get a deliverable in front of you, but Clique nailed it from the beginning. Seeing the design that matched our organization and where we wanted to go was a testament to the strategy work we put in beforehand."

Kassidi Gilgenast, Chief Marketing Officer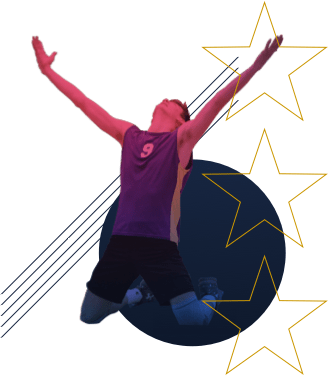 The Process
Managing varying audiences.
As an organization, USAV serves a lot of different audiences—from officials to athletes to fans. We extensively refined their information architecture so the main navigation made it easy for people to find what they were looking for. For niche audiences who frequented the website, we created audience landing pages that act as "bookmarks" in their browsers. They include the most important resources and links.
Aspiring toward something bigger.
After interviewing stakeholders across the organization, we uncovered insights that captured the sports' narrative: USA Volleyball is poised to be the next great American sports story. They want to grow the sport in the United States, and are still chasing a gold medal at the Olympic games. The design captures the essence of this chase, with outlines of stars, an energetic color palette, and lines to symbolize the journey itself.
Organizing resources.
USA volleyball needed to provide education across their audiences—aspiring athletes, coaches, parents, and referees need to be able to learn and grow as individuals. The "Learn" section in their information architecture and a taxonomy allows audiences to filter resources based on user, topic, and level. The individual resource pages are flexible to let the USA Volleyball team to share any assets—from pdfs to videos—to best educate their audience.
Dynamic events & calendar.
Every year, USA Volleyball hosts hundreds of tournaments across the country and shares the results. Events are one of the biggest things they offer their community. Robust event pages allow them to populate events quickly and also create exciting landing pages for the larger ones, like the Olympic games. The calendar automatically archives events after the date, while their team can "edit" them in the back-end and publish the results to the public.
Demystifying the membership process.
USA Volleyball membership is a complicated process: players must join through local clubs. To help initiate that connection, we developed a regional map. Aspiring players and parents can click on their state or search by zipcode to find their nearest options for membership. From there, we provide them contact information and explain the process further on the Membership page.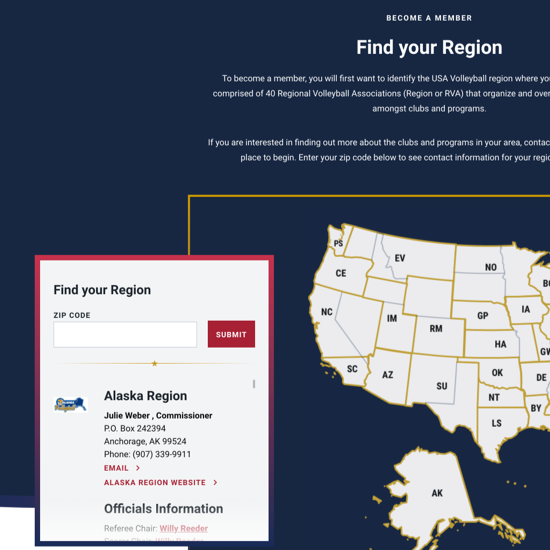 "We have so much great information—education, resources, articles—that was buried on our old website. With our new navigation, new search, and single-source resource page, it's easy to find and share all of the great things we have for our members."

LAURA FAWCETT, DIGITAL MEDIA AND CONTENT STRATEGY SENIOR MANAGER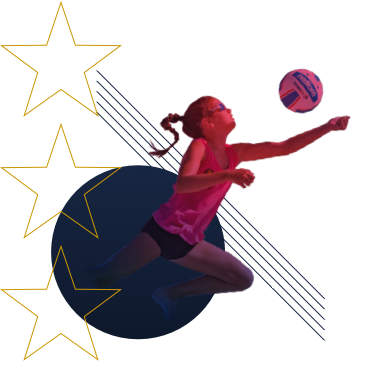 The Solution
USA Volleyball and their community deserved a place to call home. This website acts as an educational resource, a facilitator of engagement, and—most importantly—a place to inspire. It will help USA Volleyball accomplish its mission to grow the sport. It's bold, energetic, and fun.
A digital brand strategy and execution that embodies USA Volleyball's chase towards gold
Robust events calendar and flexible event pages for the USA team to promote their events, big and small
Automatic event archive to share results from tournaments
Regional Membership Map to help players and parents navigate finding and contacting their local club
USAVlearn, a video hub to help educate players and coaches on form, drills, and stretches
A filterable resource hub organized by a taxonomy that helps audiences find educational materials most relevant to their needs
Fun, energetic athlete pages that feature statistics, stories, and social media to allow fans to learn and engage with their favorite athletes
"I loved working with everyone at Clique. The team was responsive, helpful, and never showed stress, no matter what was going on. The designer listened to our feedback and incorporated it every step of the way. And Ted checked in on us throughout the project to make sure that we were on track."

Laura Fawcett, Digital Media and Content Strategy Senior Manager