Arguably, the fastest-changing industry in the world focuses on technology and software.  No matter what a company is selling or creating, the quality of their product will first be judged by their website.
Despite knowing this, many websites fail to deliver the quality that is present in a company's product.
Let's align your company's web experience with how amazing your product is.
Here's how we've been building tech websites that enhance product experience:
Just a few of Clique Studios Best Tech Company Websites:
Expansion and new offerings diluted the story.
Access Corp, a global information management provider, was experiencing immense growth due to strategic acquisitions, expanding into new markets, and investing in innovative services. Rather than an asset, their website had become a repository of repetitive information with no clear brand messaging.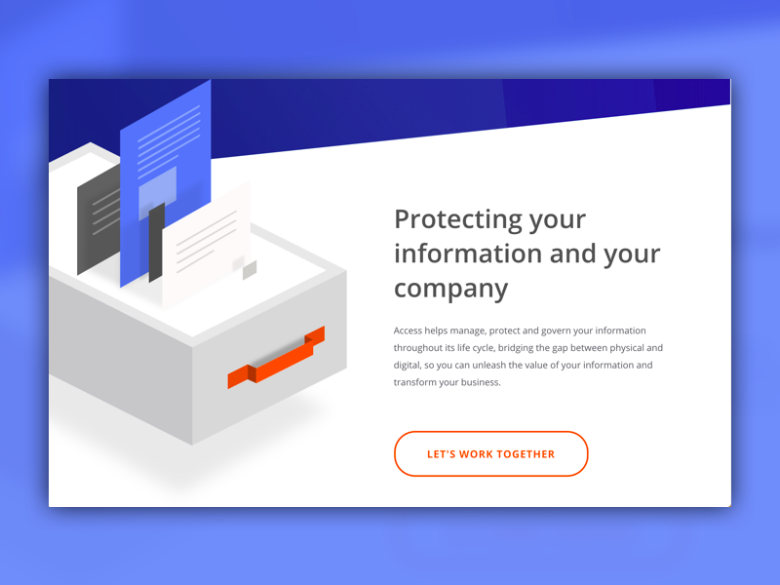 Merging the old with the new to create one "Access" experience.
Clique uncovered that, through their growth, Access' positioning became misaligned with their offerings and goals. Now, they are more than a storage company—they are a partner to their clients, creating management solutions to help them succeed. We leveraged our full content experience approach to help Access communicate their brand's innovative, modern, collaborative approach to their users.
Through UX and SEO enhancements, content strategy, and experience design, we strengthened the structure of their website and pages. To create cohesion and optimize different points of entry we:
R

estructured the sitemap and navigation to organize the information with various user personas and journeys in mind

Designed flexible, modular templates, which allowed for a high-level of customization for administrators, including reorganization of individual frames and fields on the page module

Established a Design System for updating all print collateral to align with a new brand and future-proof the company for more communication efforts

Recognized their established SEO value in local pages and uncovered an opportunity to not only maintain but improve on their search result rankings through location-based strategies
In tandem, to develop their brand story we:
Led internal content workshops, which inspired 10+ pages of copy to convey brand messaging clearly, cohesively, and creatively throughout the site and give the Access team guidelines for how to speak about their offerings in the future

Designed custom illustrations throughout the site with float-in animations to mirror the innovative, flexible approach to their solutions and prioritize conversion and user interaction

Rebranded their flagship HR software ( "Filebridge HR" to "CartaHR") to fit into the new revised messaging strategy

Launched the new brand with a full-scale booth design at a tech conference in Chicago
Morgan, Clique Project Manager, shares how we approached creating a cohesive story:
---
NuCurrent is engineering wireless power solutions that work, period. Their cutting-edge technology turns their clients' wireless power concepts into reality—from smartphones to sneakers, watches to medical devices, they partner with the best and brightest in the industry, delivering proprietary and Qi solutions to enable their clients' continued success.
They came to Clique in need of a modern, redesigned website that would speak to the caliber of technology they build and engineers they employ. Content strategy was a huge focus for this project, as we set out to reposition how they speak to their target audiences and better tell the NuCurrent story. Through a collaborative content and design approach, we created a stronger, more engaging presentation of the brand that gives NuCurrent a competitive advantage in the ever evolving wireless charging industry.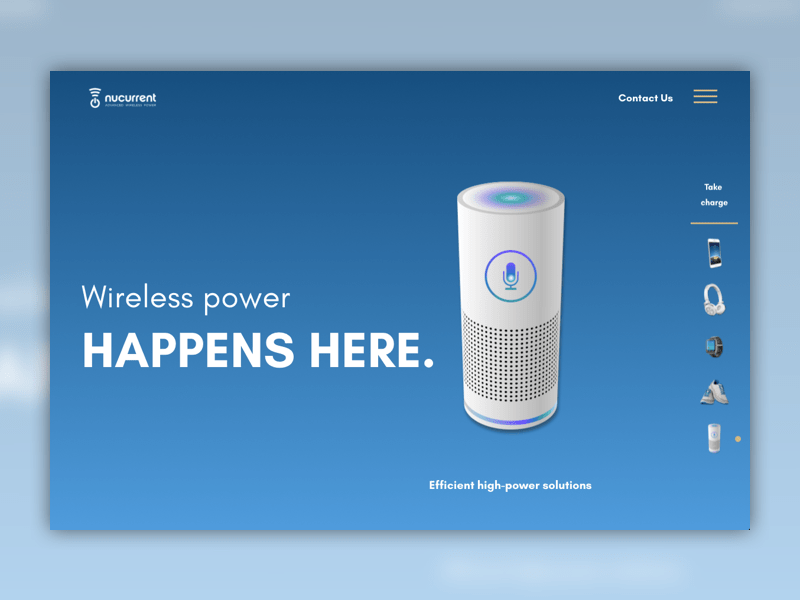 Highlights:
Custom iconography and animations throughout
Messaging strategy and original copywriting execution
Modular template development for ease of scale
Dynamic careers page for enhanced recruiting and direct candidate application
---
Four leading tech companies in the automotive industry merged to form Affinitiv. Affinitiv connects car manufacturers, dealers, and customers all under one platform. This allows dealerships to monitor consumer activity, and use that data to manage customized, targeted marketing campaigns for its customers.We were tasked with establishing the new look and feel for the brand, and delivering a website for helping them tell their story, and ultimately driving their business goals.
In completing Affinitiv's tech website design, we:
Designed a new look and feel, establishing new style guide
Created custom icons to help users visualize their process

Overall, used design elements to make their brand & services more visual

Built a blog for them to be a resource hub for customers
Developed the site against a tight timeline
---
Coranet designs, installs, and manages their clients' network infrastructure, security solutions, and audio visual technology. They put a face to technology, prioritizing customer service above all else. Coranet needed a design partner to execute the redesign of their website as well as carry out a brand refresh. The new site brought the brand into the 21st century, targeting new clients and new talent, and better telling the unique Coranet story through modern design and an updated content strategy.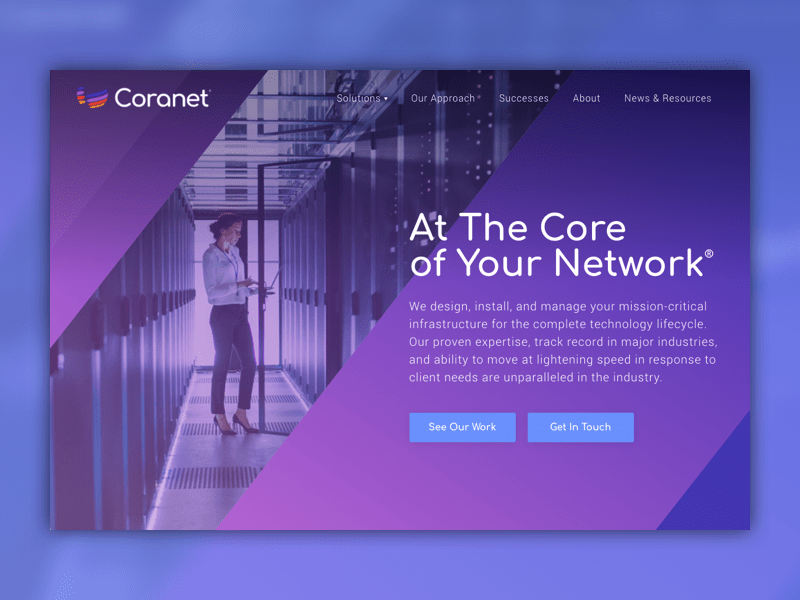 To do that, we:
Built a modern, customizable site to grow and change with the organization
Overhaul of content strategy to better tell their story and engage users throughout the site
Put a focus on their unique, humanized approach
Logo redesign and overall brand refresh
Restructured sitemap and page hierarchy to enhance the user experience
---
Signal is one of Chicago's (and the country's) fastest growing companies as the global leader in real-time people-based marketing. Their Customer Identity Solution empowers brands to connect with their customers at every critical moment of the lifecycle. This open data platform is making data and marketing technologies work better together for increased engagement, loyalty, and conversions.
They came to Clique in need of a strong digital presence to engage target audiences and prompt new leads.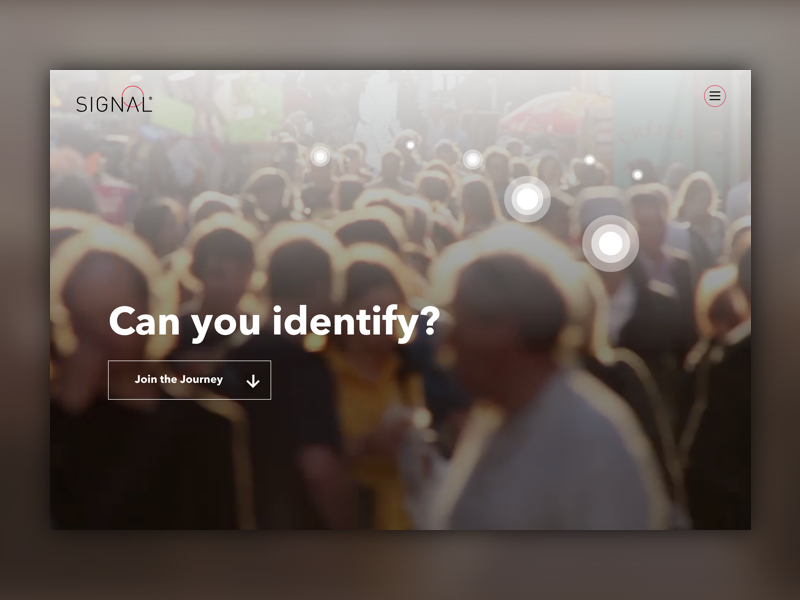 To do that, we:
Redesigned their website to humanize the brand and put an emphasis on their people-centric approach
Refreshed branding
Enhanced the user experience and access to resources
Incorporated video and dynamic elements throughout
Crafted a user journey to carry leads down the funnel
Built flexible templates to grow and change with the organization
---
Have you ever been scrolling through a site and seen a small tab asking if you want to leave feedback? That's OpinionLab. They created this tool to give customers a voice and enable brands to take actionable responses to feedback, thus improving the customer experience. They are market leaders in CX, implementing their technology for Fortune 500 companies across industries.
After having designed and built OpinionLab's website, Clique came back on to create landing pages for their campaigns in order to track information and drive conversion. We designed the new pages with conversion best practices, as well as made functional updates throughout the site.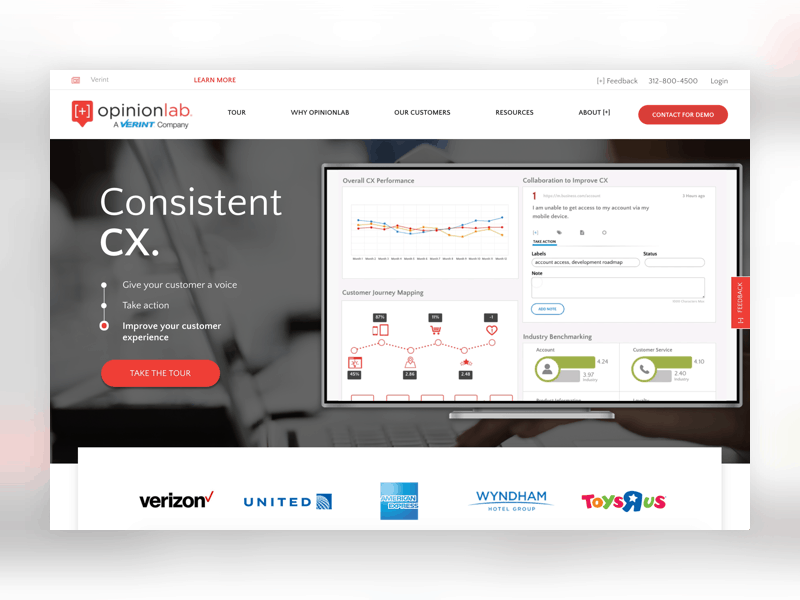 SOME HIGHLIGHTS:
Landing pages designed for optimal conversion
Enhanced form & content to decrease bounce rates
Caching of user information
Seamless UX, but still trackable
Added parent company branding to the site after recent acquisition
Updated logo
Updated navigation
Redesigned homepage graphics
Restructured blog to eliminate clutter, make more editable, and enhance the presentation of posts
---
Aprimo is a category-leading marketing operations platform that increases the value of marketing and "frees marketers to do what they do best: perform smart marketing." Aprimo's comprehensive suite improves time-to-market and maximizes a company's marketing investment to drive revenue. Their team of experienced thought-leaders and creative entrepreneurs provides an unprecedented level of expertise, driving their success in the industry.
Aprimo made it their mission to bring order to the chaotic world of marketing and help marketers reach their full potential through innovative, best-in-class technologies and services. To further this mission, they recently merged with other industry leaders to broaden and deepen their expertise and offerings.
They came to Clique with the need to create a website representative of this updated brand. We designed a customized to site that highlights their differentiated approach, conveys their unparalleled success, and promotes their new identity.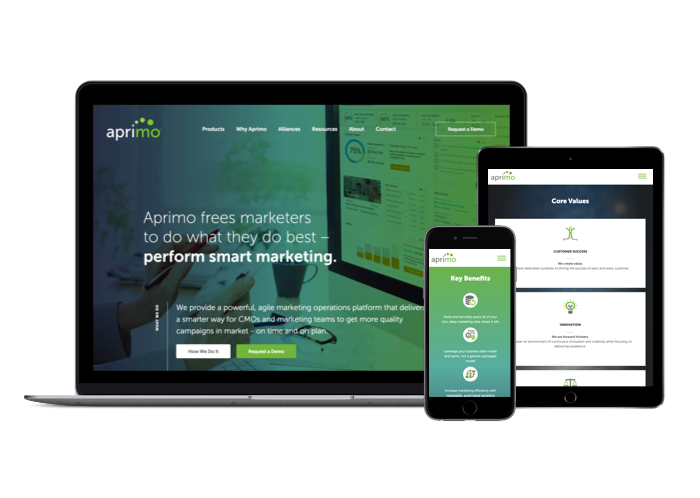 TO DO THAT, WE:
Built custom forms throughout site

Integrated forms with Marketo

Designed 20+ pages
Utilized modular design

Easy to self-add platforms & pages

Customized CMS

Open-source
PHP
Enterprise implementation of WordPress

Created custom animation
Implemented engaging hover-states
---
Tanvas is the pioneer of surface haptics, connecting people to the digital world through rich touch interactions. Their groundbreaking technology is putting touch inside the touchscreen, enabling real-time control of the forces acting between a fingertip and a touch surface. Unlike anything on the market today, Tanvas is adding a new dimension to our digital world that creates dynamic textures with endless applications
Tanvas needed a partner who could graduate their website into a multifaceted lead generation machine— they found that at Clique. We designed a new site to communicate their unprecedented technology, tailoring different landing pages to their unique user bases. We crafted the site to showcase the recognition they've already received, attract and excite new users, and position them for future growth.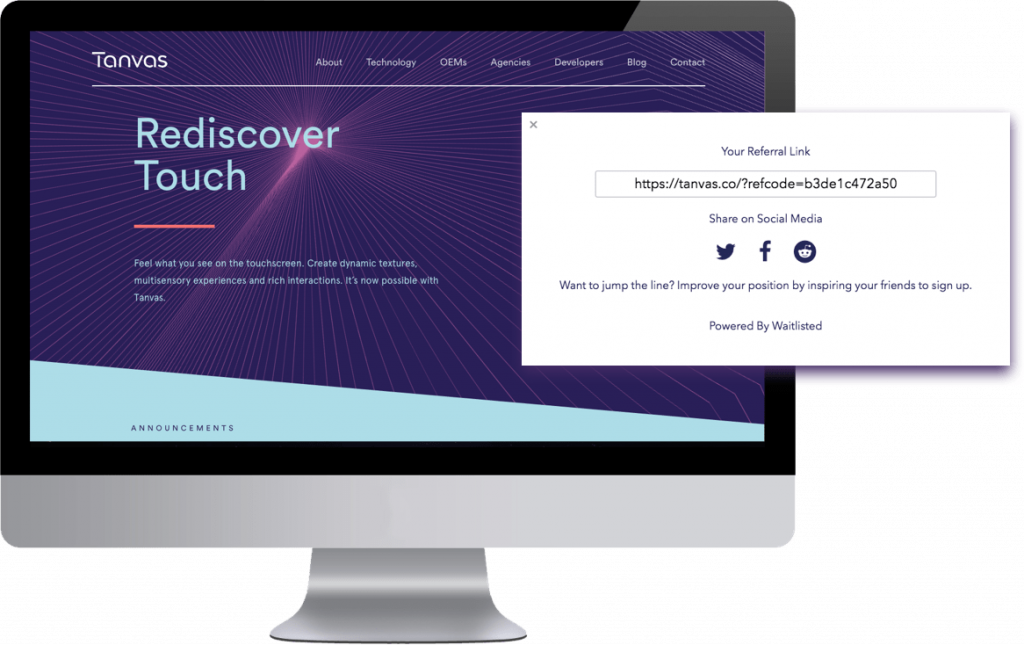 To do that for Tanvas's Tech Company Website, WE:
Incorporated interactive hover elements to help illustrate the concept of feeling texture on a screen
Integrated with Medium
Created Gamified Waitlist Signup – Users are prompted to share to improve their position on the waitlist "Want to jump the line? Improve your position by inspiring your friends to sign up."
Designed 10+ custom page layouts
Ensured responsiveness
Built custom CMS

Open-source
PHP
Enterprise implementation of WordPress
Tech company web design is serious business…
You've invested in differentiating your product and your team.
Now you need to invest in how you share that work with the world.
Click here to build a website that drives business for your company.