We don't have to tell you real estate is highly competitive.
Whether you're a local business or a design & build firm, the quality of your craft will be judged by your website.  Even knowing this, too many businesses opt for cookie-cutter solutions.
Click here to build a website that drives business for your company.
Here's how we've been building real estate and local websites:
Just a few of Clique Studios Best Real Estate Websites:
A long-term partner in need of a brand refresh
Magellan Development Group is committed to discovering new and innovative ways to live. As a full-service firm, they plan, design, and build communities, carrying projects through from start to finish. Clique previously designed and built their website, as well as conducted ongoing site maintenance and updates. As Magellan continued to grow and innovate, they identified the opportunity to modernize their brand and improve their website to better reflect their updated portfolio.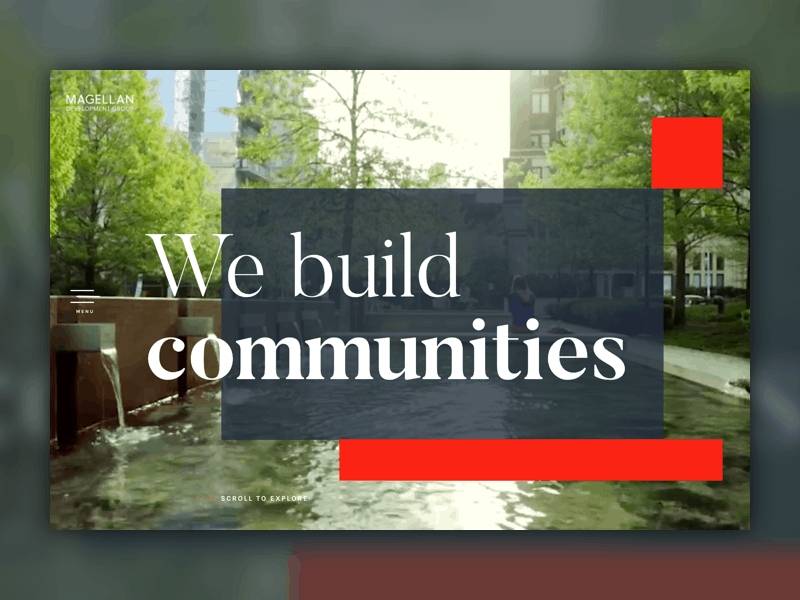 Letting the work speak for itself
We took a collaborative approach, working closely with the Magellan team to bring their vision to life. For the design direction, we let their expertise shine, displaying their breadth and depth of experience through featured case studies, high-quality imagery, and a filterable projects page. In order to help further the organization's goal of growing nationally, we kept our focus on demonstrating their national footprint and impressive portfolio of work. In an industry where aesthetics are everything, we worked to create a design as visually appealing as their buildings are.
Telling the right story
Another important goal was revamping the overall brand by aligning the new website with the story they're trying to tell. To do this, we conducted content workshops, and guided the messaging strategy and copy for the homepage and key secondary pages. One of the most important things to convey was their biggest differentiator: they don't just build high rises—they plan, design, and build communities. Starting with the intro sequence, we created a holistic design that brought these words to life.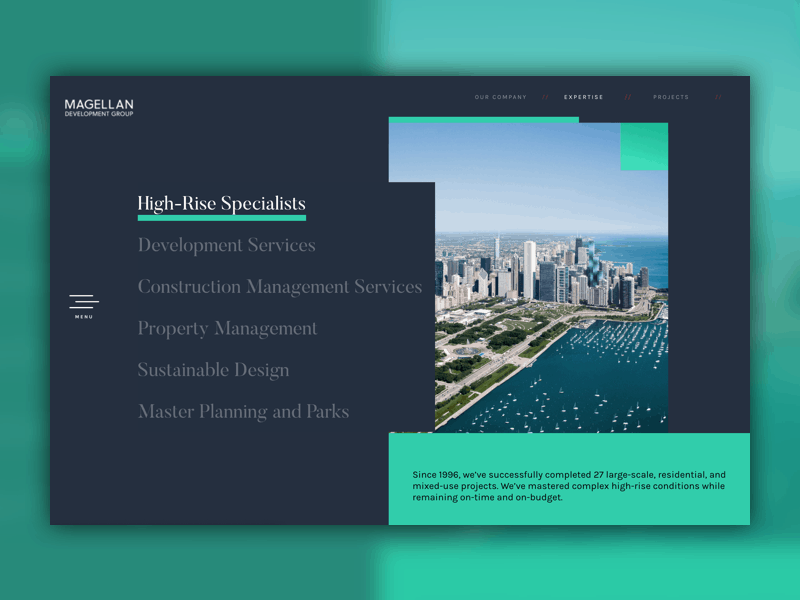 Other highlights include:
Custom animations to amplify the design and make the experience interactive

Seamless integration with portions of the previous site to preserve valuable content

Filterable projects page to convey breadth and depth of expertise across locations

Highly visual design to bring the organization's portfolio to the forefront
Check out this design to match one of the best development firms in the country.
---
Bekins is a national moving company with local services. Their previous website wasn't converting as well as they'd liked, and their paid ads weren't performing optimally. They came to us in need of a new website with the primary goal of driving business through lead generation forms. Our approach came down to utilizing best practices in conversion design and form optimization.
We redesigned the new site, modernized the branding, improved the navigation, and enhanced the user experience—and saw a huge increase in conversions. We are continuing to optimize through ongoing AB testing.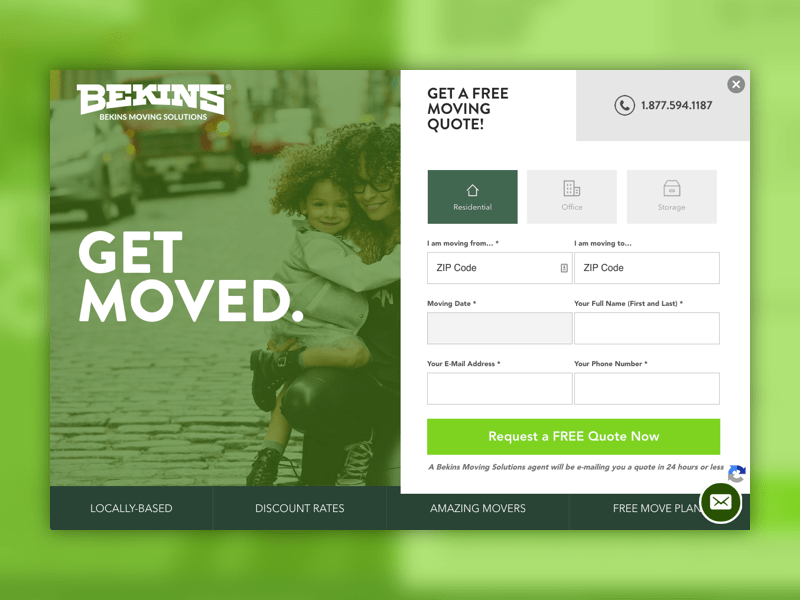 Highlights:
Form and validation design to increase conversions

Developed live chat feature and interactive map

Conducted competitive analysis, user flow analysis, and analytics analysis for SEO and UX enhancements

Struck a balance between national and local to enhance the brand perception
Stats:
Bounce rate from organic search is down 5%

Bounce rate from social media is down 5%

Pages per session down from 1.63 to 1.55 (people are finding solutions faster and converting versus leaving)

Average session time is exactly the same (same reason as above)

Paid traffic conversions are up 7% and conversion rate up from 8.17% to 12.55%.*
If we assume yearly site traffic is the same as last year (175,560) that means Bekins will see an additional 7,689 conversions this year (14,343 → 22,032).
---
The Fine Arts Building is a historic Chicago landmark, known for its rich history, vintage elevators, and ten stories of artists' studios. Today it houses artists' lofts, art galleries, dance and recording studios, interior design firms, musical instrument makers and other businesses associated with the arts—including our own.
We were thrilled to be able to tell the story of the place that's been our home since our inception. They had no previous website or digital presence, and came to Clique in need of a tool for people to find their building directory, as well as feature available studios.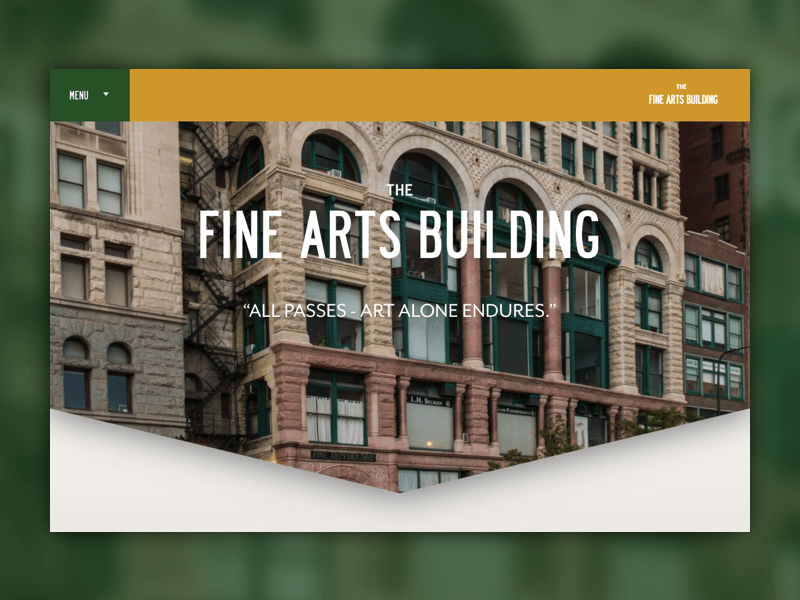 Real Estate Website Design Highlights:
Built out flexible directory to allow for easy updates as tenants come and go

Created Rent A Studio page to help lessen emails/phone calls; since launch, has prompted significant leads through the website
Established their first ever brand guidelines

Helped boost their social media presence with social shareability through site
See how we told the story of one of Chicago's most historic landmarks!
---
ARCO/Murray is the best design-build contractor in the industry. Their proven methodology, from planning to execution, continuously brings their clients' visions to life while delivering the best experience.
As design-build experts ourselves, we executed the design and build of a new website that highlighted the quality and effectiveness of ARCO's approach, telling the brand's story so as to attract the next generation of talent. We designed the site to showcase their impressive portfolio of work to project their reputation and attract new clients.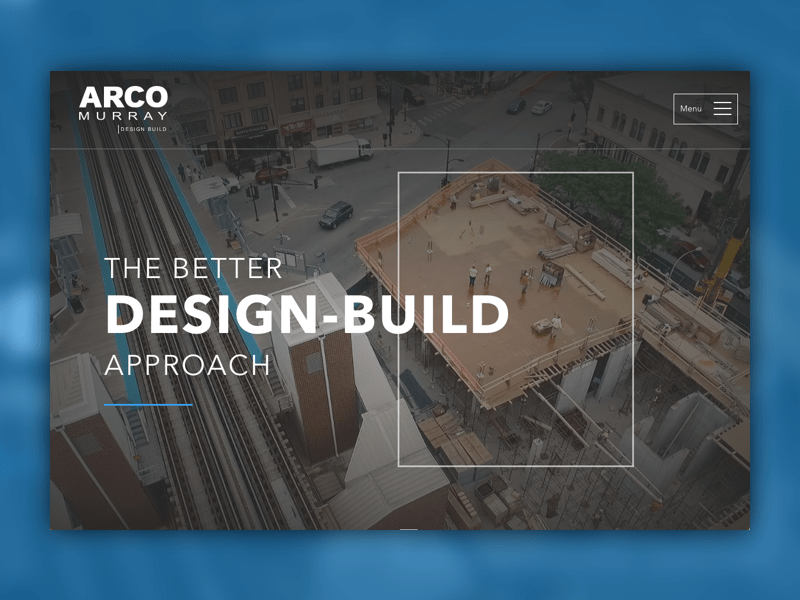 To do that, we:
Created a brand-focused, culture-based design to not only represent the company's work but their culture

Built custom animations and unique elements to bring the brand to life

Designed 10 unique templates to be not only functional, but representative of the brand
See how this new site is accelerating the growth of one of Chicago's fastest growing companies!
Click here to build a website that drives business for your company.
---
Siteline Interior Carpentry is delivering finish carpentry at its finest, from workplaces to social spaces and everywhere in between. Having completed over a thousand projects with some of the world's most recognizable brands, Siteline is on a mission to create memorable experiences in the environments where we live, work, dine and shop.
In an effort to continue their rapid expansion, Siteline needed a website to adequately convey their industry expertise and differentiated approach through eye catching design and a heightened user experience. Clique was also tasked with reinventing internal communication through a new intranet and bringing the job application and hiring process online for the first time.

TO DO THAT, WE:
Built a customizable site to grow and change as the organization continues to innovate
Put a focus on both their unique business approach and high profile projects
Crafted original copywriting and content curation to better tell their story
Created an easy to use intranet to help optimize internal communications
Redesigned the job application workflow to allow for online submissions and vetting
Helped optimize sales lead conversion via customized forms and email capture
We brought their vision to life. Check out how Siteline does the same for their clients.
---
Riverline, one of the most important and largest developments to Chicago's South Loop, came to Clique in need of a partner that could help them create a public identity, create buzz, and generate leads. They needed a partner who could work fast and prioritize and launch this new identity in phases.
We worked under segmented goals and a tight timeline to first launch a foundational microsite that established a brand, created excitement about the project, and generated initial commercial and residential interest. From there we continued adding features and functionality to what you see today.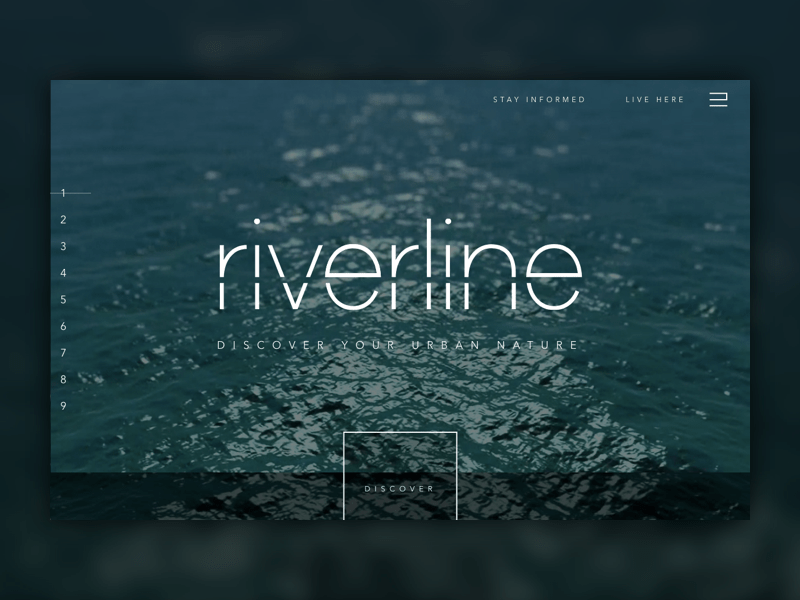 Highlights:
"Tour points" embedded across the site highlight features of the property in fashion that mimics a real-life tour

Emphasis of Urban Nature helps constitute a need type of real estate audience that is concerned with both urban living and the natural world

Interactive compelling UI via hover over info boxes, collapsible text sections, and hover over animated testimonials with easily accessible lead generation forms