In any relationship, the first impression matters. And, oftentimes the first impression of your business will be your website. Before eating at a restaurant, people look up the menu. Before staying at a hotel, people look up reviews. 
A website shouldn't be a sore-spot in your marketing, but one of its best assets. It should speak to your biggest differentiators and make it easy for people to learn about your service.
How to Build a Hospitality Website that Builds Customer Relationships
Embrace User Experience (UX) 
UX research is a great way to solidify that your digital experience is serving who matters most: your audience. A Heuristic Evaluation can find you easy wins based on best UX practices. User interviews can help you better understand your audience and what motivates them. Usability testing can help you learn what's working and what's not on your current website or prototype.
Make It Accessible
Web accessibility is all about removing barriers that might keep people with disabilities from using your website. Building your site to be accessible can increase your sales, help you avoid potential lawsuits, and give everyone a better experience, not just those with disabilities.
Color contrast, responsive design, and alt text for images are three easy ways to make your website more accessible for anyone. In an industry dedicated to delivering the best service, the worst thing you could do is fail to do the same on your website.
Build Seamless Integrations—for Your Users and for You
Most businesses use other digital tools to help them run their business—whether it's an email capture service or an appointment scheduler. Designing plug-ins and iFrames to match your branding will help users have a seamless experience (i.e. they won't get confused about getting shot to a different platform if it still feels like your company).
On the back end, strategic integration decisions can save your team a lot of time and energy and help you focus on delivering service elsewhere.
Want to build a website that acts as a great first impression for you and your customer's relationship? Get in touch. Not quite convinced yet? Check out some of our case studies below.
Some of Clique's Best Hospitality Websites
Truluck's
Creating an elegant digital experience to echo an elegant dining experience
Truluck's is a prime seafood and crab house that prides itself on offering a premium guest experience from the minute someone walks through the door to the minute they leave. They came to us needing a website, but we offered an alternative challenge: extending the Truluck's hospitality experience beyond the restaurant and into the digital world.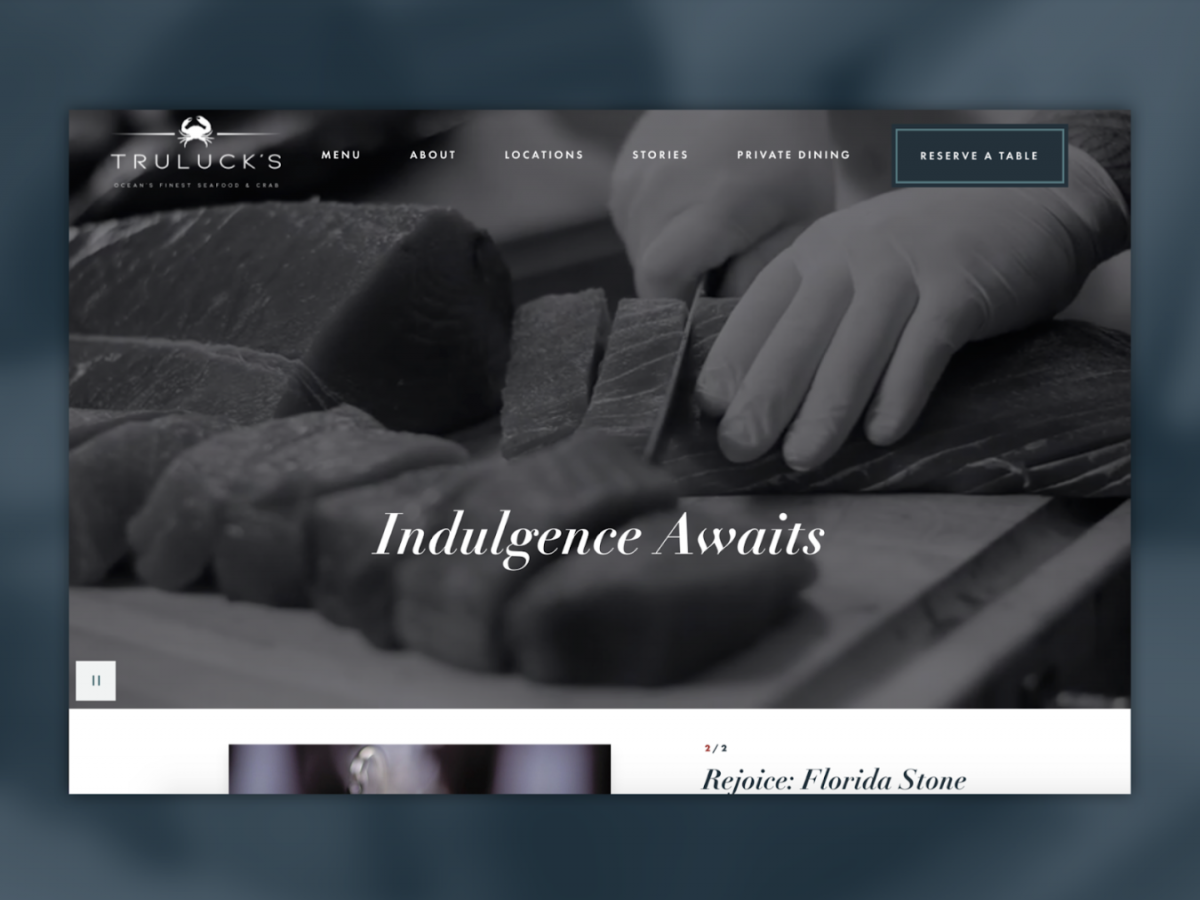 Creating a high-end, seamless experience for guests to enjoy.
As a dining experience, Truluck's is focused on hospitality and creating an emotional connection with their guests, and, as their digital partners, we focused on building that same connection through an interactive, content experience. With elegant design, elevated copy, and custom development, we captured the essence of a Truluck's experience. 
Highlights include:
An elegant, editorial-inspired design with black and white photography, subtle animations, and nautical-inspired colors to differentiate against common steakhouse design tropes and reintroduce Truluck's as a seafood-first brand
A custom back-end menu builder that allows their team to build, edit, and post a variety of menus, courses, and special event packages
An accessible solution for OpenTable's reservation integration by communicating issues and moving their platform to be more web accessible 
7 pages of custom copywriting to capture the right brand voice 
Sophisticated Living
Designing an interactive content hub for a high-end publication
Sophisticated Living is a national lifestyle brand leader. Their online magazine, Sophisticated Living Chicago, needed a design to match the luxury brand they've built in order to better cater to their target audience, and promote interaction with the content.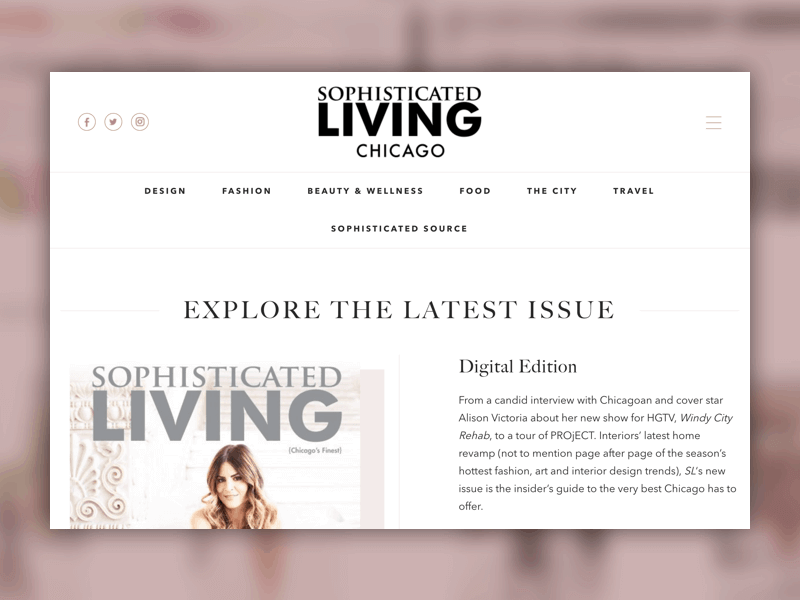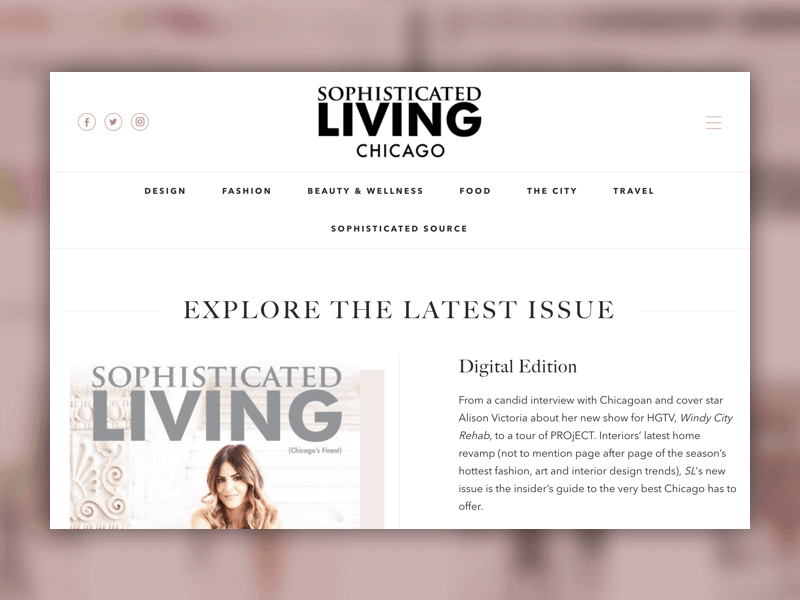 Content-first approach
While good design was important, the design needed to serve the content first. We took a minimalist approach, prioritizing usability and conversion (clicks, reads, shares) over textures and visual interest. The result is a breathable, functional, and beautiful content hub.
Highlights
Integrated Social Media

Built an integrated advertisement system

Content tagging strategy to control where content resides from the content piece itself

Multiple editor workflows

Check out the online magazine here!
Mario Tricoci
Reviving the digital aesthetic of an industry innovator
Founded in 1977, Mario Tricoci is a chain of full-service salon and spa services founded by the charismatic, celebrity stylist Mario Tricoci. When they sold in 2000, the business stagnated, and the brand lost some of its edge making it harder to attract their desired audience.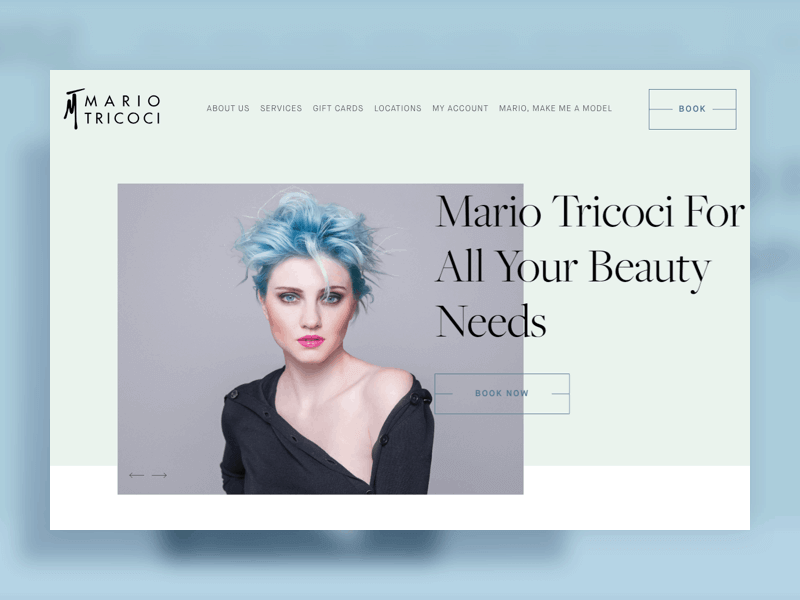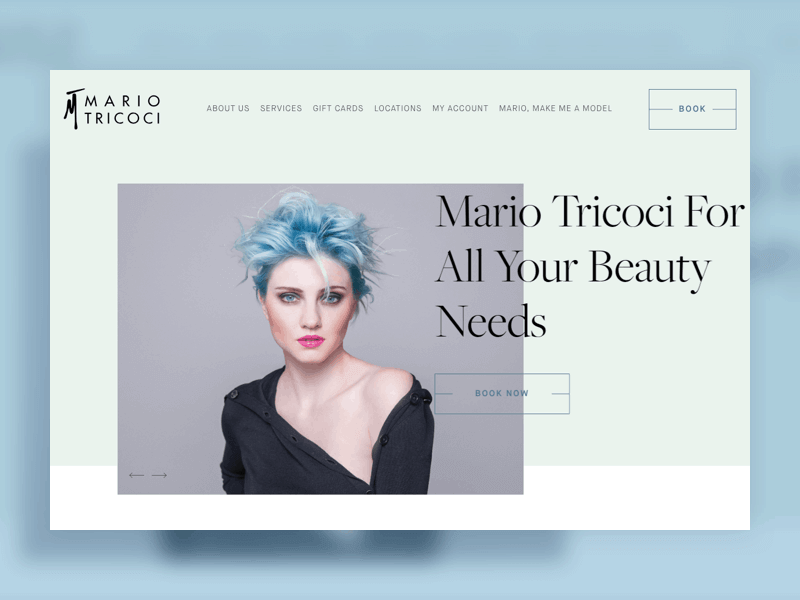 Since repurchasing, they've worked to re-establish themselves as industry innovators and trendsetters. They needed their new website to attract a younger audience interested in "affordable luxury," increase appointments and reclaim their "cool."
Blending compelling visuals with thoughtful conversion design
In an industry where aesthetic is everything, we led with visuals to highlight Tricoci's unique style. We curated imagery from a variety of different photo shoots to create a cohesive, yet original, look and feel.
In addition, we refined the site's language to let the visuals breathe and bring the design to the forefront. We placed call-to-actions throughout the site to encourage booking. This approach resulted in a modern, alluring website reflective of the in-shop experience and the brand's distinct style.
Highlights
Designed a microsite for the Mario, Make Me a Model competition which enabled live voting, and contest updates

Created a custom tool to import pricing data for services from legacy site

Integrated with Zenoti's booking software for a seamless booking experience

Designed custom color palettes and typography to match the brand aesthetic

Built a fast, intuitive location finder for navigating the details of 14+ locations

Explore the new site, and if you'd like, schedule an appointment today!
urbanbelly
urbanbelly is Master Chef Bill Kim's creative experiment for testing out eclectic Asian fusion recipes. urbanbelly's previous website wasn't doing their exquisite menu justice. Clique applied their new branding to design a reimagined, interactive website, taking a "show, don't tell" approach to highlighting their cuisine.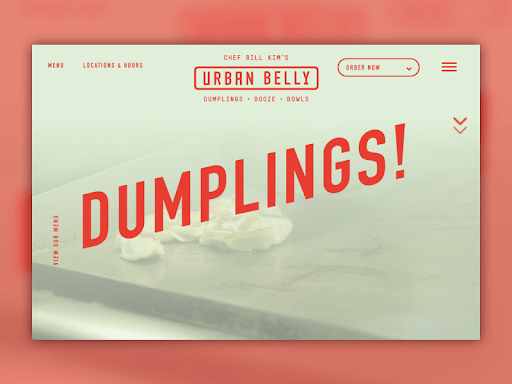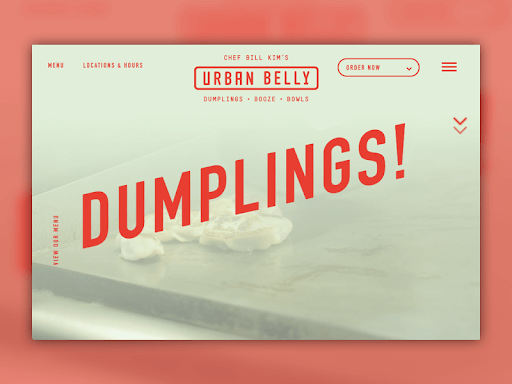 To do that, we:
Directed and shot custom photography and video


Incorporated imagery and video throughout to give users a "real taste" of urbanbelly online


Designed custom icons and subtle animations throughout to create a dynamic, interactive experience with texture and playfulness to match their brand

Integrated with social media feed

Ability for easy online ordering

Modular build to allow for easy updates as they continue to expand

Cornerstone Restaurant Group
Cornerstone Restaurant Group holds some of the most sought after dining establishments in the Chicagoland area, including bellyQ, urbanbelly, and Michael Jordan's Restaurants to name a few. Their previous website wasn't doing their brand justice—Clique Studios redesigned the site to adequately convey the quality and service offered in their restaurants.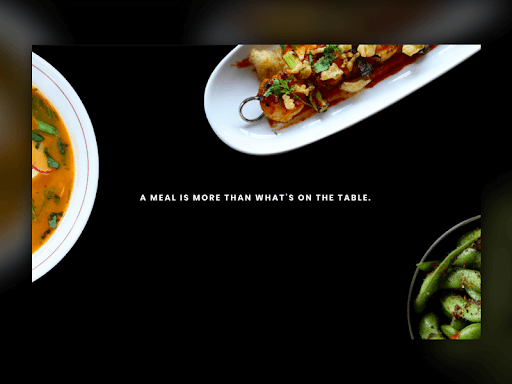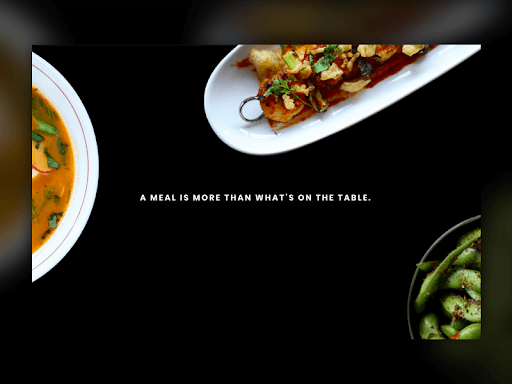 To do that, we:
Demonstrated through visual storytelling that coming to these restaurants is an experience


Custom photography and video

Lifestyle imagery to convey their food is more than just a meal on a table

Highlight quality of ingredients, aesthetics of each plate, level of service from the team that brings you this experience


Integrated with Culinary Agents for careers

Modern design and custom animations throughout

Michael Jordan Steak House
Michael Jordan is now doing to steak what he once did to sports: taking it to a whole new level. The three MJ Steak House locations- one in Connecticut, Chicago, and Washington- all have nuances, and needed websites to reflect that. Clique leveraged the existing logo to guide the redesign, carrying elements of it throughout, while incorporating a modern look and feel. To further the design efforts, we shot custom photography and video to create a full, immersive experience right on the homepage.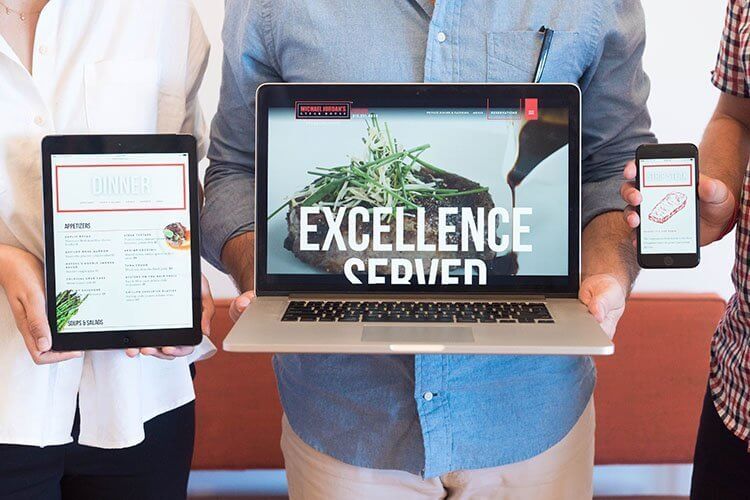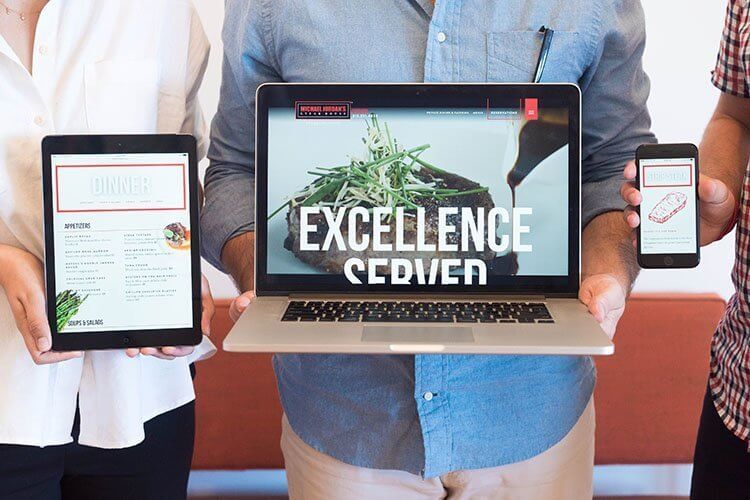 To deliver the best outcome, we:
Reorganized the navigation to drive conversion goals


Updated menu organization


Incorporated custom illustrations for "Steakopedia" to elevate brand

Used parallax video on the homepage

Standardized branding across different locations, while differentiating where needed to localize each restaurant

Build a website for your customer