The healthcare industry has changed tremendously as patients and technology have evolved. Patients are more discerning and empowered than ever, seeking providers that not only deliver on price but the overall experience. Patient experience has become the differentiator for healthcare organizations. Most healthcare websites, however, fail to deliver.

Hospitals should invest in innovative, easy-to-use digital experiences that focus on patient experience.
5 tips to build a patient-first healthcare website:
1. Cut jargon
"To address this, create an online glossary to clearly explain complex terms."
2. Loosen grip on legacy systems
"Legacy systems are killing healthcare organizations" – Bruce Johnson, CEO of GHX.
3. Design and test on mobile first, not second
4. Ditch automated customer service
"Live chat has the highest satisfaction levels of any customer service channel."
5. Create a cohesive experience across portals
"Single sign-on solutions allow patients to access and interact with all areas of their accounts, such as viewing benefits or claims, adjusting plans and changing account details."
Read Derek's full article on Health Care Business Tech for more insights.
Here's a few of Clique's best healthcare website designs:
Healthscape
Healthscape is a consultancy focused on creating a better healthcare system and helping clients run successful businesses. They needed a modern website to not only reflect their authority and expertise in the industry, but to communicate what they did in a concise, applicable way to their different audience types.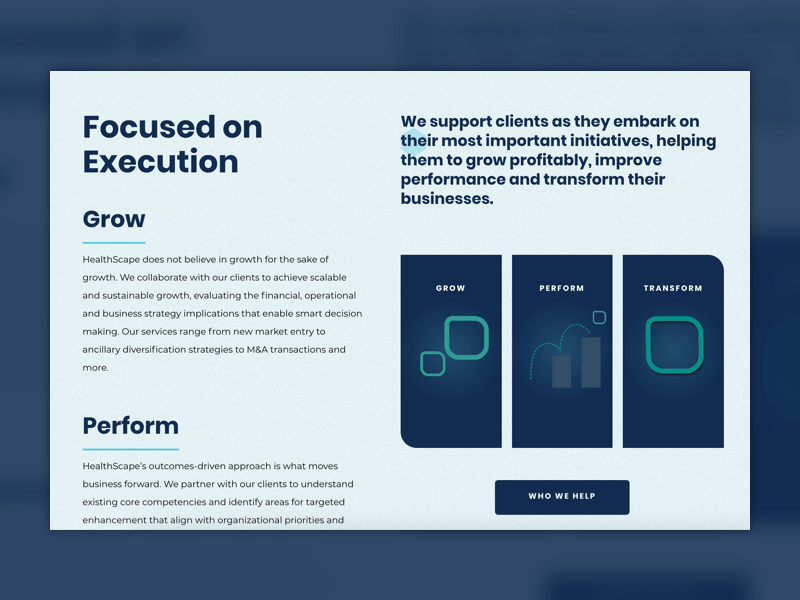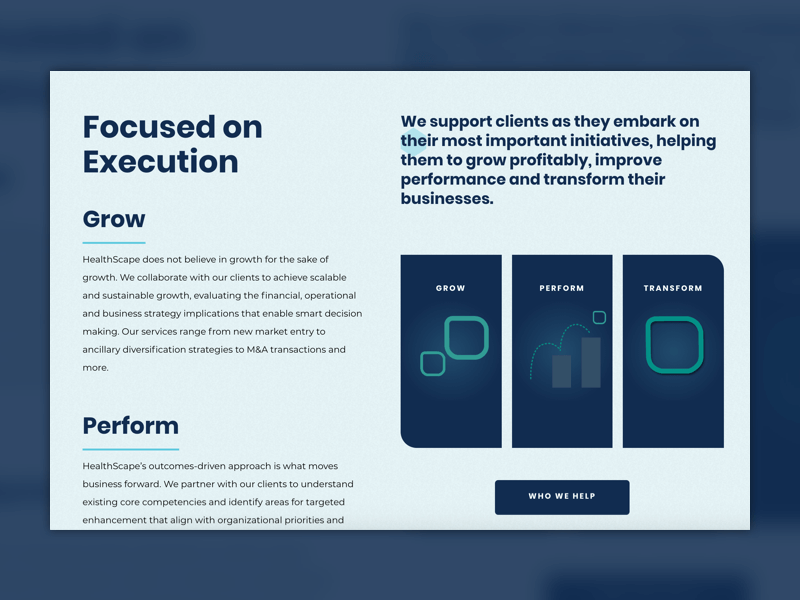 Strategizing, redesigning, and building for their business clients.
To communicate Healthscape's capabilities without missing niche opportunities, we built audience-based landing pages with targeted case studies. For a modern look and feel, we incorporated their distinct logo throughout design elements. The result is a sleek website that represents Healthscape's work and impact for their clients.
Some highlights include:
Stakeholder interviews with leadership to understand current and future goals
Content direction to make complex issues easy to understand
Audience-based landing pages with case studies and solutions to help different users find work that directly applied to problems they were facing
Icon animation to visually explain how they work: grow – perform – transform
Tableau dashboard iFrame capability to create more interactive blog posts
Tempus
Tempus' goal is for each patient to benefit from the treatment of others who came before. Starting with cancer, they have built the world's largest library of clinical and molecular data and an operating system to make it accessible and useful.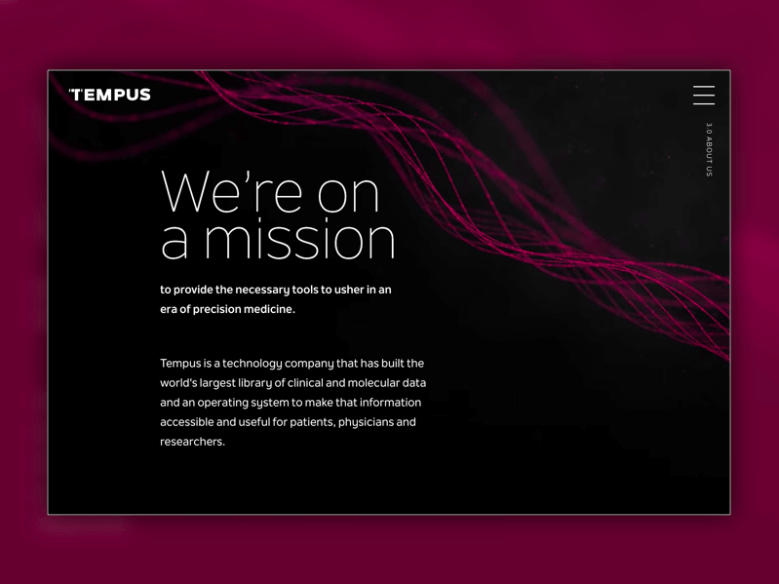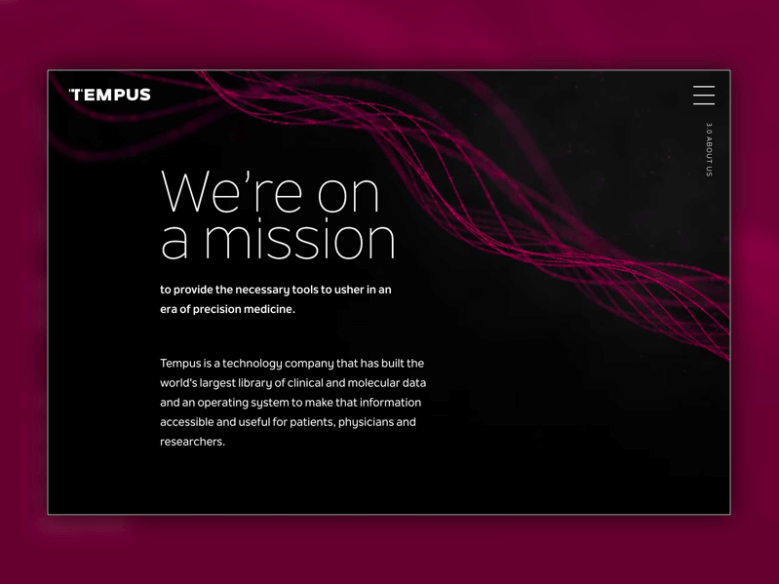 An untraditional project called for a untraditional process
Tempus came to us with a unique challenge: they had designs from their internal design team, but needed Clique's expertise to help their vision translate into digital dimensions and functional development. In addition, the project had a tight timeline: Tempus wanted to launch it at the largest clinical oncology conference in the world, hosted by The American Society of Clinical Oncology. In short, we had an experience to create: Tempus had the blueprint, and we had the builders.
A trusting partnership and collaborative design lead to a powerful platform
Working with Tempus' designers at every phase to ensure a true translation, our design team made responsive designs for our development team to engineer. Together, we built an experience to embody their vision, mission, and goals. The result is a platform with an integrated API to allow for seamless management, on-page SEO and migrated content to improve search results, and custom designs throughout the experience (custom gene panels, hospital network map, etc.) to make the presentation worthy of the work itself.
Gateway Pediatric Therapy
Gateway is the premier center for ABA therapy in Michigan. Their expert team of therapists, innovative technology, and quality facilities have enabled the organization to offer best-in-class treatment and intervention services for families.Gateway came to Clique in need of a new site to support their rapid growth. Clique was able to elevate their brand through a newly designed website, as well as support their growth by building a site to allow for flexibility as the organization opened new clinics and hired more staff.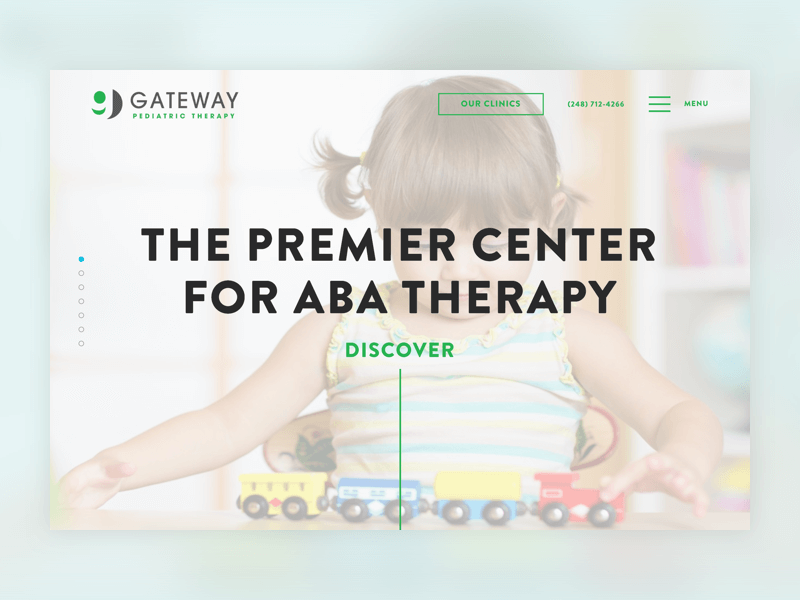 To do that for Gateway's healthcare website design, we:
Positioned the brand as the go-to clinic in Michigan, as well as entice new hires
Shot custom photography
Designed custom animations, custom map, interactive graphics to quantify impact
Strategic touch points throughout site to support lead generation
Highlighted community involvement and connection to local universities to better tell their brand story
Physicians Immediate Care
Physicians Immediate Care, a midwest leader in urgent care and occupational health services, had a deceptively simple request for their new website, design and build the easiest experience for patients to find a nearby clinic and book an appointment.
"Build the easiest experience for patients to find a nearby clinic"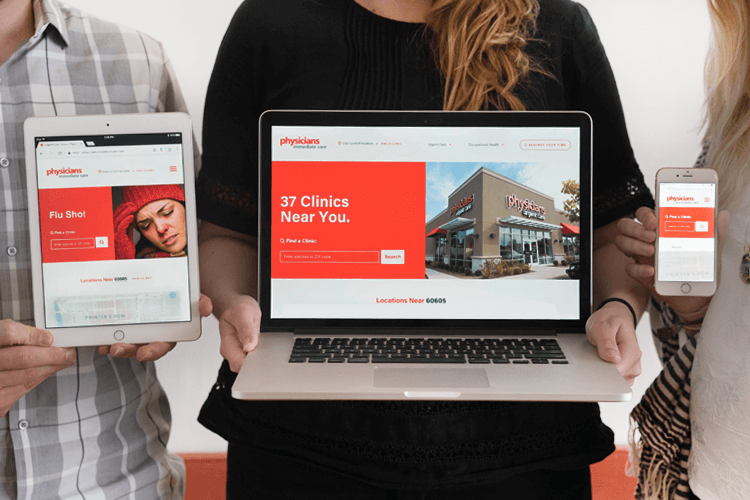 The Clique team dove in and created an experience that allows users to find a location near them, see the current wait time, and get to booking an appointment in as little as 10 seconds. We know it works great because we're not just Physician's digital agency, we're also clients!
Your website design needs to match the changing healthcare landscape.
The patient experience extends online.  Your website is your opportunity to create the best experience possible.
Your patients are more involved in their healthcare choices than ever. You have the strategic opportunity to engage them at every turn, generating more leads and enhancing the patient experience through a strong online presence.
Ready to improve your patient experience online?