As the latest project-manager-turned-business-development team member at Clique, I've been searching for organizations that I think could use our help and that I am eager to work with.
I looked for spaces in which we were eager to grow: I wanted to find an organization that I have a vested interest in, that I think my company can assist with, and organization that is on-board with our perspectives: Impact and Values.
In project work, these two qualities have led us to rewarding partnerships that result in some of our best work, and, in my search, these two qualities lead me to Historically Black Colleges and Universities (HBCUs).
I attended an HBCU and—over the past few months—I researched some of the business needs of HBCUs. In my analysis, I focused on challenges HBCUs are currently facing, opportunities they could capitalize on, and how we might be able to help. That's what this article is about.
Why HBCUs and Why Me?
While I've gotten the chance to work with a wide range of organizations, in the back of my mind I have always had the desire to work with HBCUs because that's where I'm most passionate.
I am a graduate of Spelman College, and several members of my family attended HBCUs (Xavier University, Lincoln University, and Meharry Medical College). The traditions, experiences, and education that I received at Spelman set the path for the woman I am today. I'd love to help a community that helped me.
An Evaluation of 25 HBCU Websites
With initial research, personal experiences, and previous university project learnings, I was able to review and evaluate HBCUs and identify some of the top challenges and opportunities for HBCUs.
We looked at 25 different HBCU websites to determine how well they served their users and their organizations—focusing on design and user experience. After our review, we noticed some recurring themes among these sites.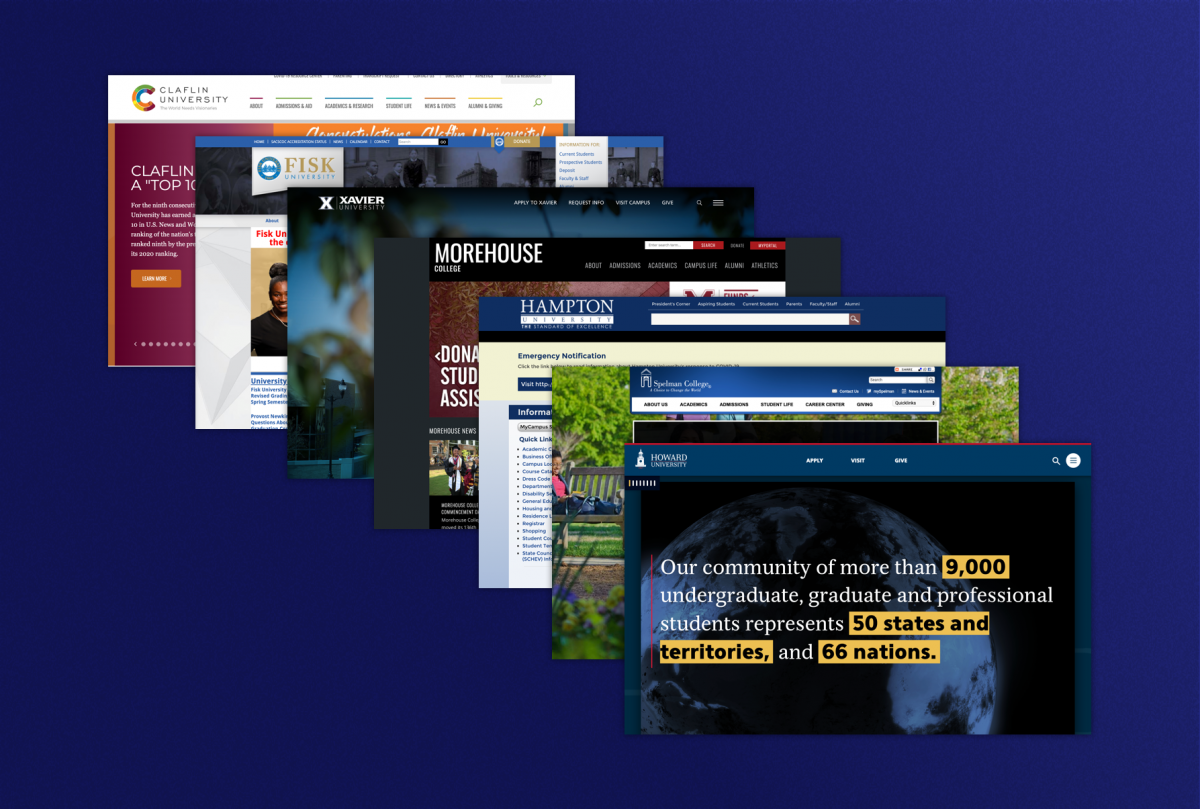 Digital Design
With how quickly digital trends and technologies change, it's recommended to update, refresh, and/or reimagine your website every 2-3 years.
Upon review of the data, a number of HBCU designs were last modified or revised in the mid-2010's. Most sites are using older design aesthetics: they have a similar look and feel with no design differentiation to set one university or college apart from the other.
User Experience (UX)
We did quick heuristic evaluations of the user experience across the websites. The Usability Score is based on a variety of factors: Are people able to quickly find what they are looking for? Are they able to navigate? Is the site unorganized? Is it confusing? Are users encouraged to dive deeper into the site?
The sites were evaluated on a scale of Very Poor (score of 1-29) to Excellent (more than 89). And, of the 25 HBCU sites, the average score is Moderate (or below).
Being below average in user experience can be detrimental to achieving the goals of a website: It means that the site is unorganized and confusing. It could lead to a user abandoning a website (and quite possibly never coming back).
Improving the digital experience on a college or university website can help your audience feel considered, calm, and excited about your HBCU.
Why A Good Website Matters
Recently, I was mentoring a high school student that was interested in attending an HBCU.
We opened her laptop and together, explored two of the HBCUs she was most interested in, hoping to pick the one to apply to. After looking at the websites, she made her decision.
The one that was most overwhelming, unclear, and outdated didn't make the cut. She chose to apply to the other, more modern, user-centric site.
In today's world, websites count. In today's society, an outdated website or crowded website can prevent a potential student from choosing a school.
The Top Challenges Facing HBCUs
HBCUs share similar challenges as other colleges and universities: they can struggle to leverage their data, navigate siloed teams, and improve student engagement (to mention a few).
But, in comparison to other higher-ed organizations, HBCUs have specific challenges that stand out: 1) Speaking to Different Users, 2) Relying on Donations, 3) Competing with Other HBCUs.
Challenge 1: Speaking to Different Users
A challenge that a lot of universities face is understanding their users.
In our research we found that HBCUs have a number of user types. They have to appeal to a lot of user groups: Alumni, Donors, Prospective Students, Current Students, Staff, and Faculty. When there are so many user groups, websites tend to put too much information on a homepage as a catchall for all users. But this way of thinking doesn't serve your organization or your users.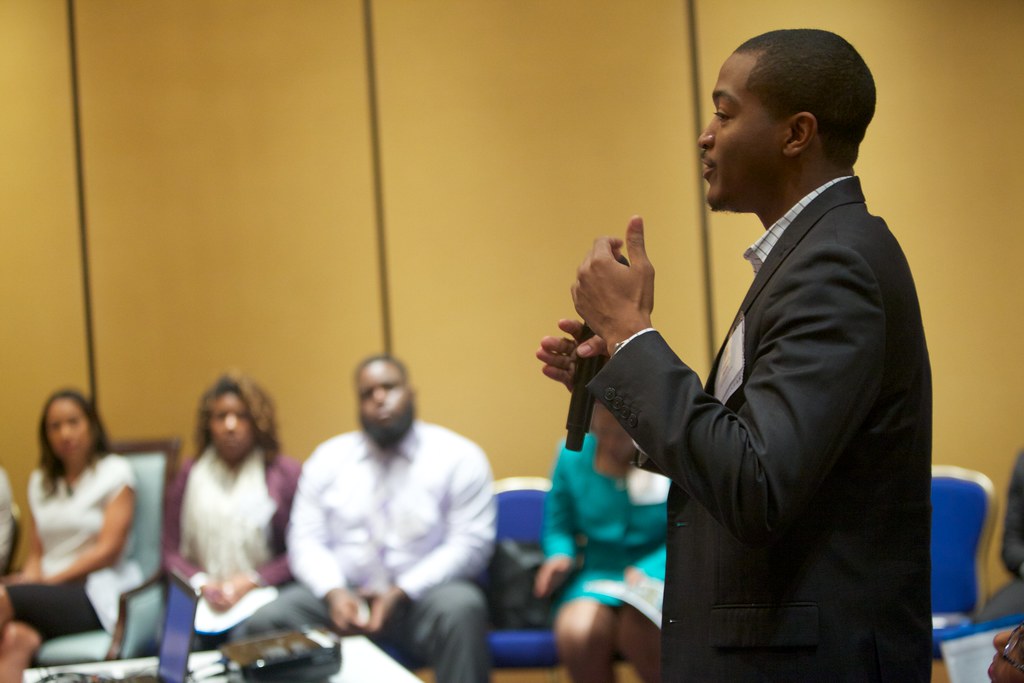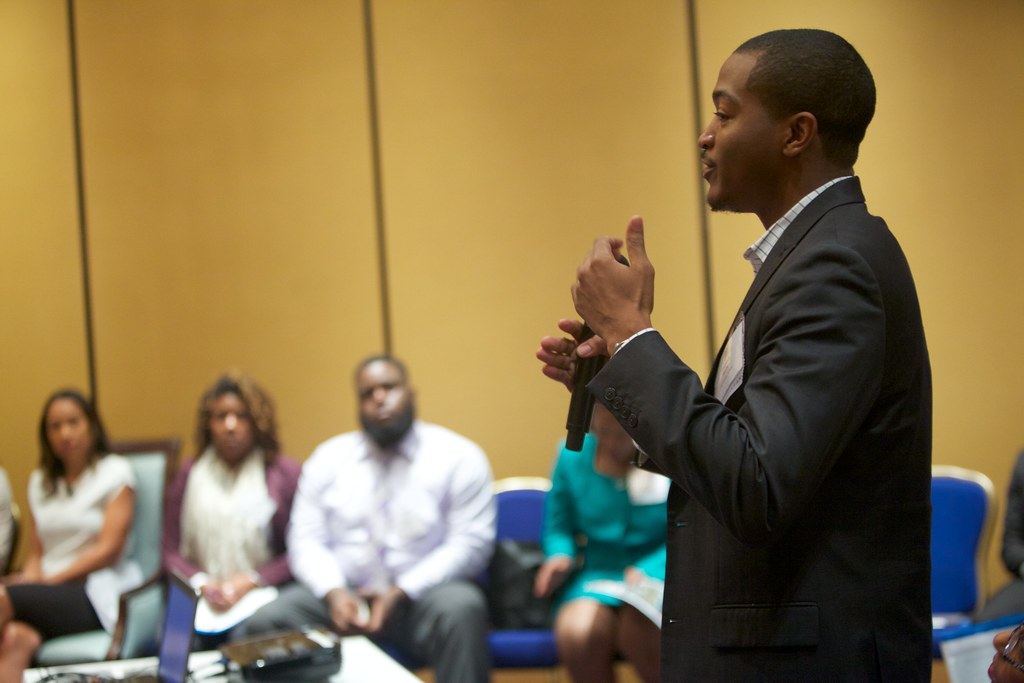 In review of numerous HBCU sites, most fall into this issue: sites don't have a clear understanding of which user group each page is focused on. Several pages speak to all user types, which leads to a lot of content (often formatted in walls of text) being put on a page. They're served an overcrowded content, filled with content that the majority users don't need.
So ask: Who are your users? Do you know them? Do you understand them? Are you speaking to them?
The best way to resolve the challenge on your website is to strategically balance your user groups, based on your users' needs. Each user should have a journey specifically designed for them, so they can accomplish what they want to accomplish.
You must go beyond knowing your user; you must know your user. A few examples of how we understand users:
User Interviews: Speaking directly with representatives from your different user groups to learn, first hand, what they want, need, and struggle to do on your current website. This gives us an initial landscape and state-of-mind of your different users.
User Testing: Watching users interact with your current site, after being given a set of tasks to accomplish. This helps us watch for patterns they can't verbalize and remove bias from the interviews.
Card Sorting: Testing the navigation with real users of the website. This helps us remove assumptions and make decisions from a user-centric mindset—informing specific language and content hierarchy.
Personas: Creating specific user profiles to help inform the design choices made for the experience. This gives designers a more personal connection with your users and helps them make user-centric decisions.
Stakeholder Interviews: Interviewing your internal team, staff, and key stakeholders for the project to understand how they're interacting with the website. This informs us of the priorities of your organization's team and helps us balance organization goals with user goals.
All of these activities help us understand audiences better: the first step to building something that actually helps users, engages people, and sparks action.
Challenge 2: Relying on Donations
HBCUs rely on donations from alumni and donors for funding programs, academics, and facilities. Oftentimes, it's how HBCUs can fund scholarships, support student organizations, and grow their culture, traditions, and community. But, too often, HBCUs are overlooked by donors.
In the Winter of 2020, Howard University announced a $10 million gift from the Karsh Family Foundation, the largest donation in Howard history to fund science and technology. Yes, this gift will have a huge impact, but in comparison to other Universities nearby—with The University of Maryland at College Park receiving a gift of $219 million this decade and Georgetown University receiving a gift of $100 million—it's still far from the ideal donation HBCU's would like to receive in comparison to other neighboring schools.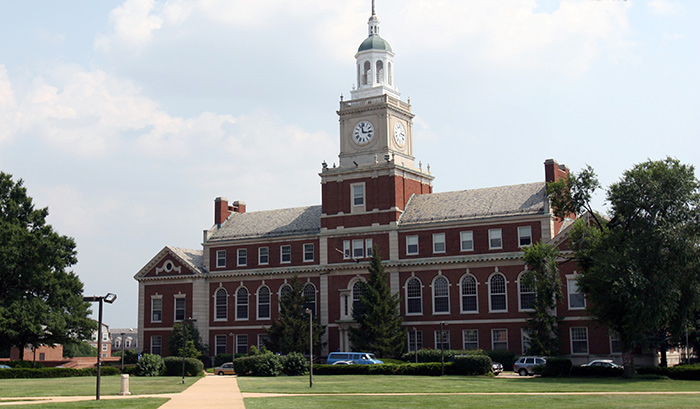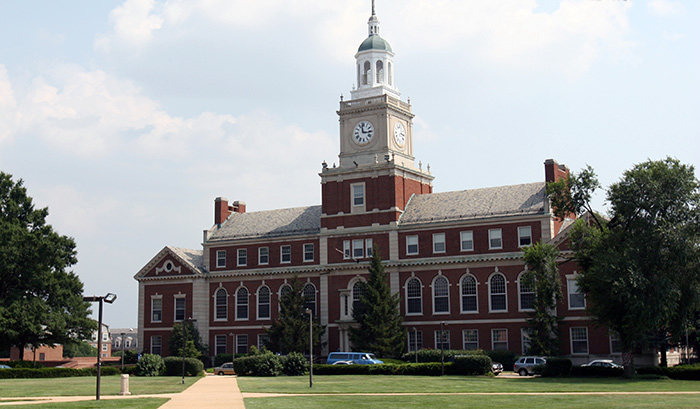 Howard University Campus
With more and more people making donations online, your website can be a great fundraising tool—if the donation flow is designed strategically:
Be clear on where to donate: It shouldn't be difficult for users to find where they can donate. Something as simple as providing a clear call-to-action (CTA) in the top navigation can help increase donations for your organization.
Tell the story, traditions, and history of your school: Donor pages should be unique to your HBCU. For alumni, this can spark feelings of pride rooted in nostalgia and for donor's unfamiliar with your story, sharing the history and traditions of the school can be a huge differentiator.
Make the transaction as easy as possible: The average page visit lasts less than a minute. If it's not easy within that time for a user to know how to donate, they might leave. The UX copy should be clear, the form fields should be accessible, and error messages should help them solve their error quickly. For bigger donations, encourage them to reach out for more information.
Pairing storytelling with high-conversion UX techniques can help your website drive donations for your HBCU.
Challenge 3: Competing with Other HBCUs
HBCUs have an advantage and a disadvantage. When it comes to other public and private higher-ed organizations, HBCUs can easily differentiate with their rich history and traditions. But, once a student narrows into HBCUs, the competition gets fierce between the various schools and universities.
Yes, the amount of HBCUs in the country has reduced within the last few decades, but enrollment is on the rise, and the competition in this niche family of universities and colleges has only become tougher.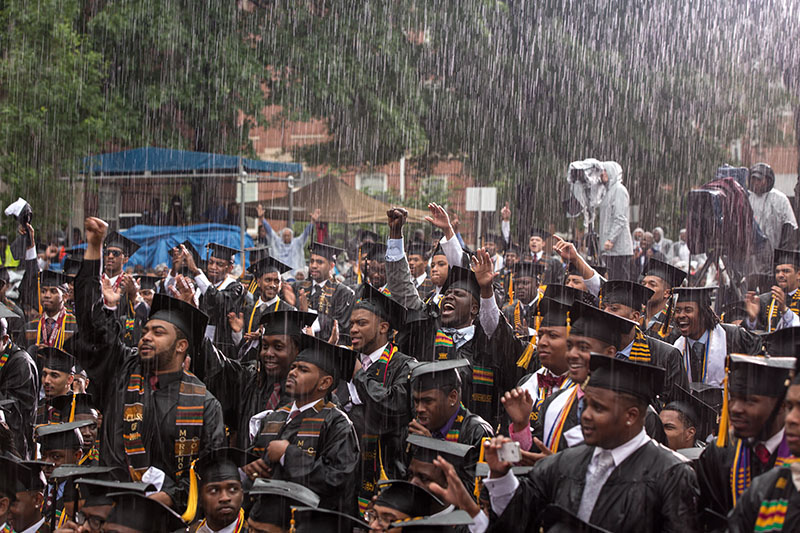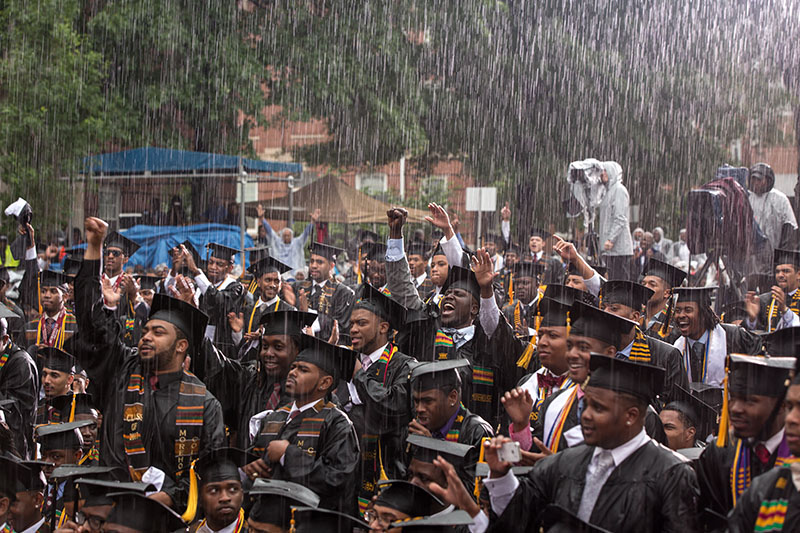 (Official White House Photo by Pete Souza)
HBCUs have to differentiate themselves from one another—especially the top ten. Tradition and the prestige of a name are comfortable ideologies that HBCUs have relied on, but it's a tight competition between the top 10 HBCUs. What makes Xavier different than Howard for prospective students and donors? Communicating these differentiators is important for prospective donors, students, and faculty.
One way to differentiate is with a differentiated website. A competitive analysis can inform you of what other users are experiencing with other HBCUs. An SEO and Paid Search strategy can ensure that users can find your site. A design based on your university's unique culture (not just copy-and-pasting best practices) can help distinguish your voice in the space.
A different website can be an invitation for students, faculty, and donors to see your university in a different way. It can be an introduction to your HBCUs story—one that others can't compete with.
The Top Opportunities for HBCUs
HBCUs have specific opportunities that they can (and should) capitalize on: 1) Showcasing the Ingrained Traditions, History, and Culture, 2) Engaging with Your Passionate and Proud Alumni Base, 3) Communicating the Caliber of Top-Tier Academic Programming.
Opportunity 1: Showcasing the Ingrained Traditions, History, and Culture
The traditions, history, and culture at HBCUs have a power behind them. Rooted in purpose and history the programs, events, and activities offered at HBCUs inspire students and help them connect with the larger African American community.
Look at one tradition: Homecoming. At HBCUs, it's not just a sports weekend, it's an experience. From celebrity appearances to fashion shows to concerts to step shows, the traditions wrapped in HBCU Homecomings are especially notable and worth highlighting.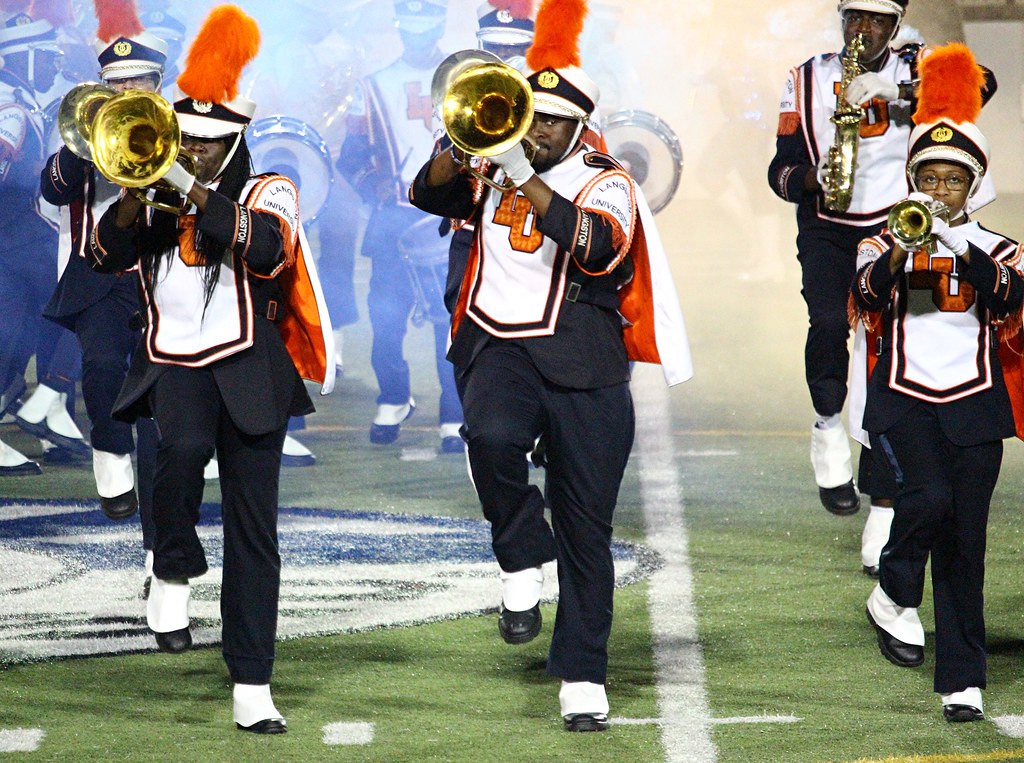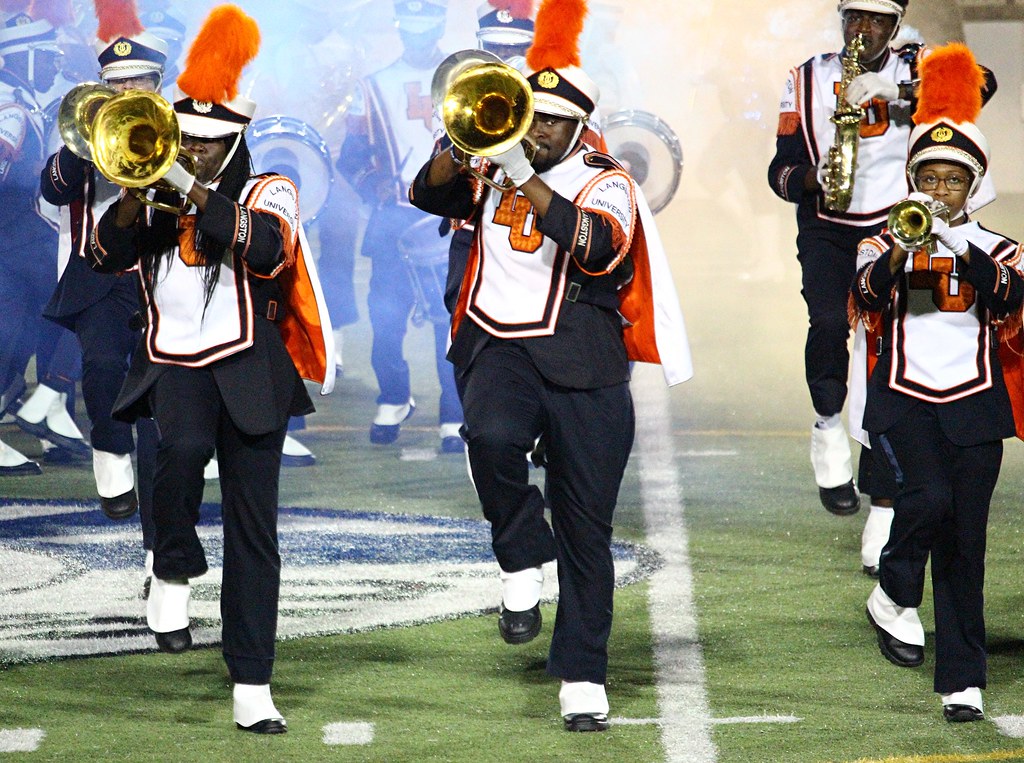 Throughout your website, these should be highlighted as special events, storied traditions, and greater culture with imagery, news posts, and stories. Sprinkling remembrances here and there can tap into nostalgia for alumni, and showcasing your school pride can create excitement for prospective students.
As most HBCUs were started to help provide African Americans with education otherwise barred from them, most have a history that is significant and impactful. It should be celebrated on the website, not treated as bonus content. We want to encourage the user to dive deeper into the school traditions, to give them a better understanding of the school and help them start picturing themselves on the campus, participating in it.
With such a rich history of traditions, there should be a page dedicated to history and tradition alone. It can connect with users by being designed in a unique, story-driven way. After teaching about your traditions and history, you can then include a CTA to donate or to get involved with your HBCU or schedule a tour.
Opportunity 2: Engaging with Your Passionate and Proud Alumni Base
Right now, most HBCUs rely more on student tuition than on donations. Mobilizing networks of alumni with small, grassroot efforts can have a huge impact on your budget.
In North Carolina, Bennett College proved the power of small donations. They raised nearly $10 million last year during a two-month fundraising campaign from 11,000 different contributors. For colleges that are overlooked by "big money" donations, small efforts to create a community of engagement and effort can make a huge impact.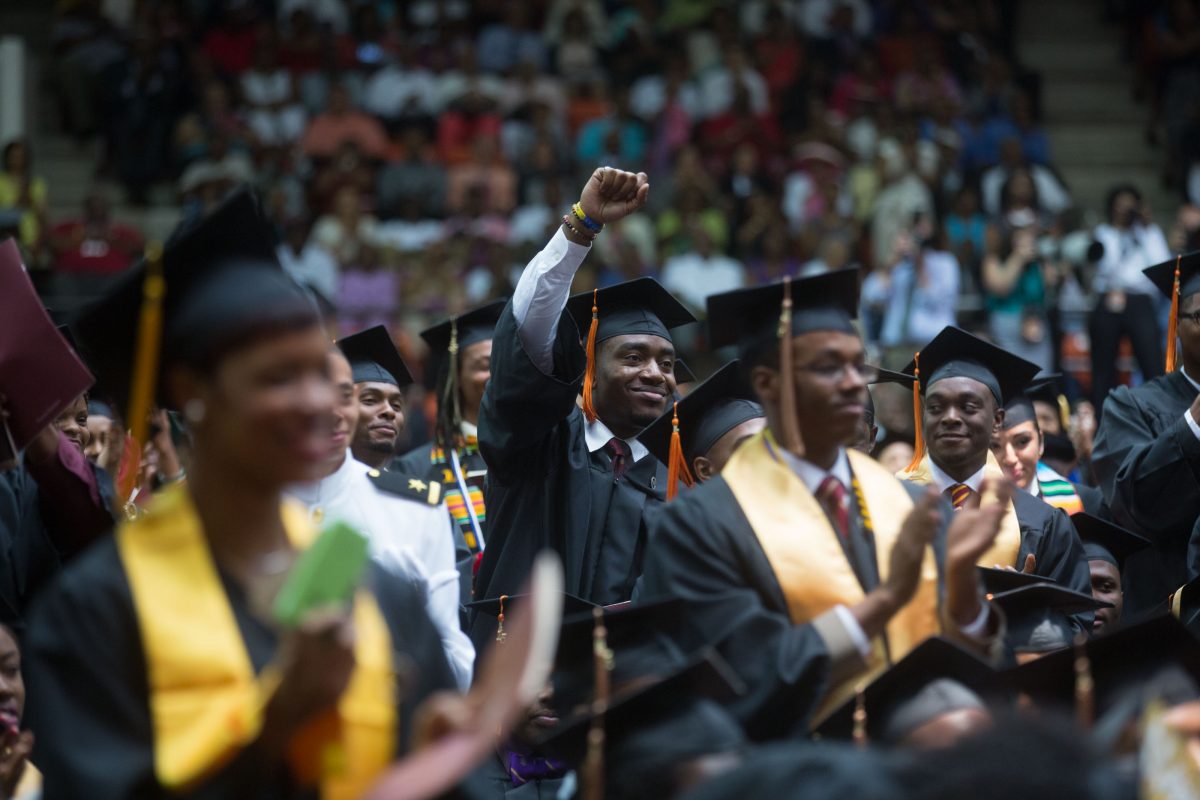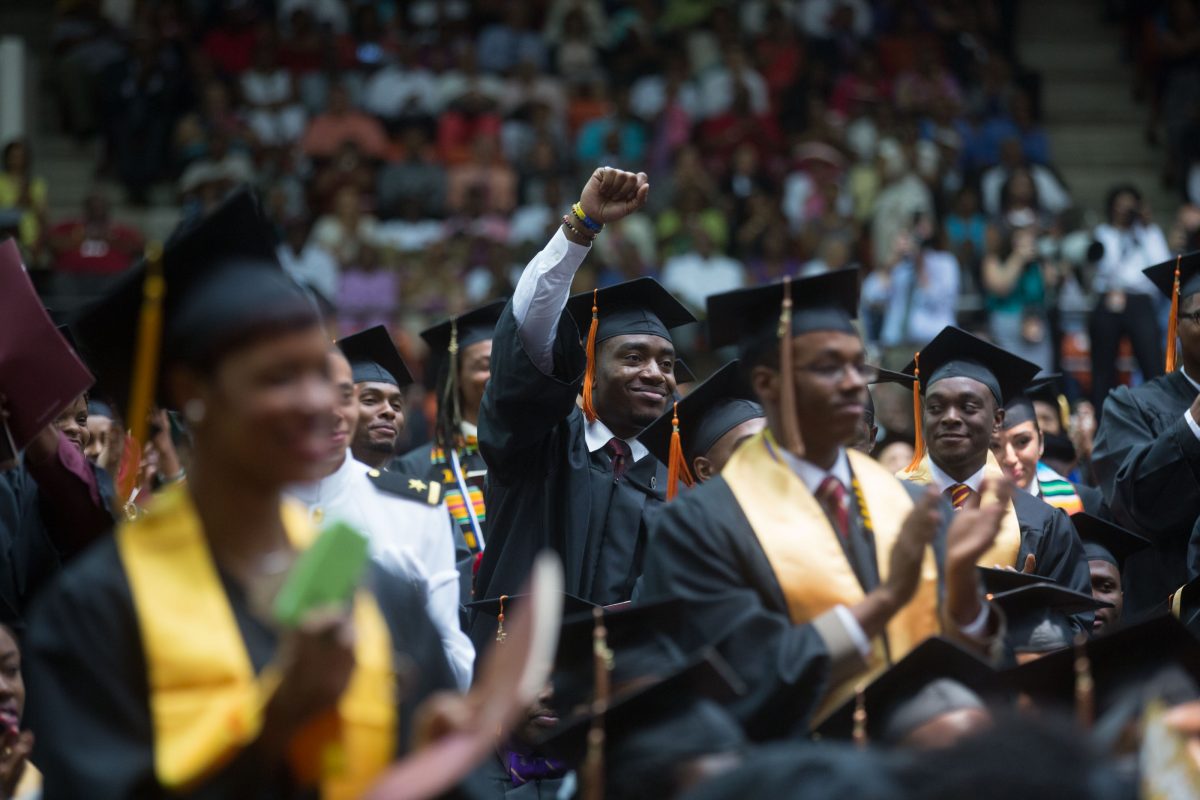 (Official White House Photo by Chuck Kennedy)
One way to bolster community is by focusing on a specific type: your digital community. For example, alumni-specific pages or an alumni portal can encourage Alumni to engage with the HBCU or with each other. Content specific to them—like downloadable newsletters or alumni event updates—can help them feel connected and prioritized. It gives alumni a home on the site, which will get them more and more involved and drive donations.
Alumni are just one type of user on a website, but working to engage them can drive donations.
Opportunity 3: Communicating the Caliber of Top-Tier Academic Programming
HBCUs have a long history of creating great academic opportunities for their students. Some are ranked among some of the best colleges in the United States, including Hampton University, Howard University, Morehouse College, and Spelman College. They have a history of providing Black students with high-caliber education.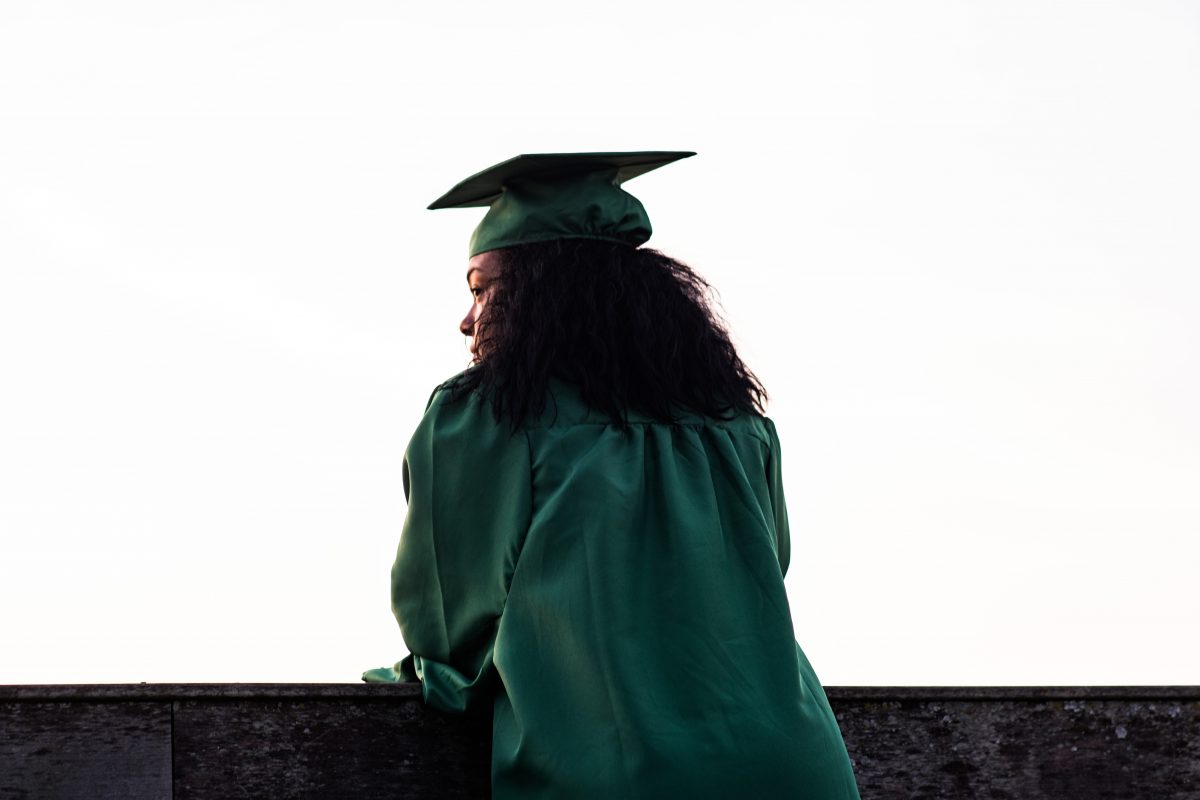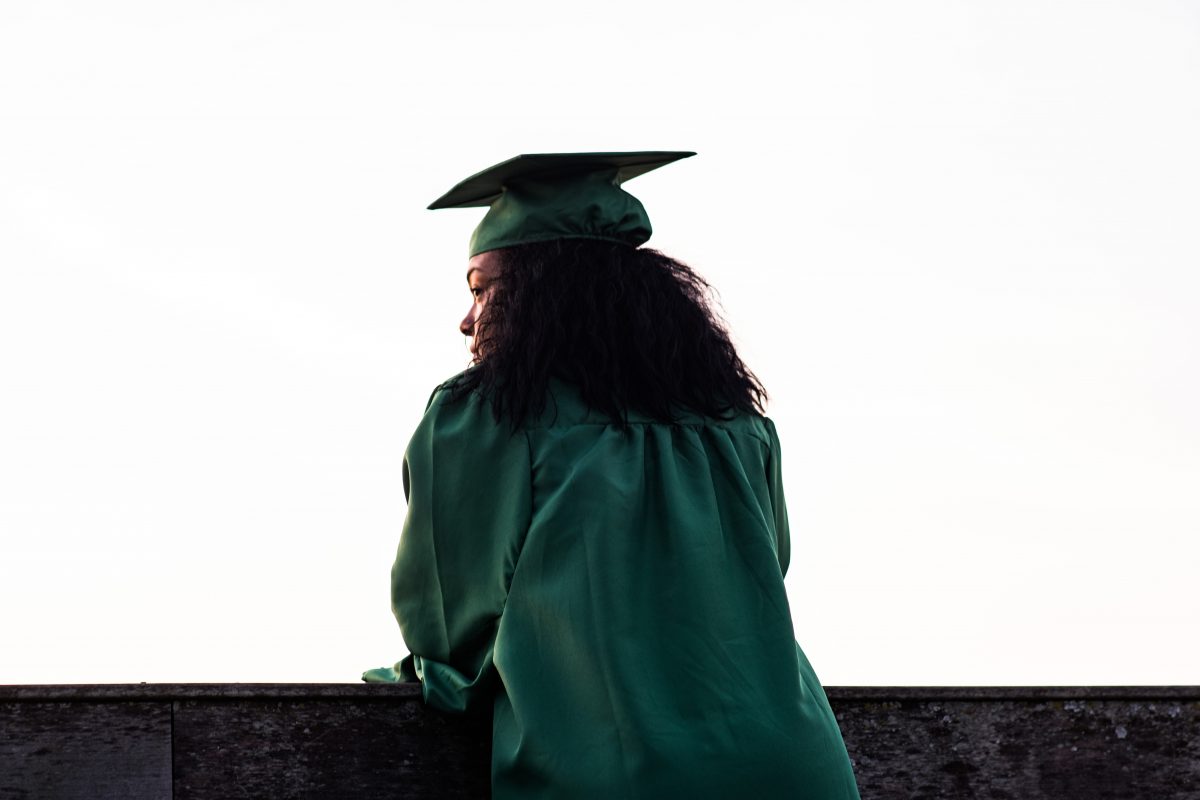 In the 2017-18 academic year, 48,000+ degrees were granted by HBCUs, accounting for 13% of bachelor's degrees, 6% master's degrees, and 11% of doctoral degrees earned by Black students. And Among African Americans, 40% of Engineers, 50% of Lawyers, and 80% of Judges are graduates of HBCUs.
Specifically, HBCUs are known for their education in the STEM fields of science, technology, engineering and mathematics.
An HBCUs website should showcase the academic achievements of the school. For prospective students, each program should have it's own page, with details about the program as well as content—stories, statistics, messaging—to bolster the reputation of the program itself. Using keywords and building specific pages for high-searched terms will also improve the SEO (Search Engine Optimization) of the website, getting more general, non-HBCU students to see the content.
Conclusion
Historically Black Colleges and University sites need digital modifications to be more modern and provide a better experience for their users. A strategic plan will help with engaging and serving different users, potentially increase donations, and assist with differentiating amongst tight competition.
With a strategic digital plan and data, HBCU sites can overcome some of the challenges found within universities and colleges and capitalize on the opportunities: highlighting HBCU history and traditions, leveraging alumni, and showcasing your HBCU's academic prowess.
An HBCU website has the potential to be much more than a digital college brochure: It can be a tool at the center of your marketing strategy.
It shouldn't be a reality that an HBCU loses a prospective student, donor, or faculty member due to an outdated, overcrowded, non-UX friendly website.
Interested in elevating your HBCU website?