We are so excited to welcome Emma Foley (she/her) to the Clique team as our newest designer. Originally from Michigan, she had been searching for the right opportunity to move to Chicago, and we were lucky enough to be the answer she was seeking. I was able to sit down with her and get to know her a little better. Here are some highlights…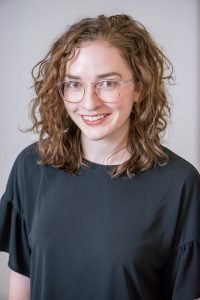 What are you most excited about being at Clique?
"I was working on more print-focused design before and really wanted to get more into digital, so I'm just excited to dive into some bigger, digitally-focused projects."
If you could only look at one website the rest of your life what would it be and why?
Instagram— it's constantly changing and updating. Sure, there are better-designed websites out there, but if I'm going to be looking at it forever, I'd want it to change."
Touché, Emma.
What does your ideal weekend look like?
"Probably some brunch. Who doesn't love a good brunch? I also like going to museums, shopping maybe, a casual drink with friends—nothing too crazy."
Final meal…?
"Chicago style hot dog. Or pizza."
Definitely in the right place for that.
What did you want be growing up / what did you want to be coming out of college?
3 things you never travel without?
"Phone, wallet, hair tie."
Emma is very practical.
If you could be the best in the world at one skill but bad at everything else what would that skill be and why?
"Chef, then I could always eat all the best food."
And share, please!
What's your stance on karaoke? What song would you sing? General music interests?
"I love watching, but I've never done it. I think music interests and karaoke songs don't necessarily go together, but I would probably sing something from the early 2000s, maybe One Direction. In the venn diagram of music interests and karaoke songs, One Direction is right in the middle."
Couldn't have said it better myself. So excited to have you on board, Emma!