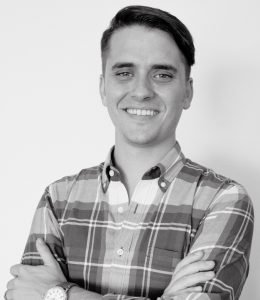 Derek Nelson is a partner and co-founder at Clique Studios, a leading design and engineering company that builds digital experiences for high-growth organizations. Clique Studios was named one of Chicago's "Best and Brightest Companies to Work For," was honored at the Webby Awards, and took home a Gold Stevie Award at the American Business Awards.
Derek started designing and developing when he was 12. He now teaches "Designing for Conversion" at the Startup Institute, is a mentor at 1871 and General Assembly, and occasionally writes and speaks on mobile conversion.
In his free time, Derek records and plays around Chicago as a solo act and with a 7-piece band named Martin Van Ruin. Martin Van Ruin made the list of "5 Chicago Songwriters You Need to Hear" (American Songwriter Magazine) and released "one of the best local albums of the year" (Chicago Tribune).
Previously, he worked on the 2008 Barack Obama campaign as a field organizer and graduated with honors from the Missouri School of Journalism at the University of Missouri. He sits on the Young Leaders Board for Cure Violence (known locally as CeaseFire) and the President's Circle of the Chicago Council on Global Affairs.