Amy Bremer (she/her) recently joined our team as our People Operations Manager. She'll be helping us support each other, grow as a team, and continue to foster a culture that we're proud of.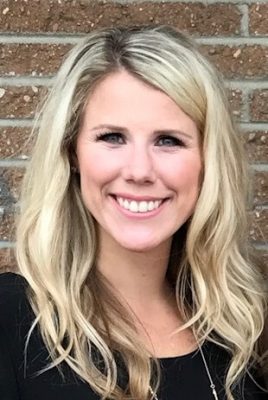 Amy started her career in education, working as a high school teacher for five years. When life circumstances took her out of the classroom, she found a natural fit in the world of Human Resources. Since then, she's been gaining 5+ years of experience across that industry, working at a staffing firm, at an education-based non-profit, and now at Clique. Here's a little more about her.
What brought you to Clique?
"I was at a point in my career where I wanted to try something new and I found Clique Studios in that job search. The description of the values that Clique embodies in their work and their people resonated with me. It felt authentic, and you don't normally see that. Then, after the first conversation, I realized that I wanted to work here."
What are you most looking forward to?
"I can't wait to work with all of the different people. Everyone seems super talented and great at what they do, and there's a culture where you can tell people care about each other. I'm excited to be a part of that and help people do their jobs better."
What does your ideal weekend look like?
"Warm weather. Probably being on a boat on the water with my dogs. A lot of my friends. Then finishing the day, sitting around a campfire."
Sounds pretty great to me, what kind of dogs do you have?
"I have two rescue dogs. One is a german shepherd, husky, corgi mix. The other dog is a shepherd lab mix. They're so great. I love going on walks with them."
Here is where I showed immense professionalism by continuing with the interview and not just spending the rest of our time discussing dogs.
If you could be the best in the world at one skill, what would you choose and why?
"I'd want to be the best race car driver, more specifically an IndyCar driver. It's a major obsession of my husband that's just really rubbed off on me. We attend the Indy500 almost every year."
Unlike dogs, I did not have to stop myself from talking about cars.
Do you have a favorite TV show?
"My all-time favorite would have to be Friends. It's a classic. I feel like I grew up watching it, and I can still just turn it on and watch any episode, whenever."
What's the best advice you've received?
"I used to work at a staffing agency, and my mentor had something she'd say when things would get stressful. She'd say: 'We're not saving lives.'
If something goes wrong at work, it can often become a heightened, anxiety-ridden thing. But it's important to step back, take a breath, and know that everything will be fine. It's about perspective."
What was the last book you read or recommended?
"The Last Thing He Told Me by Laura Dave. It's a mystery, fiction novel where a woman wakes up to find that her husband has vanished in the middle of the night. It follows her and his teenage daughter who he left behind trying to piece together what happened. It's full of fascinating twists and turns and has some good life lessons about building relationships in it too."
Final question. How'd you finish this sentence? By the end of 2021 I want to…
"Keep a houseplant alive. I want to be a houseplant person and have my place decorated with them, but I made a pact with myself that I have to keep one alive before I dive in. I've got this one—
Amy turns and points to a very green looking plant behind her.
"—that I've had for like a month. So far it's going well…but I've killed a succulent before so we'll see."
We're so excited to have you aboard, Amy. We can't wait to see you help us grow as a team and organization.