Expansion and new offerings diluted the story.
Access Corp, a global information management provider, was experiencing immense growth due to strategic acquisitions, expanding into new markets, and investing in innovative services. Rather than an asset, their website had become a repository of repetitive information with no clear brand messaging.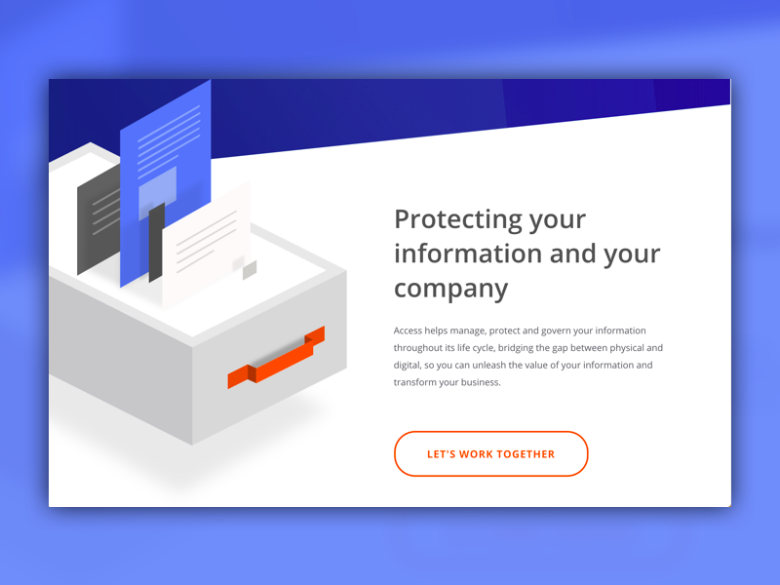 Merging the old with the new to create one "Access" experience.
Clique uncovered that, through their growth, Access' positioning became misaligned with their offerings and goals. Now, they are more than a storage company—they are a partner to their clients, creating management solutions to help them succeed. We leveraged our full content experience approach to help Access communicate their brand's innovative, modern, collaborative approach to their users.
Through UX and SEO enhancements, content strategy, and experience design, we strengthened the structure of their website and pages. To create cohesion and optimize different points of entry we:
R

estructured the sitemap and navigation to organize the information with various user personas and journeys in mind

Designed flexible, modular templates, which allowed for a high-level of customization for administrators, including reorganization of individual frames and fields on the page module

Established a Design System for updating all print collateral to align with a new brand and future-proof the company for more communication efforts

Recognized their established SEO value in local pages and uncovered an opportunity to not only maintain but improve on their search result rankings through location-based strategies
In tandem, to develop their brand story we:
Led internal content workshops, which inspired 10+ pages of copy to convey brand messaging clearly, cohesively, and creatively throughout the site and give the Access team guidelines for how to speak about their offerings in the future

Designed custom illustrations throughout the site with float-in animations to mirror the innovative, flexible approach to their solutions and prioritize conversion and user interaction

Rebranded their flagship HR software ( "Filebridge HR" to "CartaHR") to fit into the new revised messaging strategy

Launched the new brand with a full-scale booth design at a tech conference in Chicago
Morgan, Clique Project Manager, shares how we approached creating a cohesive story: