We're thrilled to welcome Tyler Fleming to the team as an engineering intern. A Kentucky native, Tyler made his way to Chicago from the small town of Hopkinsville. Tyler is an avid fan of pro-wrestling, lover of battle rap, and a self-proclaimed nerd for weightlifting. We're excited to have his unique sense of humor and semi-southern twang around the office. Here's a bit more from our conversation…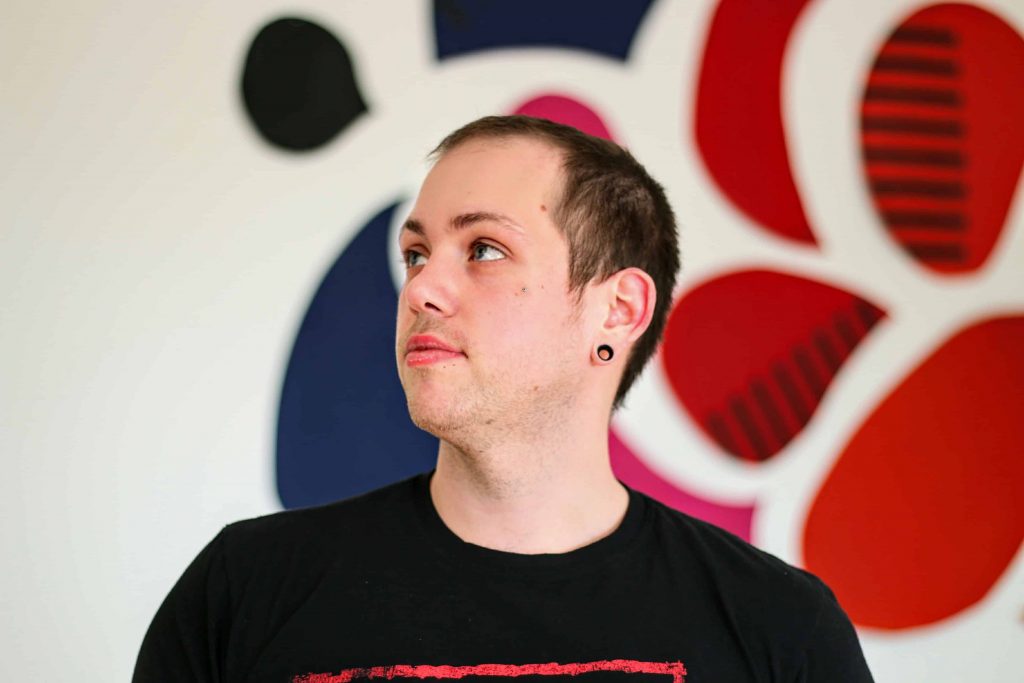 Tell me about how you found your way to Clique.
"I was on clutch.co, and it led me to look at some of the other work here. I just thought the sites you made were really cool, and I wanted to make sites like that. So I randomly sent an email because they were looking for front-end developers. I just thought, 'let me get in there so that professionalism can rub off on me'."
What were you doing before you sent that email?
"I worked at a small startup building websites and then a dog hotel for like a year. It was super fun. I miss the dogs."
So was web development always part of the plan?
"Development was always on my mind as a kid, but not as much as an adult. But the resources available to learn code weren't really around when I was a kid. At one point I wanted to be an EMT and then a Surgical Tech. Then I moved to Chicago, which is kind of a tech hub, so I just started learning."
What happened next?
"I just started to learn web development on my own. Once I got a good grasp and felt I could contribute somewhere, I wanted to go somewhere to do it professionally—not just write 'bro code.' I've always been big on doing and learning things the right way."
That's the spirit. Just build something.
That's awesome. What's the most exciting thing about being here?
"The opportunity to experience what it's like to be at such a professional place. Getting the whole experience—the collaborative experience where you're working through things with a process. It's just so different than just doing it at home."
What would you say is your favorite part of the dev process so far?
Okay, let's talk about some random stuff. What does your ideal weekend look like?
"If I haven't found time to work out, it's my number one priority. It does a lot for my mind. I'm also a huge foodie so I'll catch up on my grocery shopping. But generally, if I'm not doing something productive for my health or career it sometimes feels like a waste of time."
So you're a huge foodie. Chicago's a good place for that. What would your final meal look like?
*Looks longingly towards the ceiling with a smile*
"Anything loaded with carbs, fats, and high fructose corn syrup. Anything that can truly take down my health."
So are there any new shows you're loving or movies you've seen?
"Most of my media time is spent on YouTube. I find myself on the weird parts thinking, 'why am I watching these insects fight'?"
You and me both, Tyler.
"I did like Breaking Bad, though."
On your first day, you mentioned being big into music — specifically hip-hop. Any favorite artists?
*whips out his phone*
"Let's see. Joe Budden. The Roots—Black Thought, specifically. Big K.R.I.T. Freddie Gibs. Nas. DMX. I could go on."
What is it about hip-hop that you enjoy so much?
"I don't know. Anything with consciousness is good. I love it when they tell good stories. I'm a big fan of battle rap, too. What I listen to has become more selective over time. Battle rap is just the essence of what I want from hip-hop. It's competitive. It's raw."
Okay, complete this sentence for me. By the end of 2018, I want to …
"For one, I'd like to transition from intern to Junior Engineer. Other than that—just connect with more people. I call myself an introvert, but I'll turn the switch on when I need it."