SmartWatt Energy is changing the way energy projects are conceived, built, and managed by becoming the expert on energy optimization. They develop sustainability projects for organizations aimed at upgrading their energy infrastructure.
Their differentiated approach of utilizing their own in-house experts reflects their commitment to never being a canned solution. They deliver optimal value to their clients— the right plans for the right needs— proving themselves to be the antidote to the status quo in energy services.
SmartWatt approached Clique to revamp their digital presence to better communicate their services and industry verticals in a way that highlights their experience and expertise. Clique led an effort to design and build an entirely new website that builds brand awareness, increases user content consumption, and establishes SmartWatt's tailored approach as the optimal solution for all energy needs.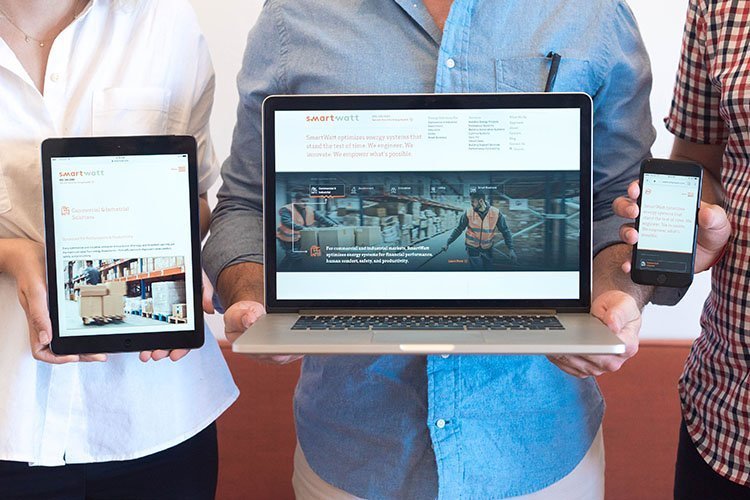 To do this, we:
Integrated with HubSpot

Ensured responsiveness

Integrated with Jobvite

Designed 50+ pages

Created custom animation to support brand identity

Created a custom CMS

Open-source

PHP

Enterprise implementation of WordPress

Built an interactive timeline highlighting unique history

Increased page views > 56%
An interesting aside about this project…
SmartWatt simultaneously worked to update their brand, collaborating with a firm called Emotive Brand, to improve their brand ethos, logo, and strategy. Noteworthy here was how well we worked in a triangular approach with both SmartWatt and Emotive Brand to deliver the best results. It yielded a stronger execution having worked together, rather than meeting in the middle. Emotive Brand recognized the success of this partnership and, as a nod to that, continues to refer clients our way. We look forward to working together in the future, and are proud of the work we've created so far!