BPOC came to Clique a few days after launching their new website with a problem: a hacker had injected links to illicit pages into their site and on top of that, they were not happy with the overall experience that the new design created but were unsure how to fix it. We first cleaned the site of the injected junk and upgraded the security to prevent this type of attack from ever happening again. Then we addressed their concerns around User Experience by not starting fresh but instead, leveraging what they already had to learn what worked well and what did not. Combining a comprehensive UX audit and usability study, we were able to target specific items in the current build to refocus the overall brand identity and to also make the site easier to use.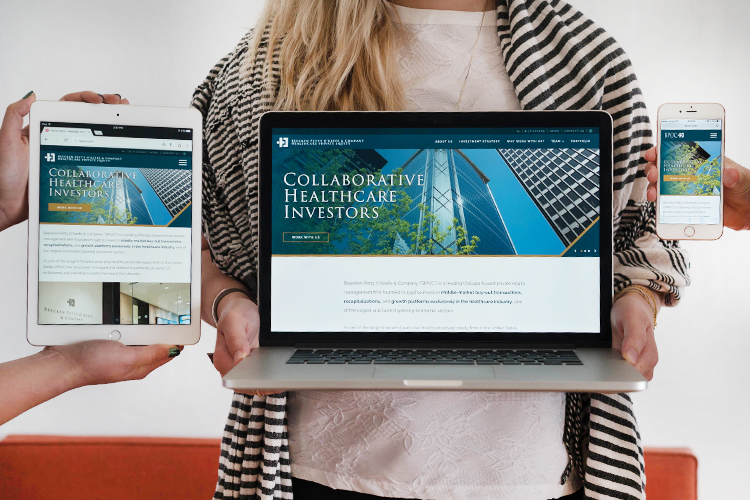 Our usability study uncovered the need to make the site easier to scan as one user put it:
"font size is killer, I feel like nothing stands out."
To address that, we established context and visual hierarchy throughout. The study showed us users had a hard time finding portfolio companies that were relevant to them.
"I have to go to a fund page and hope that they have them labeled by sector and hope the fund I am looking at has it. Nothing in fund 4, I'll try fund 3,"
With this in mind we condensed them onto one page with filters for organization and ease of accessibility. Users had a hard time finding specific employees or positions on the team page saying:
"This is kinda jacked, you want the top guy to be visible first" and after finding the CEO by mousing over several different pictures, "
Ah there he is, Kenneth. So egalitarian of him to be in the mix. With those insights we re-ordered team members into a logical sequence by rank, and removed the hover state that hid the names and titles of the BPOC employees.
To further improve BPOC's user experience, we have installed click and mouse tracking and will be conducting another usability study in the coming months. This is an excellent example of our expertise in user experience and our ability to constantly improve an existing website. If you would like to further improve you website, please get in touch.