This is the first of an ongoing Design Sprint Series, check out Part II, and our full day Jake Knapp Design Sprint Workshop.
For this year's Denver Startup Week, we are partnering with the City of Denver to reimagine how their collection of public art is discovered and interacted with throughout the city. We will be teaching participants how to design sprint by actually doing one—or, at least, a condensed version of one. Attendees will participate in key design sprint activities, focused on increasing awareness of public art in Denver. They will leave the session with insights into the design sprint process, and our team will leave with real user feedback on the problem we're trying to solve.
So how do we take this 5 day process and pack into a two hour session? Preparation.
Back up…what's a sprint?
The Google-derived design sprint is a five-day intensive process meant to answer critical business questions and solve tough challenges through design thinking.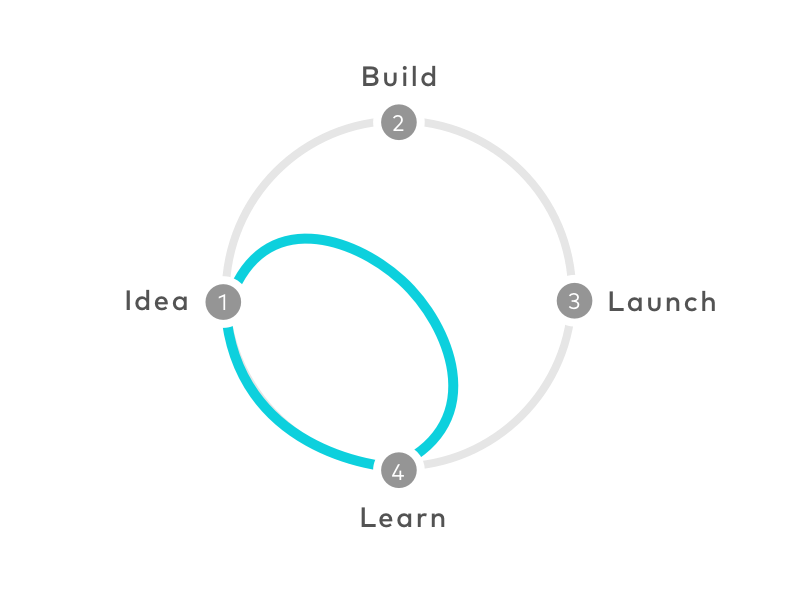 Sprints provide a "shortcut to learning without building and launching," through methods of design, prototyping, and testing ideas. They're incredibly versatile, with a track record of helping companies across a wide array of industries with incredibly diverse problems. They break down the barriers between business units and titles for cross functional problems solving, empowering the best ideas to shine through no matter if they come from the CEO or a junior designer.
Five Days into Two Hours?
Trying to figure out how to condense the full sprint process into a two hour session that is educational and delivers valuable design outputs was no easy feat, so, we decided to lay the groundwork first.
Last week we conducted a sort of pre-design sprint with Denver Arts & Venues, the organization we are partnering with on this initiative. The purpose for doing this was to determine our main goals and target for the sprint internally so that we can onboard Startup Week participants to an already established goal for them to dive right in.
Have you ever watched a cooking show and noticed how they fast-forward through time intensive prep work or long cook times? The viewer still learns the desired recipe and techniques, but in a condensed timeframe—exactly what we're trying to do here. We fast-forwarded through some "ingredient prep" in order to optimize the limited time we have in our session.
What ingredients were prepped?
The city of Denver is brimming with public art, as murals, sculptures, and other unique installations color the town. Denver Arts & Venues, the organization behind this incredible collection, has been working to drive the public's engagement with art throughout their city. To create a nationally recognized digital experience designed to increase awareness and public engagement with the 400-piece collection, we knew we would need to pad the two hour session with some preliminary work of our own.
Our goal with the pre-sprint was to better understand what we were building. What was the main goal of the project? What were some of the risks? What, exactly, were we trying to solve for, and how were we going to get there?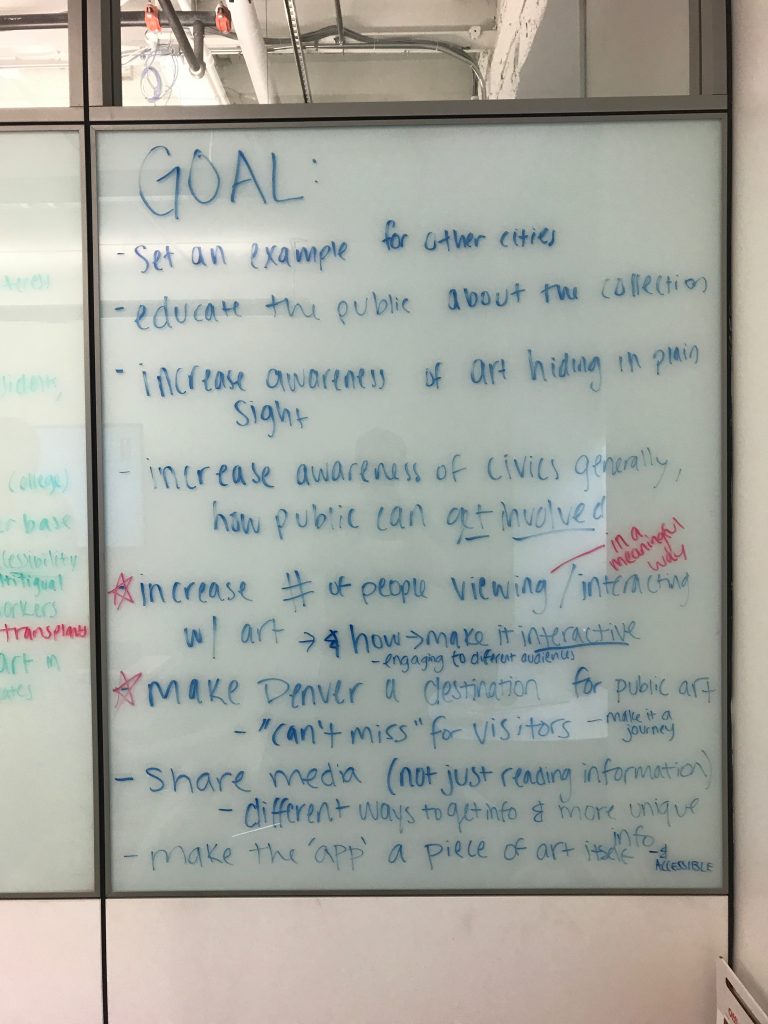 Beyond the utilitarian aspect of the sprint (achieving our goal with a real design solution), the Denver startup week session will be a fantastic learning opportunity. We wanted to do as much prep work on our end to ensure participants would learn from the session, which is exactly what the pre-sprint accomplished.
How did we do it?
For the pre-design sprint, we only had three days to work with the team at Denver Arts & Venues – and they weren't full days – so, first, we thought through how to get the most out of our short time together. We decided the first three phases of the sprint (understand, sketch, decide) were the most important to do, while the prototyping and testing could be the focus at Startup Week and with our team after the session. We selected key activities from each of these phases and condensed them to fit 3-hour sessions—then, we got to work.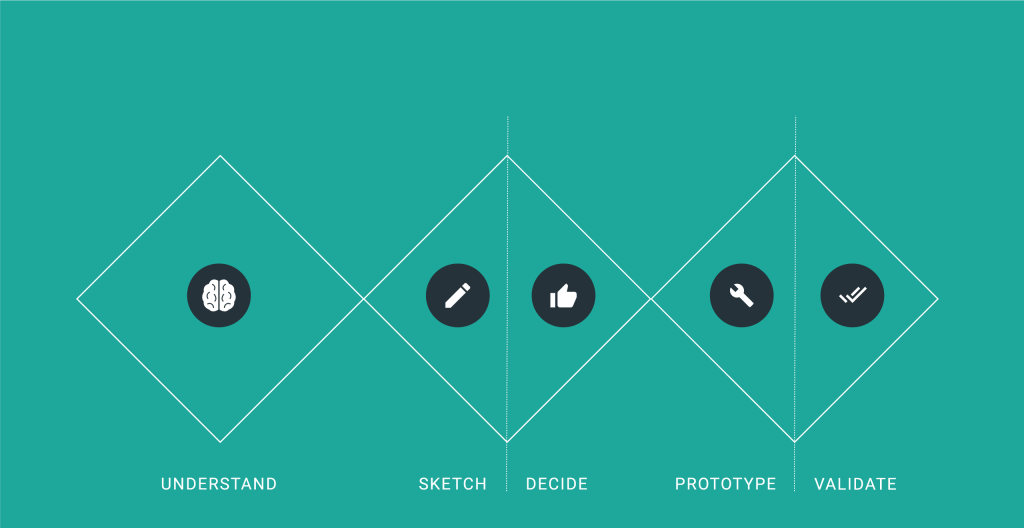 Day One:
The first session was spent understanding the problem we were trying to solve. We identified some ambitious long-term goals for the project, as well as raised several questions and risks. After some discussion, we honed in on our main goals and mapped out how we could get from our starting point to the desired outcome.
To better flesh out our thoughts and ideas, each participant was taking How Might We (HMW) notes to reframe problems as opportunities. Once we had our user flows mapped out on the board, we added select How Might We notes where they filled in information or added depth to the map.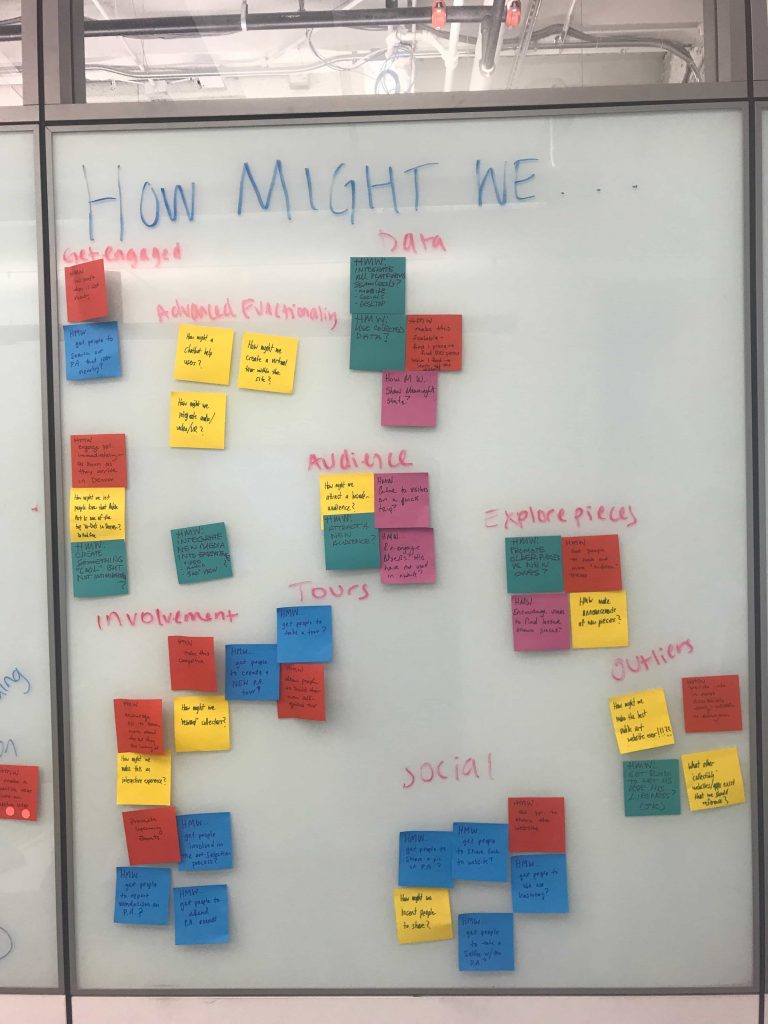 From there, it was time to pick a target for our sprint. The map allowed us to visualize how users might achieve the desired outcome, and now we had to identify "an ambitious but manageable piece of the problem" that we could solve in a short period of time – a week for typical sprints (in our case, we knew we'd have more than a week to physically implement the idea after our sessions, but the same mindset applied).
We asked ourselves, what user will we focus on? What key moments or pain points will we have the most impact? What does success look like, and how will we measure it?
We chose to focus on the part of the map we felt most pivotal to accomplishing our goal: communicating what public art is nearby.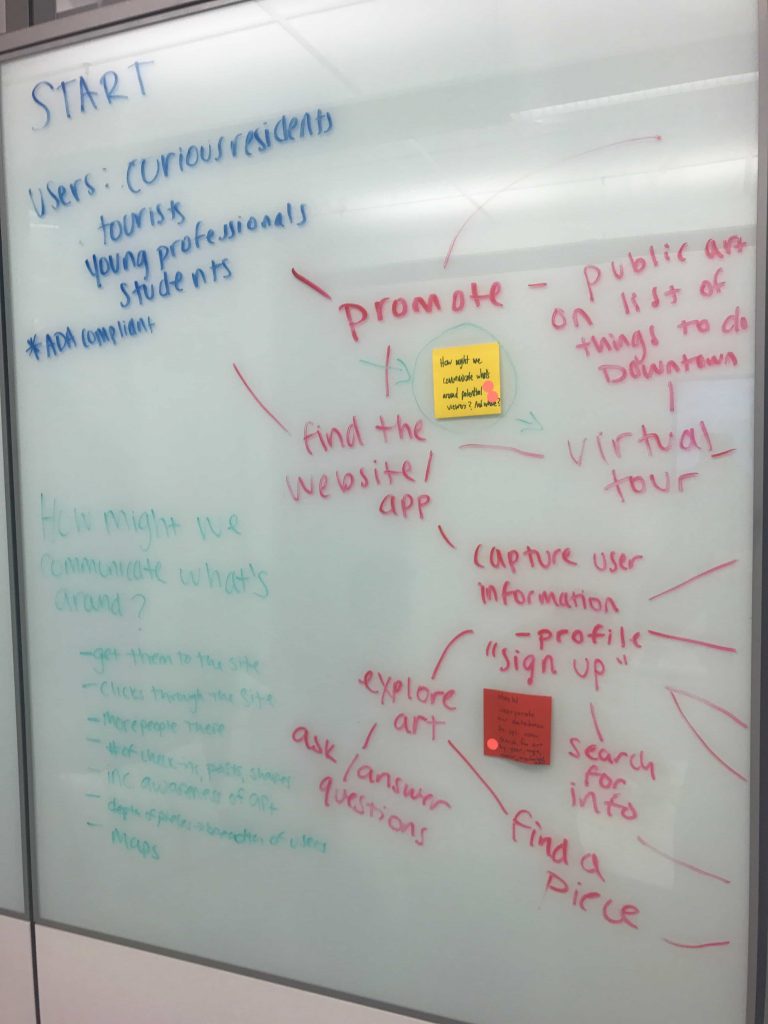 Day Two:
We returned to the space the next afternoon full of fresh ideas and renewed energy. The team prepared some market research presentations to shed light on similar problems across related industries and the solutions that solved them.
"Sometimes the best ideas are ones that already exist—they simply need to be repurposed, presented in a new context, or combined with other ideas." – Google Ventures
We shared these insights, shifting from understanding to solutioning as our gears started turning.
Before setting out to sketch possible solutions, we took about 20 minutes to take notes and jot down ideas, reflecting on the presentations, as well as thinking back to the previous day's activities and keeping our goals and sprint target in mind. Then, equipped with a large inventory of inspiration, we sketched.
The first sketching exercise is called Crazy 8's, earning its namesake as participants sketch 8 ideas in 8 minutes. The sketches are meant to be low fidelity, with no requirements as to the quality of the artistry—focus on the quality of the idea.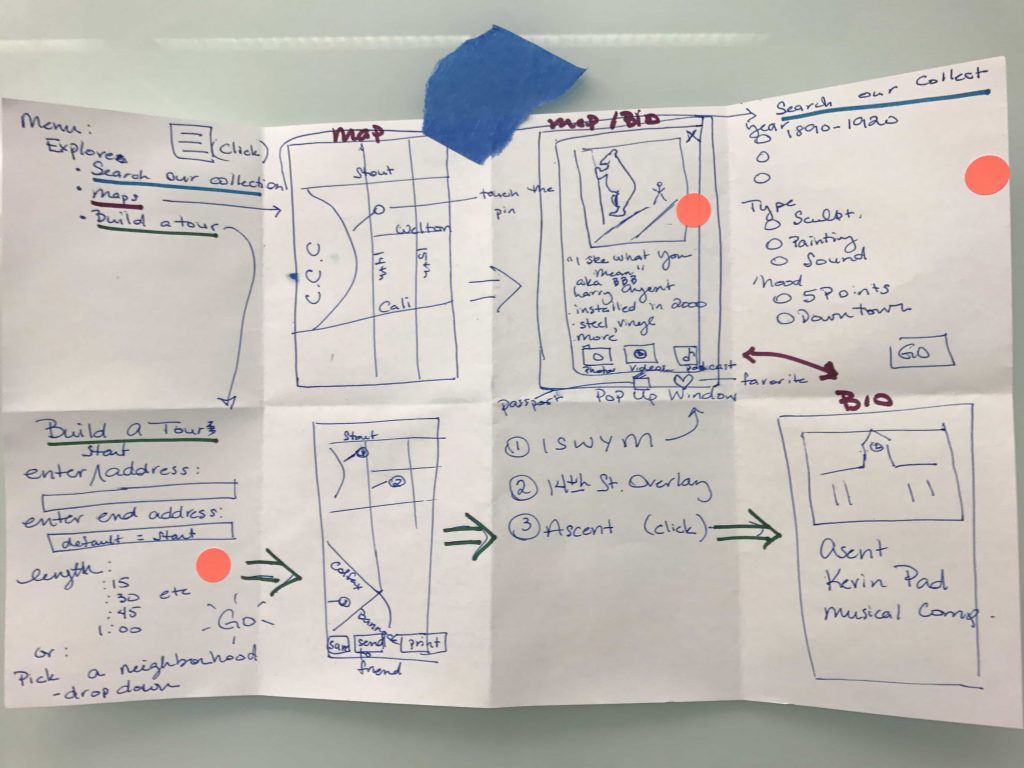 After the 8 minutes expired, each person presented their ideas to the group, followed by sticker voting to identify which ideas stood out to the team. Once completed, we each picked a single idea to dig deeper on. Whether that was the one of our original 8 that had the most votes, one that we particularly liked, or one that wasn't even in our original presentation was entirely up to each individual to choose.
The fully fleshed-out sketches are intended to encompass a three-panel story, clearly demonstrating how the idea would function in the context of addressing the sprint target. We gave the team the rest of the weekend to finish the sketches, as we looked to continue our sprint on Monday.
Day Three:
With the weekend behind us, it was time to bring ourselves back to the task at hand. To start the day off, everyone returned to their individual ideas and fine-tuned their sketches. Then, we presented, addressing any underlying assumptions, as well as opening the conversation for the group to ask questions and offer suggestions.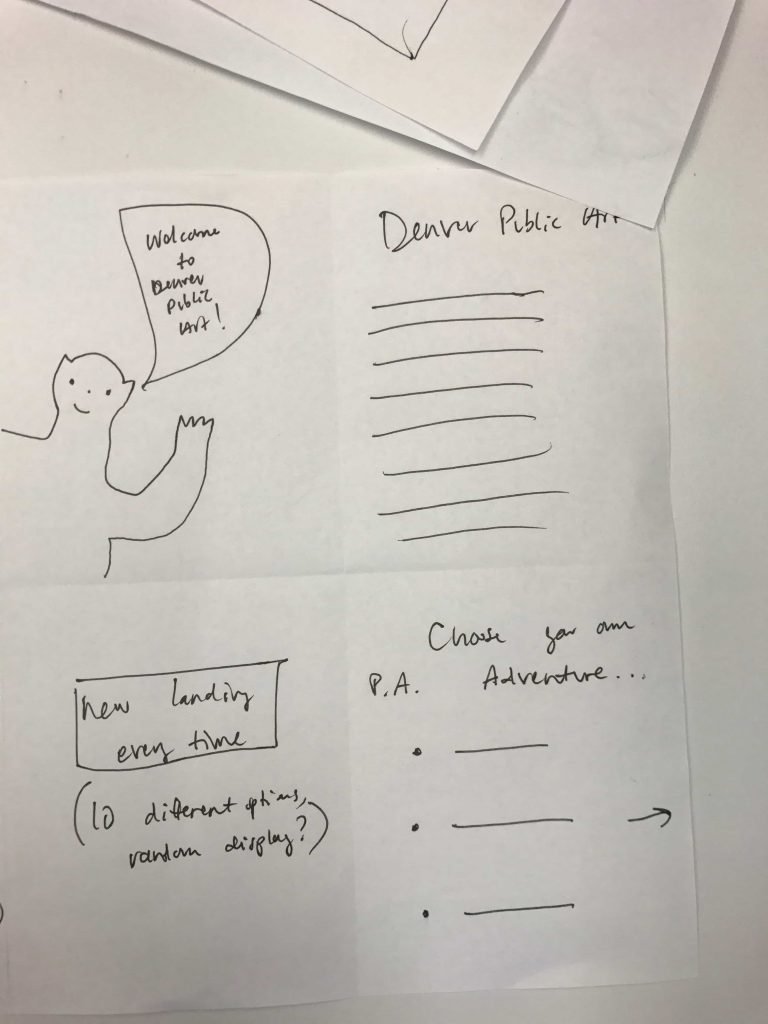 In order to turn one of these ideas into a real solution, we had to vote. We gave the team about 10 minutes to place their votes on the sketches, and ultimately decided to move forward with a few parts of different sketches as our concepts to storyboard.
That decision isn't one that necessarily happens often in a sprint. It made sense in our case, as certain aspects of the sketches worked well together in order to achieve our goal. We were also in a unique position, as this was the last step of our pre-sprint effort, and we wanted to storyboard as thoroughly as possible before taking our work to the Startup Week session.
The storyboard consisted of our starting point – a user coming to the Denver Arts & Venues website – with 14 subsequent squares to walk through the user journey. As we filled in the board, it transformed from an empty grid to a full blueprint for bringing our ideas to life. This was precisely our goal—to equip our team with a plan for prototyping and a solid foundation for Startup Week.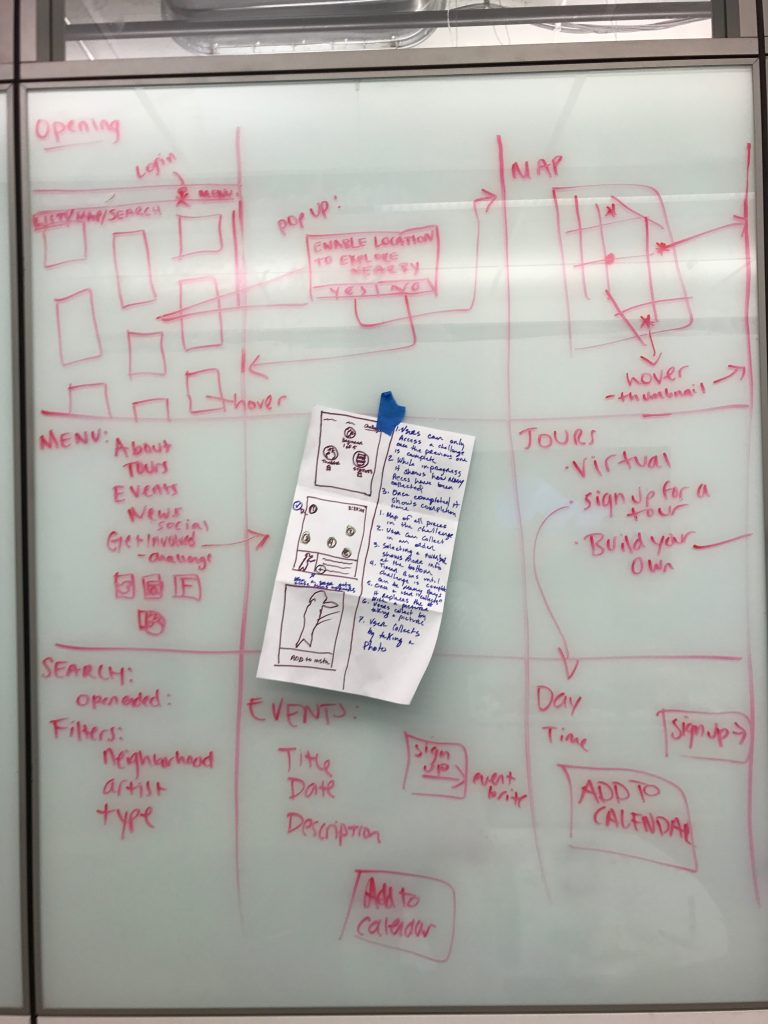 What's next?
This condensed design sprint was incredibly effective, eliciting ideas from diverse minds and pushing the team to collectively pick a focus for the project in order to make it successful. The solutions we came up with challenged our assumptions and offered unique points of view, which we wouldn't have gleaned without this exercise.
So, what do we do with all of that information? Denver Startup Week begins Monday, September 25, with our event on Wednesday. The session will ideally provide some creative friction to our internally-generated ideas and show us new ways of looking at the problem. We anticipate participants will raise new questions, fresh ideas, and truthful user insights as to how the finished prototype should function.
Once the session is complete, our team will digest what we learn and combine these new insights with our existing storyboard in order to execute a prototype that meets the needs of all stakeholders.
On Wednesday, we sprint

On Thursday, our designer will create a clickable prototype

On Friday, we'll test the prototype among Startup Week participants

Then, we'll bring the results back to our team, ideate based on the feedback we collect, and design the fully-functional digital experience.
Stay tuned for Part 2 of this blog post – after Denver Startup Week – as we begin building out our prototype. Or, if you're in the area, we'd love to see you at our event!