Chicago based Machine Tool Bids came to Clique with the need to enhance their brand while tying into their powerful custom auction platform.
Customers look to MTB to hand-select used machinery that is in great working condition, as well as provide a significant cost savings over new equipment. Auctions for these machines are carried out on their existing platform, but a strong marketing-style site was a missing piece of their story.
Custom Auction Platform for Machine Tool Bids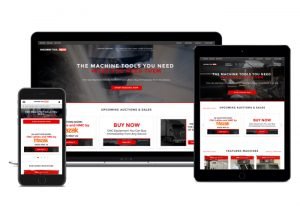 We used this opportunity to build and design a visually stunning site to communicate their brand.  Clean layout, strong typography, differentiating copy, and a custom, fun background video feature to quickly provide a glimpse into the type of equipment managed by MTB.
Always excited to help our clients tell their stories, learn more about what makes Machine Tool Bids unique in their industry today: http://www.machinetoolbids.com/.