Join Clique Studios, and Fullstack Academy for a hands on workshop. We'll do a quick intro to some basics in Angular before building a piece of simple project management software. When you're done you'll be able to use your own software to track your tasks and be more productive! We're capping the event at 40 attendees so register early!
Participants should:
Have understanding of javascript objects, loops, functions, arrays, and DOM elements
Bring your laptop, and a snack.
WHEN:
Thursday, May 19, 2016 from 6:00 PM to 8:00 PM (CDT) – Add to Calendar
WHERE:
Clique Studios / Web Design – 410 South Michigan Avenue #801, Chicago, IL 60605 – View Map
---
 Angular Workshop Resources/Followup: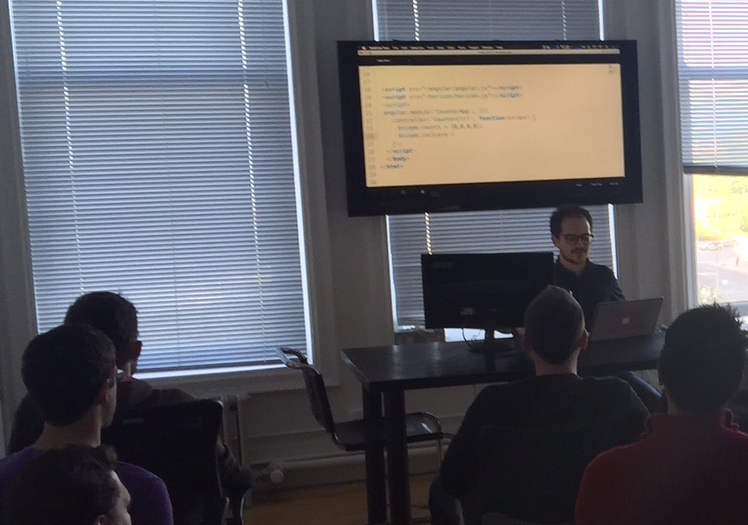 The Angular Event was a great success, thanks to Zeke Nierenberg from Fullstack Academy who shared lead us through some great examples. You can find the code we wrote in this Github Gist. If you want to continue learning, we've included some resources below listed by level of difficulty.
Learn Angular.org – The most basic intro to Angular you'll find. This tutorial assumes little knowledge and will have you deploying a basic app in a couple hours.
Codecademy's Angular Track – If 0 is a pure beginner and 100 is a professional full-stack developer, 5 hours of Codecademy's Angular track will take you all the way to 6.8 — more or less. In all seriousness, Codecademy's step-by-step tutorial system is great for an introduction to programming in Angular (they also have tracks for many other languages).
Thinkster.io – With AngularJS, the "Ready, Fire, Aim" learning methodology of duct taping together a handful of tutorials and a cursory glance through the documentation will lead to confusion and frustration. This curriculum is designed to properly guide you through each of the key Angular concepts thoroughly with a broad exposure to high quality content. With your eventual mastery of AngularJS, you will be able to fluently and efficiently construct large-scale applications.